Africana, ethnic art, tribal art
Early 20th century Wearing a kepi, 43cm high; together with an Idork fertility mask, 31cm high; and a Polynesian carved wooden figure of a seated woman, 34cm high; and three African carved wood walking sticks, longest 94cm, shortest 90cm. (6...
Price: £200 - £300
ca. US$270 - US$406
Possibly Benin In the form of a circular face with Iguana crest, 18cm wide, 13cm deep, 28cm high; together with a West African mask of a cheetah, 26cm high; and a West African carved wood and fibre headdress with mask finial, 40cm high. (3...
Price: £300 - £400
ca. US$406 - US$541
19th century and later The polished coco de mer nut, 28cm high; together with a mounted coconut shell on turned base and with silver mounted rim; an Indian silver mounted carved coconut shell, stamped ORR silver, on three elephant supports and the sides carved with deities; a coconut shell, chip carved with bands of stars; and a Celonese ebony bowl stand, formed as three mythological beasts...
Price: £500 - £700
ca. US$677 - US$948
FIGURINA DI MASCHERA VENEZIANA, ANNI '40 in ceramica a smalti policromi. Marche di difficile lettura al retro. h. cm. 20...
With pierced crest and chip carved embellishments, 38cm high; together with four further West African tribal masks, two embellished with strings of shells, another applied with carved nuts, largest 36cm high, smallest 22cm high. (5...
Price: £200 - £300
ca. US$270 - US$406
Early 20th century Modelled wearing a skirt and holding a dagger, 18cm high; together with a similar bust of lady wearing headdress, 16cm high, a circular comport, an unusual grater raised on four cabriole legs, 30cm long a figure of standing horse; a bronze stand in the form of a tiger and oxen, 17cm high and an early 20th century Indian School oval miniature of the Taj Mahal, watercolour on...
Price: £200 - £300
ca. US$270 - US$406
Including a Grebo warrior mask by Steve Thanni, circa 1960, 34cm high; and nine West African and other African masks and figures, the largest 52cm high. (10...
Price: £500 - £800
ca. US$677 - US$1,083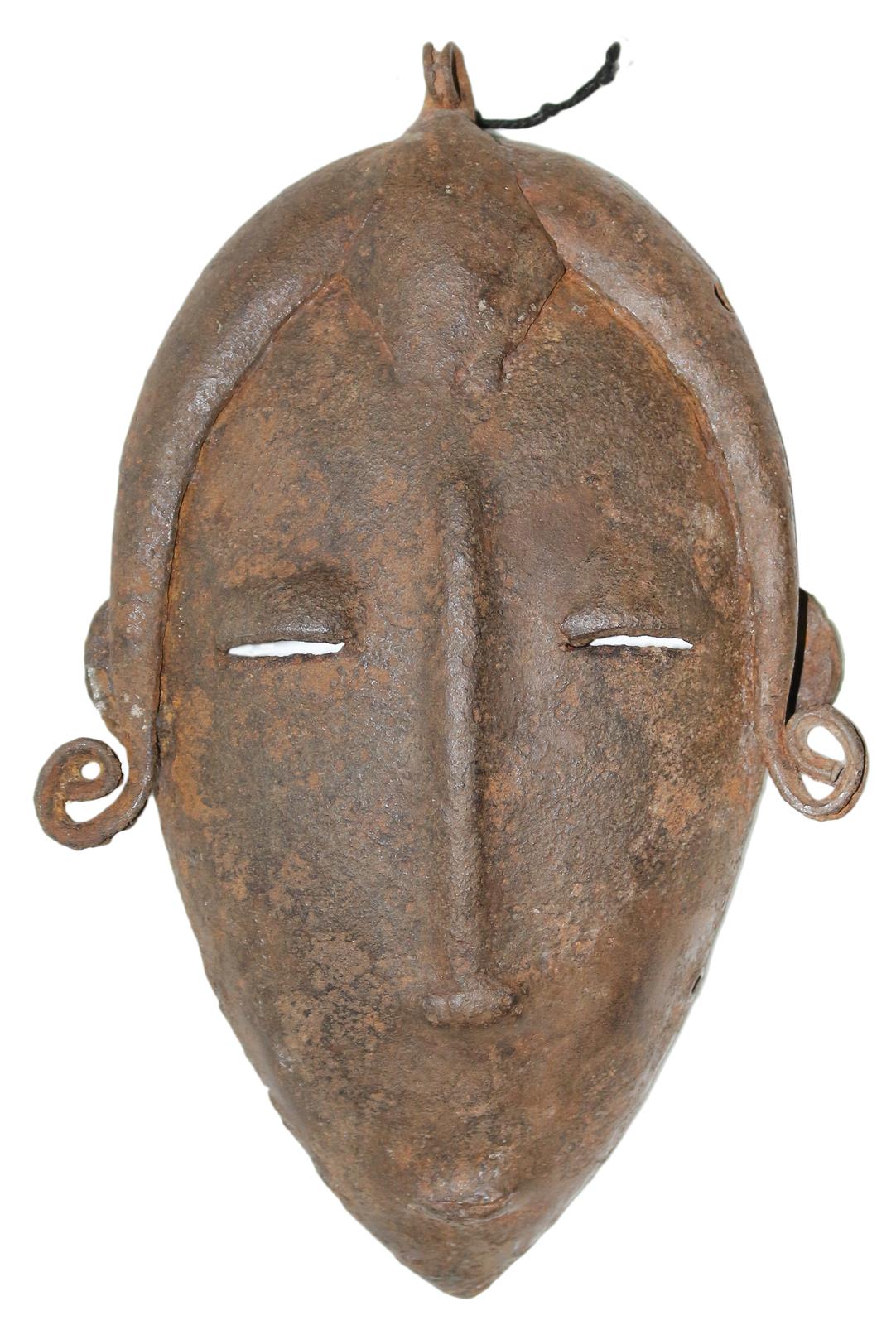 Mali. Alte Maske, Eisen mit Flugrostansatz. Weibliche Kopfdarstellung. Seitlich Zöpfe mit gelockten Enden. Stegnase. Ovoide Form mit leicht gewölbten Augenpartien. ca. 26 cm. Rückseitig mit Sammlungetikett...
Date: 17 Feb 2022 - 19 Feb 2022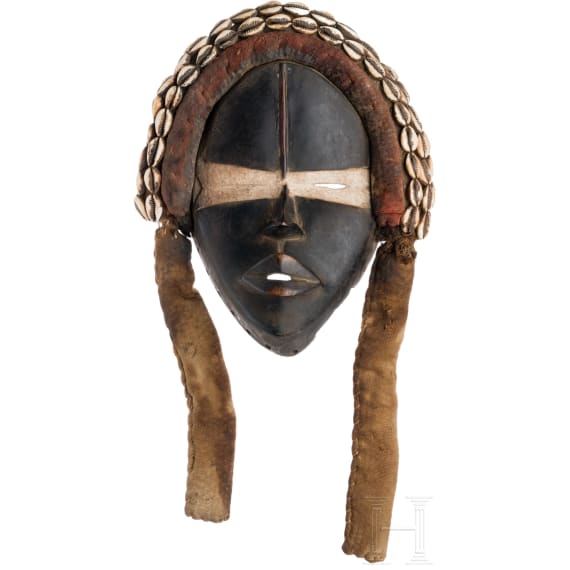 Geschwärzte Maske in Form eines stilisierten Gesichtes mit weiß gefasster Augenpartie, textilem Aufputz sowie Schmuck aus Kauri-Muscheln. Kleine Fehlstellen, Alters- und Gebrauchsspuren. Höhe 26 cm. Zustand: II - III Fragen zum Los...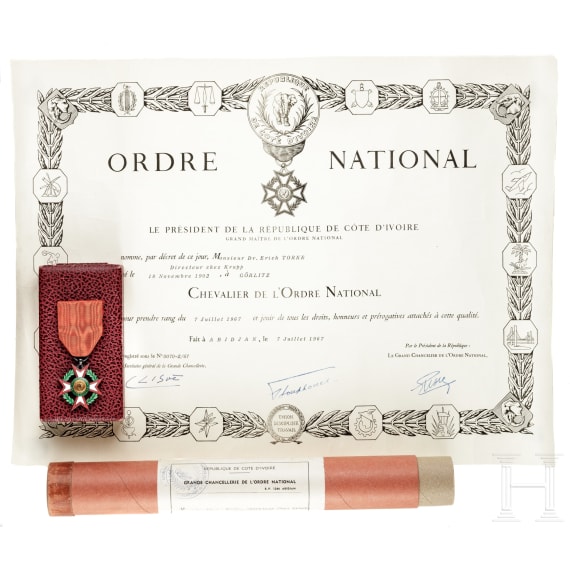 Das Kreuz mit rot-weiß emaillierten Armen und grün emaillierten Lorbeerbrüchen, die vergoldeten Medaillons vs. mit Inschrift "Republique de Cote d'Ivoire" unter grüner Emaille, rs. "Union - Discipline - Travail". Im Verleihungsetui des Herstellers "Ets A. Chobillon Paris". Dazu die große querformatige Verleihungsurkunde, datiert "Abidjan, le 7 juillet 1967" mit gestempelten Unterschriften des...
Try LotSearch
Try LotSearch and its premium features for 7 days - without any costs!
Search lots and bid
Price database and artist analysis
Alerts for your searches