Tempera auf Baumwollgewebe, ca. 57x39 cm. Altersschäden wie z.B.: stark berieben und zerknittert. In Passepartout montiert und hinter Glas gerahmt, 88x70 cm. A Tibetan thangkha, 19th century. Depiction of Buddha shakyamuni. Gouache on cloth, 57x39 cm. Traces due to age, worn. Framed, 88x70 cm...
Die Göttin der Lebenskraft, des Mitgefühls und der Hilfe in der Not ist stehend auf einem doppelten Lotussockel dargestellt. In einer Hand hält sie den Stengel einer geschlossenen Lotusblüte, die für Energie und Reinheit steht, H: 33,5 cm. Altersspuren. Brazen sculpture of Green Tara. Tibet/Nepal, around 1900. Height: 33,5 cm. Traces due to age...
Rainy by the Lake woodblock 20th century signed in pencil l.r. titled in pencil l.l. artist seal in plate l.l. framed and matted 9.25 x 14 in. (plate), 16.5 x 20.75 in. (frame) Condition: Not examined out of frame...
Japan.- Anonymous (probably early 19th century) Gold and Silver mining at Sado Island, an impressively long scroll illustrating the process of mining, refining and minting that was undertaken at the Sado Island site, including the entrance of the mine on Aikawa mountain, miners in the mine shafts with many holding lanterns, and the later steps involved in the refining, sale, and transportation of...
Price: £2,000 - £3,000
ca. US$2,501 - US$3,751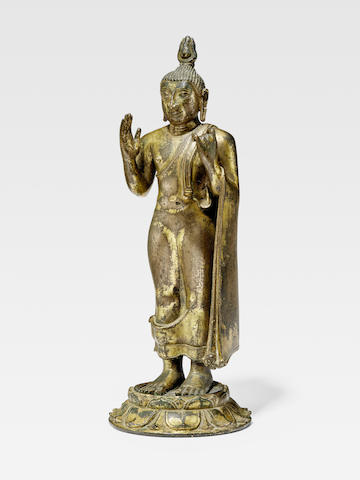 A GILT COPPER ALLOY FIGURE OF BUDDHA SRI LANKA, DIVIDED KINGDOMS PERIOD, 13TH/14TH CENTURY 20.4 cm (8 in.) high Fußnoten Preserving an ancient iconographic tradition in Sri Lanka and South India, this delightful gilt bronze shows Buddha with his right hand raised in a variation of abhaya mudra, known as ashisha mudra, while his left holds the hem of his robe, which has a pronounced fold over the...
Price: HK$150,000 - HK$250,000
ca. US$19,137 - US$31,895
A LACQUERED COPPER ALLOY FIGURE OF ACUOYE GUANYIN YUNNAN, DALI KINGDOM, 12TH CENTURY With remains of gilding in recessed areas. Himalayan Art Resources item no.16703 45.3 cm (17 3/4 in.) high Fußnoten Remarkably distinct from Han and Tibetan representations of the Bodhisattva Avalokiteshvara (Guanyin), this tall and slender image was central to the rarified character of Buddhism expressed in the...
Price: HK$1,600,000 - HK$2,400,000
ca. US$204,129 - US$306,194
A SCHIST TORSO OF A BODHISATTVA ANCIENT REGION OF GANDHARA, 3RD/4TH CENTURY 80 cm (32 in.) high Fußnoten The dramatic visual contrast created by the robe's tension around the body is exceptional. Pulled tightly in vertical and horizontal pleats around the left shoulder and arm, the robe then swoops diagonally across the thighs and slack hems curl around the right knee. This arrangement in...
Price: HK$300,000 - HK$500,000
ca. US$38,274 - US$63,790
A COPPER ALLOY FIGURE OF SYAMATARA NALANDA, PALA PERIOD, CIRCA 750-800 Himalayan Art Resources item no.16709 19.4 cm (7 5/8 in.) high Fußnoten From an area where Shakyamuni Buddha lived and taught, this rare and elegant bronze depicts the bodhisattva Syamatara. Cast during the Early Pala period of Northeastern India (8th-10th centuries), the bodhisattva's beauty is expressed through the suggested...
Price: HK$620,000 - HK$820,000
ca. US$79,100 - US$104,616
A GILT COPPER ALLOY FIGURE OF BUDDHA YUAN PERIOD (1279-1368) Himalayan Art Resources item no.16712 16 cm (6 1/4 in.) high Fußnoten In the later part of the 13th century, a new sculptural style emerged in China as the Yuan court officialized Tibetan Buddhism and summoned the Newari master craftsman Aniko (1245-1306) to its capital for imperial projects. The resulting Buddhist images produced under...
Price: HK$240,000 - HK$280,000
ca. US$30,619 - US$35,722
A SCHIST FIGURE OF BUDDHA ANCIENT REGION OF GANDHARA, CIRCA 3RD CENTURY 122 cm (48 in.) high Fußnoten This majestic figure of Buddha exudes both power and grace. His idealized face and classic, rippling hair rising over the wide ushnisha are framed by the circular nimbus affirming his divinity. With universal appeal among collectors, the Gandharan style is a fascinating and accomplished idiom...
Price: HK$8,000,000 - HK$12,000,000
ca. US$1,020,649 - US$1,530,973
Try LotSearch
Try LotSearch and its premium features for 7 days - without any costs!
Search lots and bid
Price database and artist analysis
Alerts for your searches