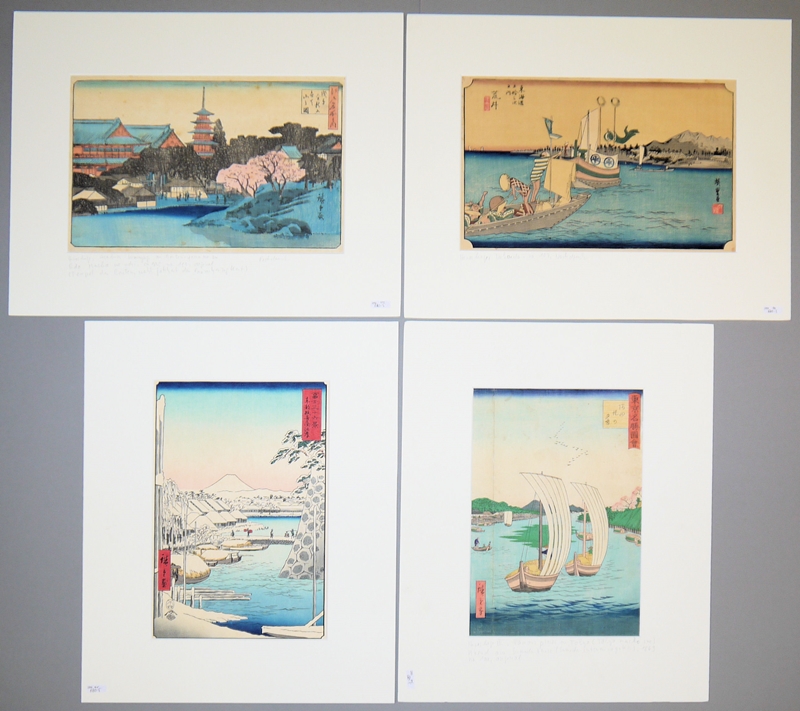 Hiroshige I & III, vier japanische Farbholzschnitte, Erst- und Nachdrucke Utagawa Hiroshige, 1797 - 1858, der Schrein der Göttin Benten (Asakusa Konryu-zan Benten-yama no Zu) aus "Berühmte Plätze in Edo" (Edo meisho no uchi), Blatt 111, Erstdruck 1845, gering stockfleckig; Hiroshige III (Gotō Torakichi), Abend am Sumida Fluss aus "Berühmte Plätze in Tokyo" (Tokyo Meisho Zue), Original von 1869...
Price: €400 - €500
ca. US$465 - US$581
Date: 22 Oct 2021 - 23 Oct 2021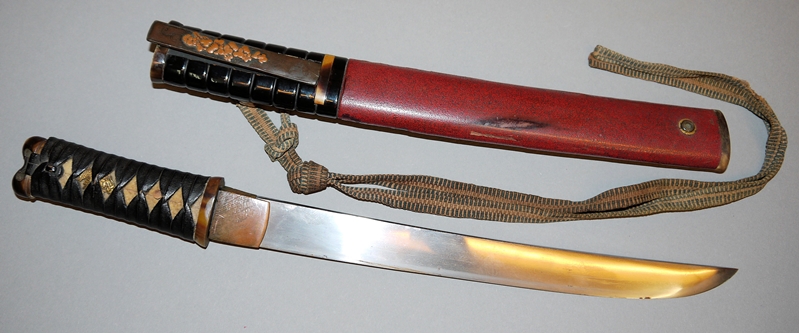 Aikuchi Tanto, japanisches Kurzschwert der Edo/Meiji-Zeit Dolch mit leicht gebogener Rückenklinge und geradem (sugu hamon) Schliff, auf der Angel beidseitig graviert die Datierung und der Schwertschmied (L ohne nakago 29 cm), gewickelter Rochenhautgriff mit vergoldeten menuki in Form von Welsen, kashira und seppa wohl Schildpatt, kein tsuba, Scheide mit Lackfassung stellenweise gering rissig...
Price: €1,200 - €1,500
ca. US$1,395 - US$1,743
Date: 22 Oct 2021 - 23 Oct 2021
the double-edged steel blade of slightly curved form with flattened spine towards the handle, single fuller, engraved with inscription in nagari to one side, in Persian to the other, further dotted inscriptions to blade and hilt 97 cm. long...
Price: £6,000 - £8,000
ca. US$8,268 - US$11,024
By Deme Joman, signed Deme Joman 出目上滿 Japan, Edo (Tokyo), c. 1700, Edo period (1615-1868) Published: Bushell, Raymond (1961) The Netsuke Handbook by Ueda Reikichi, p. 45, fig. 41. Bushell, Raymond (1985) Netsuke Masks, no. 112. Expressively carved from wood depicting Kumasaka, pierced himotoshi underneath the thick bar in the back which shows the boldly incised signature DEME JOMAN. While being a...
Price: €4,000
ca. US$4,622
By Nakayama Shomin, signed Shomin 昇民 Japan, Tokyo, late 19th to early 20th century, Meiji period (1868-1912) Published: Guillem, Mateu (1998) Netsuke: The Great Miniatures of Japanese Sculpture, p. 152. Carved as a large section of burlwood, finely polished and stained, a portion of the top hollowed out and inlaid with a small, stained stag antler toad with gilt metal eyes. Two black-lacquered...
Price: €3,000
ca. US$3,466
By Kokusai, signed Koku 谷 Japan, Shiba, Tokyo, late 19th century Of oval form, inlaid in sentoku bronze with a waterwheel with a flowering branch on top, flanked by two paulownia leaves and encircled by scrolling vines, the underside with two coins, one of which shows the seal signature KOKU which forms himotoshi, encircled by raised bosses. Pierced twice for suspension. WIDTH 4.1 cm Condition...
Price: €8,000
ca. US$9,244
Unsigned Japan, 18th century, Edo period (1615-1868) Finely and naturalistically carved as a coiled snake, its body varying in thickness with neatly detailed scales on the underside and stippled skin at the top, the eyes inlaid in metal. LENGTH 5.8 cm Condition: Very good condition, appealingly worn, few small nicks. Provenance: German private collection. Literature comparison: Compare a closely...
Price: €2,500
ca. US$2,888
Unsigned Japan, Tanba province, early 19th century, Edo period (1615-1868) Published: Bandini, Rosemary (2013) In a Nutshell, A Loan Exhibition of Japanese Netsuke from European Collections, p. 57, no. 99. An exceptionally well-carved netsuke, described by Gabor Wilhelm as "tengu frieux" or freezing tengu, in our opinion very fittingly, as the mythical bird-like being clutches its large wings...
Price: €10,000
ca. US$11,555
Attributed to Yoshimura Shuzan, unsigned Japan, Osaka, 18th century, Edo period (1615-1868) Finely carved from hinoki (cypress) wood and superbly painted as Chinnan Sennin standing, holding his staff in one hand and the alms bowl, from which his dragon slowly emerges, in the other. He is wearing a long, loose-fitting robe cascading in voluminous folds. His face with an intense expression, the...
Price: €2,500
ca. US$2,888
Try LotSearch
Try LotSearch and its premium features for 7 days - without any costs!
Search lots and bid
Price database and artist analysis
Alerts for your searches