Books, Autographs, Manuscripts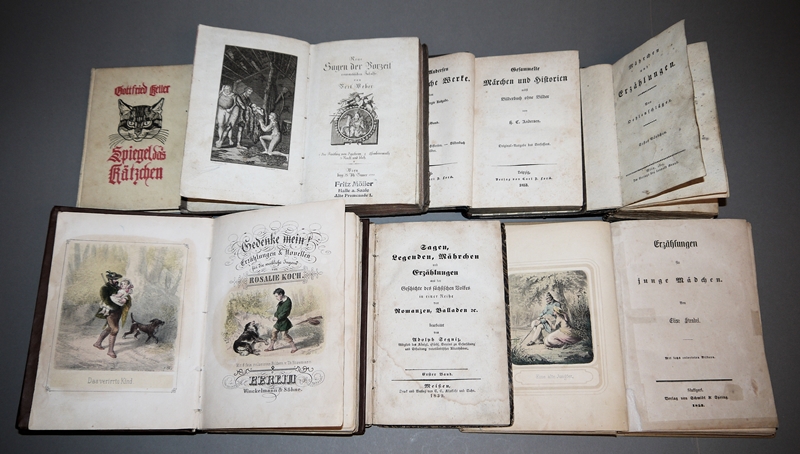 7 Bücher mit Märchen, Sagen und Legenden, 19. Jh.-1920 Neue Sagen der Vorzeit romantischen Inhalts von Veit Weber (Pseud. f.: Georg Philip Ludwig Leonhard Wächter), Wien, Ph. Bauer, 1799, im Karton; Mährchen Und Erzählungen von Oehlenschläger, Band 1 u. 2, Leopold Grund Verlag, Wien, 1819, 2 Teile in einem: Aly und Gylhyndy und Reichmuth von Adocht, im Karton; Sagen, Legenden, Mährchen und...
Price: €350 - €450
ca. US$406 - US$523
Date: 22 Oct 2021 - 23 Oct 2021
Original canary-yellow cloth, jacket. First Edition, second state binding. Originally issued in a buff-colored cloth; there was not enough of the buff cloth to complete the run, so canary-yellow cloth was selected to bind the remainder, as this copy. Goldstone-Payne A22.b...
NOVE VOLUMETTI DEL XIX SECOLO IN 16°: 1) LA GERUSALEMME LIBERATA DI TORQUATO TASSO DILIGENTEMENTE RIVEDUTA SULL'ESEMPLARE DI PISA DEL 1812, ed. Palermo Presso Salvatore Barcellona 1831. In 2 tomi. Edizione rarissima. Legature in mezza pelle con piatti marmorizzati e titoli in oro entro tasselli ai dorsi. Fregi in oro ai dorsi. Alcune sporcizie e bruniture del tempo. Pp. 268 (tomo 1); 253 (tomo 2...
Price: €200 - €250
ca. US$232 - US$290
With 5 plates from illustrations by the author including frontispiece. (Thin 8vo) 20.2x13.5 cm (8x5¼"), original black cloth stamped in gilt. First Edition. The third volume of poetry in English by the great Lebanese-American poet. It would be followed three years later by his best known work, and one of the best selling books of the 20th century, The Prophet. Early editions of the present work...
Includes: viii, [9]-465, + [14] ad pp. (12mo) 18.8x12.5 cm (7½x5"), original blindstamped brown cloth. First American Edition, second printing. 374 pp. Brick-red cloth stamped in silver and black with sailor vignette. Reprint. Copyright Elizabeth S. Melville. Second printing with Note on p. [iii], etc. With pictorial cloth reprint edition. BAL 13662...
253 pp. 18.3x12 cm (7¼x4¾"), original blind-stamped red cloth, lettered in gilt. First Edition, First issue. Cather's first book of prose fiction and second book overall. First issue with McClure, Phillips & Co. imprint on the foot of the spine and the word "exculsive" on line 2, page 21. Crane A4.a...
(8vo) original blind-stamped cloth, gilt lettering. First Edition, Second Printing. Historical novel about an American Revolution hero who travels through Europe and the Holy Land. Ownership stamp of O.E. Ingalls on front free endpaper. Second binding without pendants on spine. BAL 13667...
(8vo) purple paper over cloth, in dust jacket. First Edition. Stated "First Printing" on copyright page, with appropriate issue points. Levin's famous horror title was only his second novel, and touted as one of the top horror novels of the 1960s; it was adapted into a cult 1968 feature film starring Mia Farrow...
Includes: American edition. Blue cloth, pictorial jacket illustrated by Frank Lieberman. First Edition in cloth, second state. Australian edition. Brown cloth, pictorial jacket. First Australian edition. American edition is second state, without the large period between 'talk' and 'this' on page 112. Copyright page includes the line "Printed in the U.S.A. by the Haddon Craftsmen". Goldstone-Payne...
(8vo) original green cloth, pictorial dust jacket. First Trade Edition, First Issue. First issue text, with the word "bite" present on page 281, line 38. First issue jacket with Steinbeck portrait. Steinbeck's epic novel about two families who settle in the rich farmlands of California. Goldstone-Payne A32.b...
Try LotSearch
Try LotSearch and its premium features for 7 days - without any costs!
Search lots and bid
Price database and artist analysis
Alerts for your searches