Strang (William) The Street Sellers, etching with drypoint on laid paper, signed in pencil, inscribed 'first state' and dated '24th May 1900', platemark 280 x 302 mm. (11 x 12 in), sheet 340 x 360 mm. (13 1/2 x 14 1/4 in), some toning to sheet, handling creases, unframed, 1900; together with a miscellaneous group of prints and posters, including William Nicholson's 'Krishna Mulvaney', 12 socialist...
Price: £150 - £200
ca. US$197 - US$263
[ILIAZD, Ilia Zdanevitch dit] et Pablo PICASSO. Double suite des gravures pour La Maigre. [Paris], [Le Degré quarante et un], [tirées en 1951] DEUX DES DIX SUITES D'ÉPREUVES D'ESSAI SANS LE TEXTE SIGNALÉES PAR BAER IMPRIMÉES SUR CHINE ET VERGÉ D'ARCHES LES DEUX ESSAIS DE LA COUVERTURE SUR VERGÉ D'ARCHES ET PAPIER VELIN COMPTENT PARMI LES DEUX QUATRE ESSAIS CONNUS AVANT ACIÉRAGE (Baer, IV, 877) Si...
Price: €15,000 - €20,000
ca. US$16,699 - US$22,266
Date: 4 Feb 2020 - 6 Feb 2020
MONTHERLANT (Henry de) : Port-Royal. Lithographies de René AUBERT. Paris, Henri Lefebvre, 1954. 25 par 32 cm. En feuilles, sous couverture imprimée et rempliée, chemise avec dos en toile beige décorée et étui. Édition illustrée de 12 lithographies originales à pleine page de René Aubert, dont un frontispice. Tirage limité à 250 ex, ici un des 200 exemplaires sur grand vélin d'Arches. Edition...
Price: €50 - €70
ca. US$55 - US$77

Lot of 14 posters from Walt Disney World. 1. Mission Space Poster heavy stock UV coated. 24 x 18". 2. Muppet Vision 3D Poster. 24 x 18". 3. Splash Mountain Grand Opening Commemorative Poster. 24 x 8. 4. Main Street Electrical Parade June 11, 1977—September 14, 1991. 9 x 20". 5. Walt Disney World 15th Anniversary Poster Heavy Stock. 30 x 20". 6. Animal Kingdom Lithograph Heavy Stock. 25 x 29". 7...
Steinlen (Théophile Alexandre, 1859-1923) Untitled [Elderly man in bed, with lady at his bedside], lithograph on Whatman wove paper watermarked with date '1897', sheet 500 x 615 mm. (19 3/4 x 24 1/4 in), some scattered spotting and browning, unframed, circa 1897; together with four other 20th century prints, including a woodcut signed by Pillwein, a drypoint by Oswald Roux, an etching by Lilly...
Price: £100 - £150
ca. US$131 - US$197
French Alps.- Poster.- Commarmond (Pierre) Combloux. L'Hotel PLM et le Mont Blanc, poster with Mont Blanc in the distance, colour lithograph, sheet 100 x 610 mm. (39 1/2 x 24 in), under glass, unlined, framed, [circa 1925...
Price: £200 - £300
ca. US$263 - US$394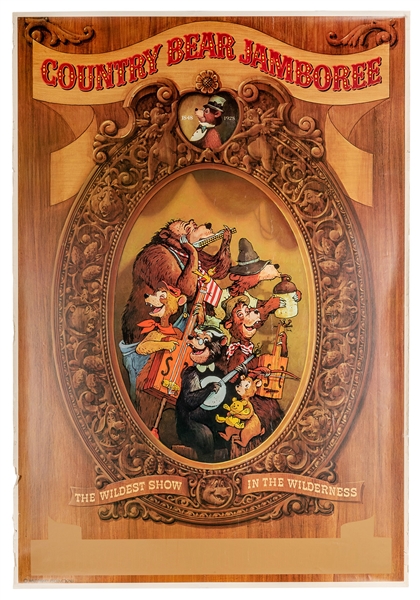 Country Bear Jamboree Attraction Poster. Created by Jim Michaelson, Marc Davis, and Eddie Martinez in 1978. Untrimmed full color original lithographic poster, made for use at either Disneyland or Disney World, and generally over printed at the bottom for this purpose. This poster is not overprinted and that area is blank. Slight wear to edges and a small piece missing—all of this is in the white...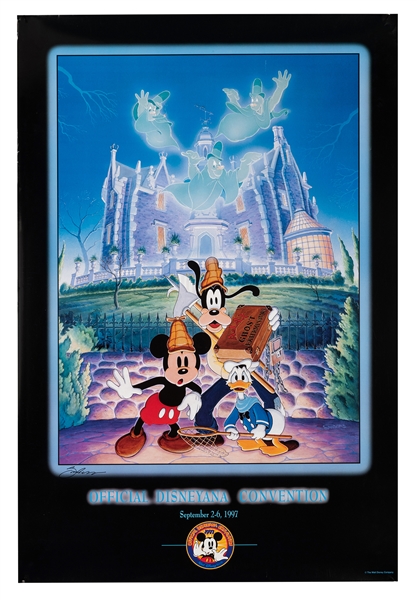 Large Lot of Haunted Mansion posters, lithos, and blueprints. 1. 1997 Disneyana Convention Poster signed by Artist Randy Souders. 36 x 24". Some tiny flaws at edges and kink at upper left corner. 2. Haunted Mansion 999 Happy Haunts Ball 2002 Lithograph signed by Artist Randy Noble 93/150 (Mickey Mouse Peeking Up Behind Madame Leota). 36 x 24". 3. Haunted Mansion Film Poster for Home Video Release...
Switzerland. Castle Hallwyl.- Poster.- Doswald (Oskar) Seethalbahn, lithograph printed in colours, sheet 950 x 660 mm. (37 1/2 x 26 in), under glass, unlined, framed, [circa 1910...
Price: £100 - £150
ca. US$131 - US$197
Switzerland.- Swiss poster.- Ruep (Josef) Vierwaldstattersee mit den Bergbahnen, bird's-eye view of Lake Lucerne and its environs, lithograph printed in colours, sheet 960 x 660 mm. (37 3/4 x 26 in), under glass, unlined, framed, published by Trüb, Aarau, [1948...
Price: £150 - £200
ca. US$197 - US$263
Try LotSearch
Try LotSearch and its premium features for 7 days - without any costs!
Search lots and bid
Price database and artist analysis
Alerts for your searches