A Fats Domino Tri-City Center Concert Poster 1959 window card poster promoting a show in Kennewick, WA. The wonderful design featuring a classic 1950s black and white image of Fats Domino with a dotted "domino" pattern through the "Fats Domino" lettering. The poster also references several of his recent big hits including "Blueberry Hill," "Margie," "I'm Ready," "I Want To Walk You Home" and "My...
Price: US$1,000 - US$1,500
Date: 9 Dec 2019 - 9 Dec 2019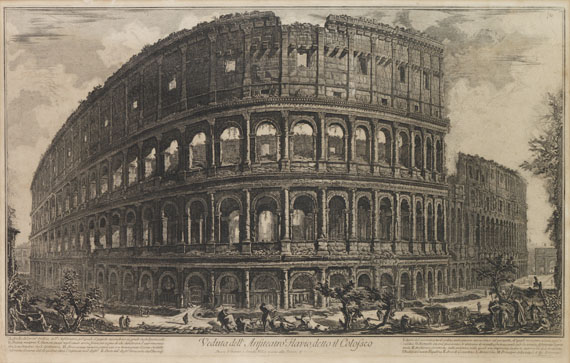 Giovanni Battista Piranesi Veduta dell'Anfiteatro Flavio, detto il Colosseo. Veduta dell'Arco di Constantino. 2 Radierungen von Giovanni Battista Piranesi, Rom 1757 und 1771 (Ausgabe Paris 1835-39 und später). 44 : 71 cm und 48 : 73 cm. Ansichten des Kolosseums und des Konstantinbogens, zwei der bekanntesten Motive aus Piranesis großer Vedutenfolge von Rom. Späte Abzüge auf Velin für die Pariser...
Price: €1,000
ca. US$1,106
verschiedene Techniken, signiert: Österreichisches Kaiserhaus, Offiziere, Wissenschafter, Künstler: a) Johann Esaias Nilson (Augsburg 1721-1788) "Maria Theresia", Kupferstich,b) Josef Kriehuber (Wien 1800-1876), "Maria Anna Caroline, Kaiserin von Österreich", Kreidelithografie nach Emanuel Peter; ca. 1840, c) P. Mayer, Fürst Joseph von Fürstenberg, kaiserlicher Prinzipalkommissar am Reichstag...
Price: €400 - €500
ca. US$443 - US$554
Comprising some loose and some framed examples including Joseph Pennell (American 1857-1926), Train Shed, Philadelphia, etching on paper, pencil signed lower right, 12 inches x 10 inches. Together with the following: Ernest David Roth (American 1879-1964), Ponte Vecchio, Lithograph, pencil signed and dated 1972 lower right and inscribed "To: Harriet Kurmmel" lower left, 9.5 inches x 9.25 inches...
Alphonse MUCHA (1860-1939) Lorenzaccio Lithographie et réhauts d'or Signée dans la composition. Imprimerie Chaix 39 x 27 cm (à vue) Avec cadre : 47 x 35 cm Lithograph in colors, 15 3/8 x 10 5/8 cm Affiche réalisée pour la création de la pièce d'Alfred de Musset, Lorenzaccio, dans une adaptation d'Armand d'Artois, le 3 décembre 1896, au Théâtre de la Renaissance. With frame : 18 1/2 x 13 25/32 in...
Price: €1,500 - €2,000
ca. US$1,662 - US$2,217
« Le Saule pleureur » Gravure aquarellée séditieuse aux portraits des membres de la famille royale du Roi Louis XVI. 18 x 15 cm. B.E...
Price: €100 - €150
ca. US$110 - US$165
« Prise de la Bastille ». Gravure aquarellée par Basset. Encadrée sous verre. 30 x 40 cm. (restauration par collage d'adhésif au dos à la pliure...
Price: €200 - €300
ca. US$220 - US$331
Deux gravures aquarellées. a-« Les Trois Ordres tirant le trésor des ténèbres ». 30 x 20 cm. Encadré sous verre (rousseurs). b-« Allégorie du Tiers Etats ». Encadré sous verre. 15 x 20 cm. (rousseurs...
Price: €150 - €250
ca. US$165 - US$275
Ohara Koson, Japanese, 1878-1945. Size Eagle Sight; Height: 13 1/4 in x width: 7 1/4 in. Eagle Framed; Height: 21 in x width: 13 1/4 in. Four Ladies Sight; Height: 14 1/4 in x width: 10 in. Four Ladies Framed; Height: 21 1/4 in x width: 14 3/4 in. Woman with Buckets Sight; Height: 13 1/4 in x width: 9 in. Woman with Buckets Framed; Height: 17 3/4 in x width: 12 1/2 in. Description Ohara Koson...
Made by the Henderson Lithographic Company. This poster is framed behind glass. It does have some vertical fold marks, some soiling and some closed tears. It could benefit from some professional cleaning and some light repair work. Condition: (Good - Very Good). Item Dimensions: Framed: 30" x 41" x 1 - 3/4...
Try LotSearch
Try LotSearch and its premium features for 7 days - without any costs!
Search lots and bid
Price database and artist analysis
Alerts for your searches