Konvolut Moderne Grafik insg. 7 Arbeiten, dabei: Robin Page (geb. 1932 London), Farbsiebdruck, datiert 1971, 2 x Gerd Rohling, QNST, datiert (20)05, Pidder Auberger (1946-2012), ohne Titel, datiert 1990, Wang Tian Tian (geb. 1974), ohne Titel, Dieter Wallert (1935-1988), Farblithografie, abstrakte Komposition, je untersch. Altersspuren (u.a. 1 x Einriss am Rand), Blatt bis ca. 100 x 70 cm...
Title leaf, justification leaf and six original color serigraphs printed at the presses of Silium in Paris. 31.5x24 cm (12½x9½"). Each serigraph taped from reverse to mat: 43.2x35.5 cm (17x14"). Each print numbered 115 of 250. The total edition of 300 is comprised of 250 numbered serigraphs and 50 artists proofs. Each serigraph signed and numbered by Victor Vasarely. The prints of Microcosmos are...
Price: US$6,000 - US$9,000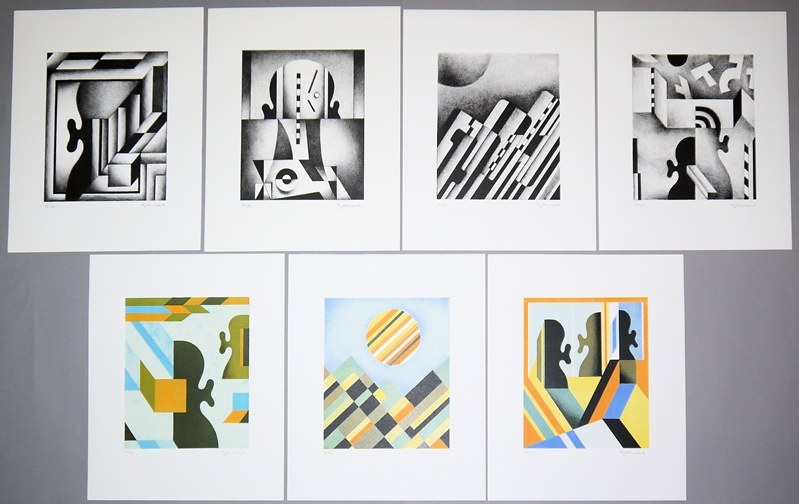 Ludwig Gebhard, Figurative und abstrakte Kompositionen, 7 signierte Lithographien, o. Rahmen Ludwig Gebhard, 1933 Tiefenbach - 2007 Landsberg am Lech, Studium der Malerei und Graphik von 1959 bis 1965 an der Akademie der Bildenden Künste in München als Meisterschüler bei Ernst Geitlinger. Seine Werke sind Teil der Sammlungen großer europäischer Museen u.a. in der Albertina in Wien, im...
Price: €100 - €120
ca. US$120 - US$144
248 pp. With 321 color illustrations and 11 original lithographs printed by Mourlot. Text in French. (Folio) publisher's tan cloth, color lithograph dust jacket. First Edition. Miro's lithographs, wonderfully presented...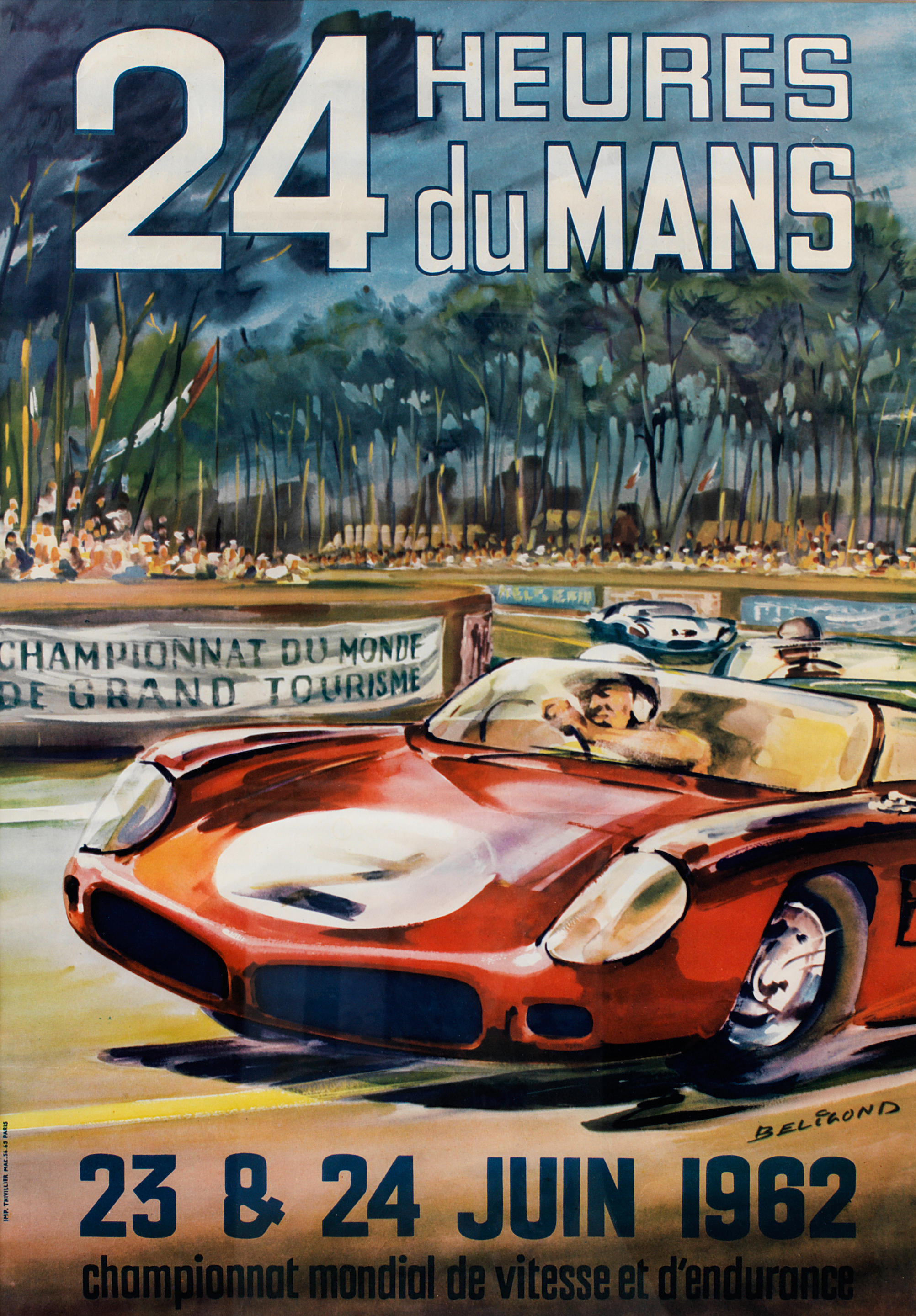 original full colour lithograph on paper, (some creasing, small pinholes and tears), 57 x 39cm, mounted, framed and glazed. « 24 HEURES DU MANS 23 ET 24 JUIN 1962 » AFFICHE SIGNEE MICHEL BELIGOND (FRANÇAIS, 1927-1973), lithographie originale en couleurs sur papier (quelques pliures, piqûres et petites déchirures), 57 x 39 cm, encadrée sous verre...
Price: £800 - £1,000
ca. US$1,131 - US$1,414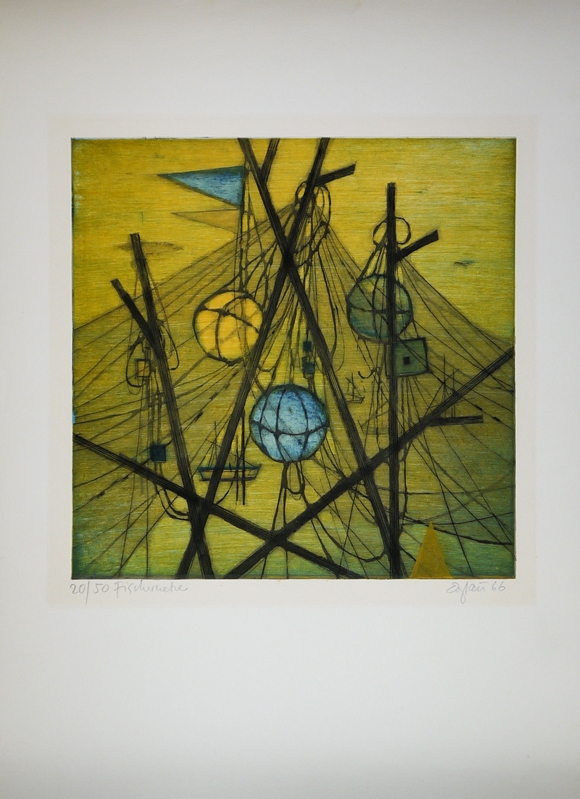 Otto Wilhelm Eglau, "Fischernetze", signierte Farbradierung/Aquatinta von 1966, o. Rahmen Otto Wilhelm Eglau, 1917 Berlin-Karlshorst - 1988 Kampen, 1947-1953 Studium an der Hochschule für Bildende Künste Berlin bei Oskar Nerlinger, Max Klaus und Wolf Hoffmann. Er arbeitete daraufhin als Dozent für Freies Malen und Zeichnen an der TU Berlin. Ab 1951 folgten zahlreiche Studienreisen u.a. nach...
Price: €220 - €240
ca. US$265 - US$289
Offset-printed poster. Measures 56x36 cm (22x14"). Event poster for a festival at the Greek Theater in Berkeley with a number of bands as well as poets Allen Ginsberg, Michael McClure, Lenore Kandel & Diane Di Prima. Presented by Chet Helms, poster design by Stanley Mouse...
Ensemble de gravures et lithographies du XIXème siècle pour l'essentiel présentant des vues de paysages, cartes et villes du grand Est et autres régions proches dont : Vues d'optique de la Ville de Nancy, Carte de la Lorraine, Montmédy, Epinal, Vue générale de la Ville de Metz, La ville de Metz avant l'invasion, Siège de la Ville de Thionville, la Ville de Verdun, Château de Nomény, Porte des...
Price: €400 - €500
ca. US$482 - US$603
Ensemble de gravures et lithographies du XIXème siècle pour l'essentiel présentant de nombreuses cartes de gouvernements et plans de villes fortifiées des régions de France dont : Le Morbian, Stenay et Iametz, Villes de Moyennie et Marsal, Moyenviv, Remiremont, Mariembourg et divers. Certaines rehaussées de couleurs. Environ 50 planches. Quelques déchirures ou pliures pour certaines, tâches...
Price: €200 - €300
ca. US$241 - US$362
Ensemble de gravures et lithographies du XIXème siècle pour l'essentiel présentant des vues de paysages, cartes et villes de Bretagne, Loire, Normandie et autres régions proches dont : Lancement du Vaisseau La Ville de Nantes, Vue de la Vilaine, Vannes, Abbaye de la Trappe de Melleray, Vue générale de Nantes, Château de Sucinio, Château de Josselin, Lorient, Quimper, Rennes, Château de Nantes...
Price: €300 - €400
ca. US$362 - US$482
Try LotSearch
Try LotSearch and its premium features for 7 days - without any costs!
Search lots and bid
Price database and artist analysis
Alerts for your searches