Birds.- Audubon (After John James) A group of seven Havell edition plates from 'Birds of America', including Boat-Tailed Gackle [pl. 187], Townee Bunting [pl. 29], Chipping Sparrow [pl. 104], Traill's Fly-catcher [pl. 45], Snow Bunting [pl. 189], Pine Creeping Warbler [pl. 28], and Yellow Throated Vireo [pl. 119], engraving with etching, aquatint and hand-colouring on cream laid paper, the first...
Price: £2,500 - £3,500
ca. US$3,248 - US$4,548
5 Blatt Druckgraphik 5 Farblithographien und -serigraphien. 1898-1942. Dabei Arbeiten von: Paul Baum , Hans Christiansen , Richard Ranft , Arthur Szyk (Farboffset), Henri van de Velde...
Bildnis Clement de Jonge, Kupferstichverleger. Radierung. 20,7 x 16,2 cm. 1651. B. 272, White/Boon (Hollstein) 272 VI, Nowell-Usticke 272 IX, Hinterding/Rutgers (New Hollstein) 264 VIII (von X). Ausgezeichneter, leicht toniger Druck mit feinem Rand. Geringfügig stockfleckig, minimale Erhaltungsmängel und Altersspuren, sonst sehr gutes Exemplar...
Price: €6,000
ca. US$6,723
[42], 192, [1], 126, [1], 96, [49] pp. Engraved title page, numerous copperplate engravings, some decorated in gilt; printed in black and red throughout. (16mo) 16x7.5 cm (6¼x3"), period calf ornately decorated in gilt. Rare Book of Hours, ornately bound with gilt-decorated engravings. "Hours of Nostre Dame, in the face of Rome, with several beautiful and devout prayers, both in Latin and French...
8 Blatt Druckgraphik 6 Radierungen und 2 Lithographien. Um 1919-1955. Meist signiert. Arbeiten von Lovis Corinth (Müller 704 und Schwarz 379 XI), Arthur Degner , Carl Hofer (Rathenau L 180) und Max Slevogt (Söhn 547a, 567 u.a...
Druckgraphische Blätter 5 Lithographien auf Velin und 1 farbiger Strukturdruck auf Textil. 1947-1956. Bis 54 x 76,5 cm. 5 Blatt signiert "Trökes", teils datiert und betitelt. Trökes D 01/1947-04/1947, Trökes E 01/1954 und Trökes D 28/1956. Dabei die seltene komplette, vier Blätter umfassende "Jahreszeiten"-Folge (Frühling, Sommer, Herbst und Winter), 1947, "Mambo" (Studienwerkstatt der...
4 volumes. With numerous fine gravure plates reproducing engravings, many in color; printed tissue guards. (Folio) 39.3x28 cm (15½x11"), full crushed red morocco, spine gilt in seven compartments, marbled endpapers, top edges gilt, other edges uncut; bound by Riviere; cloth slipcases numbered in gilt. No. 114 of 120 copies printed at the Chiswick Press. An important collection of engravings...
Price: US$2,000 - US$3,000
7 Blatt Druckgraphik 3 Radierungen und 2 Holzschnitte. Um 1916-1930. Alle signiert. Arbeiten von und nach Frank Brangwyn , Walter Conz , Rudolf Großmann , Arthur Illies , Edvard Munch , Emil Orlik und Richard Ranft...
Hardy (Thomas).- Strang (William, painter and printmaker, 1859-1921) Portrait of the author, signed by Hardy in pencil under image, etching with drypoint, presentation inscription in pencil: "Lionel Johnson from Elkin Mathews and John Lane", signed by all three men, framed and glazed, portrait 230 x 152mm., [c. 1900]. ⁂ [Strang's] "etching of the novelist became in the late twentieth century...
Price: £300 - £400
ca. US$389 - US$519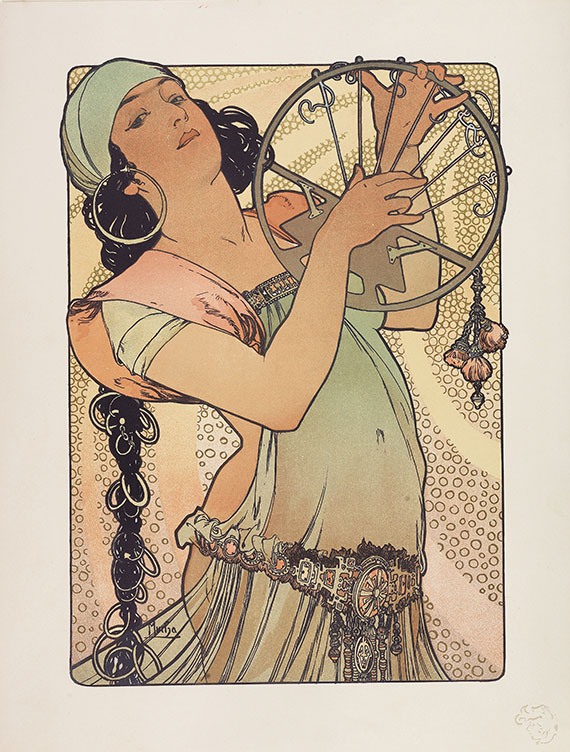 L'Estampe Moderne Publication mensuelle. Contenant quatre estampes originales inédites en couleurs et en noir des principaux artistes modernes français et étrangers. Hrsg. von Ch. Masson und H. Piazza. Paris, Champenois 1897-99. Vollständiges Mappenwerk der 100 Tafeln zur berühmten, prachtvoll illustrierten Jugendstil-Zeitschrift. Mit Orig.-Lithographien von P. Balluriau, A. Berton, H. Boutet, F...
Price: €5,000
ca. US$5,578
Try LotSearch
Try LotSearch and its premium features for 7 days - without any costs!
Search lots and bid
Price database and artist analysis
Alerts for your searches