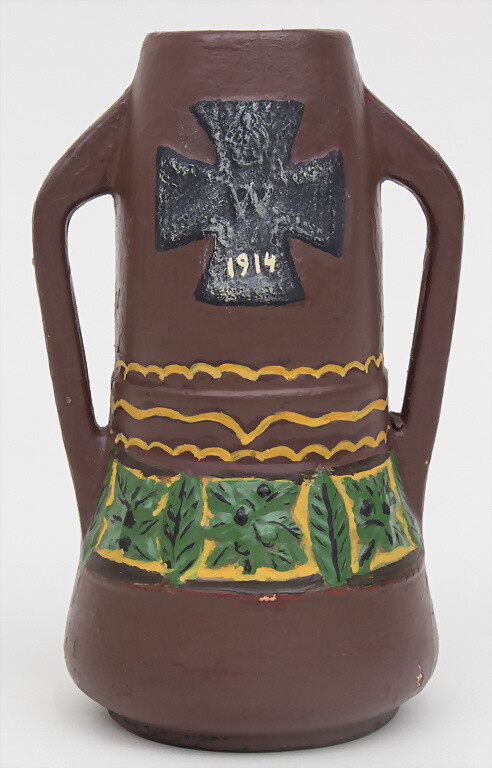 Material: Keramik, bunt bemalt (sekundär), Marke: unleserlich, Höhe: 16,5 cm, Zustand: Haarriss, kleinere Farbabplatzer + Material: ceramic, painted (secondary), Mark: unreadable, Height: 16.5 cm / 6.5", Condition: hairline crack, chipped paint Vorgebot abgeben...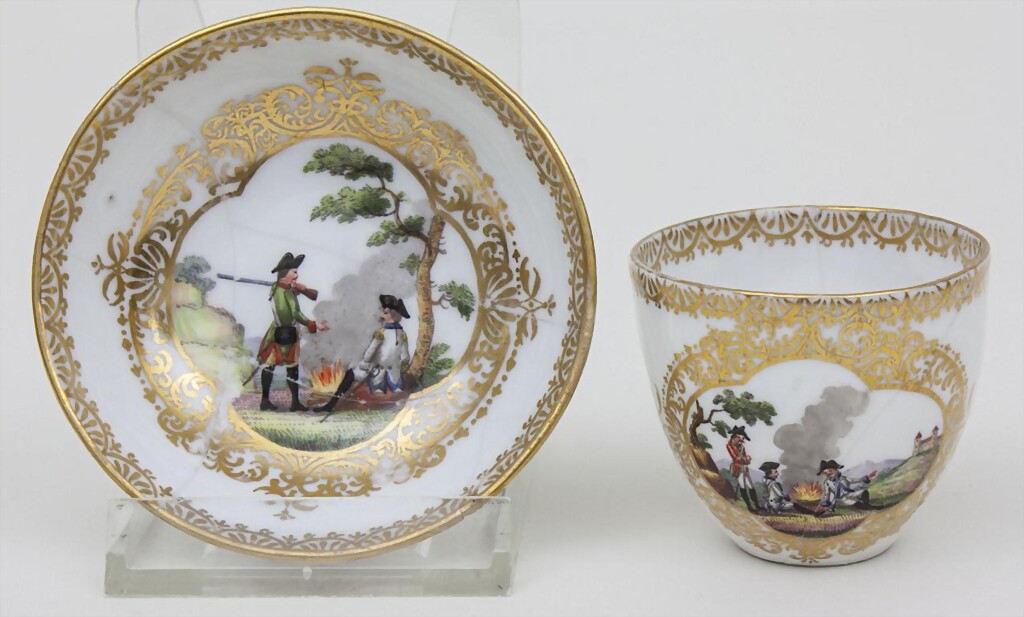 Material: Porzellan, Marke: kobaltblaue Knaufschwerter (1. Wahl), Dekor: Reserven mit unterschiedlichen preussischen Militär-Szenen, umlaufende Goldbordüre, Maße: H. Tasse 4,8 cm, D. UT 8,5 cm, Zustand: beide Teile geklebt + Material: porcelain, Mark: blue sword mark, Decor: different scenes with soldiers, Dimensions: H. 4,8 cm/1.89", D. 8,5 cm/3.35", Condition: cup & saucer glued Vorgebot abgeben...
Various military related prints, to include highlanders, the Royal Artillery, Portmeirion Magic City pattern canisters, miniature vases, jugs etc. (2 trays and loose...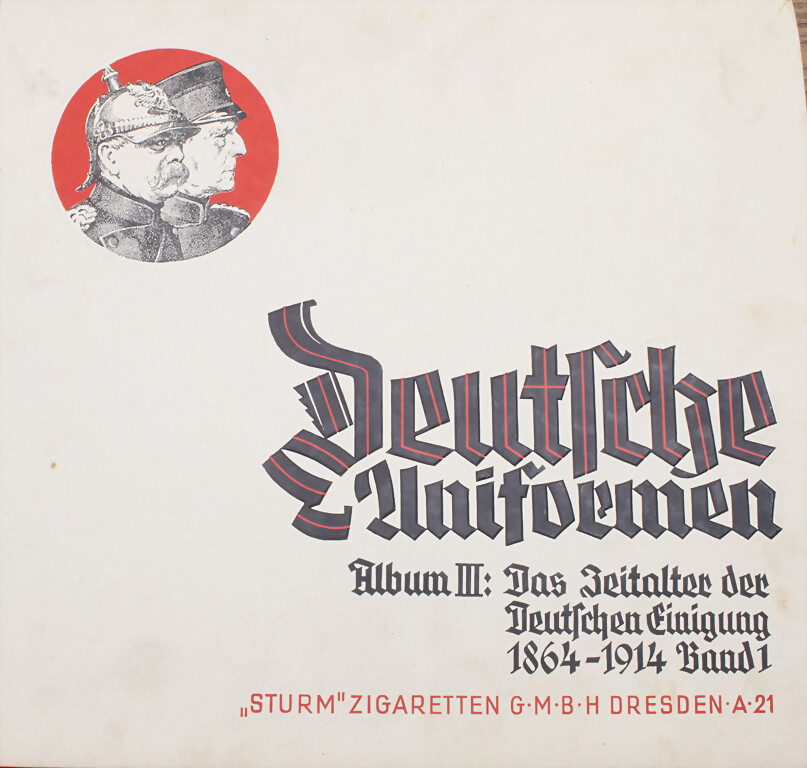 Titel: Deutsche Uniformen Album III: das Zeitalter der Deutschen Einigung 1864-1914 Band 1, Herausgeber: Sturm-Zigaretten GmbH Dresden, Umfang: 40 Seiten, vollständig bestückt, Maße: 28,5 x 24,5 x 2,0 cm, Zustand: gut, im Originalschuber Vorgebot abgeben...
Japanese Katana sword, steel blade, bamboo hilt and scabbard, housed in a silk sleeve, sword length 840mm., [1960's]; and 2 photographs of Hayek cutting his birthday cake with this sword, v.s., v.d. (3 pieces). ⁂ Acquired by Hayek on a visit to Japan in 1964...
Price: £300 - £400
ca. US$377 - US$502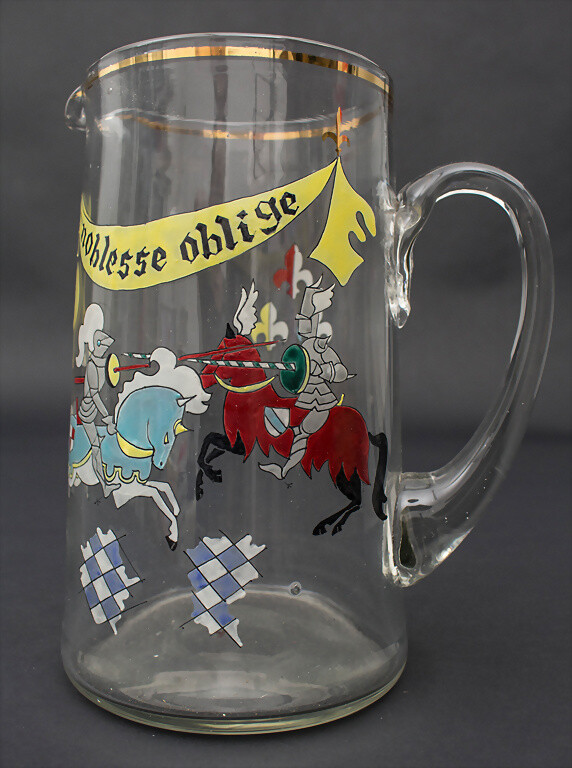 Material: Glas, mundgeblasen, Abriss ausgeschliffen, mit Emailfarben bemalt, Signatur: im Abriss rotes 'R', Dekor: Ritterturnier mit Banner 'noblesse oblige', Höhe: 23 cm, Zustand: gut, keine Chips + Material: clear glass, painted with enamel colors, Decor: tournament with 2 knights and banner 'noblesse oblige', Signature: red 'R' on bottom, Height: 23 cm/9.06", Condition: good, no chips Vorgebot...
Boite ronde en loupe et écaille. A décor d'une scène militaire. D : 8 cm. Accidents...
Price: €120 - €150
ca. US$135 - US$169
(2. Hälfte 20. Jh.) 2 Blätter, betitelt: Gefäss, Keimkraft, rechts unten signiert und datiert: Heinz Ritter (19)94 und (19)67, Lithografien in Farbe, nummeriert 8/5 und 6/20, Blattgrößen ca. 70 x 50 cm und 48 x 65 cm, stockfleckig, Blattränder beschädigt...
BREGUET Type 20 Militaire "Première génération", n° 8223 Vers 1955 Chronographe bracelet militaire en acier avec fonction "retour en vol" Boîtier : rond, lunette tournante, fond vissé, marquage militaire au dos "FG30169 FG26864 FG.4.57", signé Cadran : noir, chiffres arabes et aiguilles luminescents, 2 compteurs avec indicateur 30 min, graduation 1/5 de seconde, signé Mouvement : mécanique cal...
Price: €10,000 - €15,000
ca. US$11,287 - US$16,931
COPIA DE EDUARDO ROSALES, CA. 1900 Doña Isabel la Católica dictando su testamento Óleo sobre lienzo. Sin enmarcar. Medidas: 128,5 x 184.5 cm...
Try LotSearch
Try LotSearch and its premium features for 7 days - without any costs!
Search lots and bid
Price database and artist analysis
Alerts for your searches