Music & musical instruments
Mason & Hamlin, Boston, Mahogany Baby Grand Piano and Bench ca. 1964, style A with the serial number 61609, constructed of highly figured "ribbon" mahogany and fitted with a "PDS-128 Plus" player system, with an adjustable piano bench of traditional form. h. 39", w. 59", l. 68" Provenance: Estate of Russell C. Klein, M.D. and Donna Guinn Klein...
Price: US$1,000 - US$1,500
Alte Meister & Kunst des 19. Jahrhunderts Neuer Termin: Dienstag, 16. Juni 2020 Titelbild: Johann Heinrich Tischbein d. Ä., Theseus und Ariadne, 1779 (?) Mit einem schriftlichen Gutachten von Professor Dr. Helmut Börsch-Supan, Berlin, vom 18. Februar 2013. Das Gemälde wird von Ute Mannhardt in das in Vorbereitung befindliche Werkverzeichnis des Künstlers aufgenommen. Provenienz: Privatbesitz...
Price: €8,000 - €10,000
ca. US$8,683 - US$10,854
Geschwärztes Leder, auf dem Deckel aufgesplintetes Messing-Emblem mit Harfe, Trommel, Trompeten und frühem Saxophon. Das Bandelier (gerissen) ohne Beschlag, mit Messingschnalle. Partiell leicht beschädigt, unvollständig, Altersspuren. Repräsentative, große Ausführung. Selten. Zustand: II - III Fragen zum Los...
Kaminuhr mit Walzenspielwerk
Frankreich, 'Robert A Paris', 18.-19. Jh., Höhe 57 cm, Fadenaufhängung, Voll-, Halb- und Viertelstundenschlag auf 2 Tonfedern, unten mit Walzenspieluhr, gangbar, mit Altersspuren und kleineren Beschädigungen im Holz
Chimney clock with roller mechanism France, 'Robert A Paris', 18th-19th Century, height 57 cm, thread suspension, full, half and quarter hour striking on 2...
Klavierspieler aus der Affenkapelle
Meissen, 18.-19. Jh., Entwurf Johann Joachim Kaendler und Peter Reinecke 1753 bis 1765, Porzellan, weiß, farbig und gold staffiert, Höhe 13,5 cm, unterseitig mit Manufakturmarke, 1. Wahl, am Stand mehrfach gechipt, partiell mit Farbabrieb
Piano player from the monkey chapel Meissen, 18th-19th Century, designed by Johann Joachim Kaendler and Peter Reinecke from...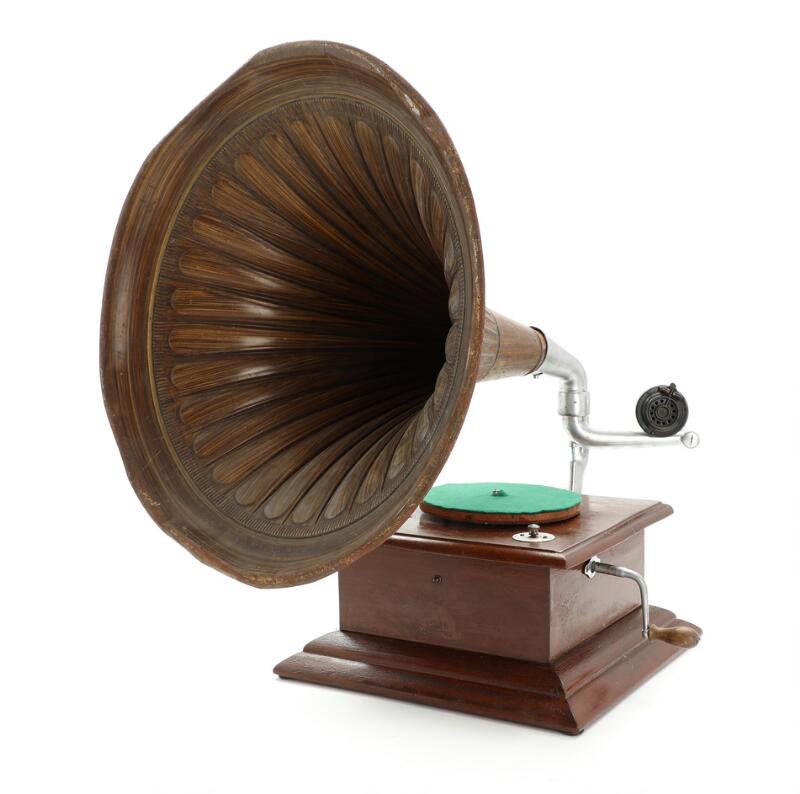 An early 20th century painted wood and metal gramophone. Marked "Swiss made". H. incl. horn 66. W. 52. D. 65 cm.
Wear due to age and use. Minor, dents, scratches and marks. We do not guarantee for the functionality...
Price: DKK4,000
ca. US$584
Herr in grünem Mantel, beim Spiel seines Instrumentes, Öl auf Holztafel, um 1920, rückseitig Zuschreibung "Hedwig Oehring 1855–1907 München" und Schriftzug Otto Ratsch", kleine Beschädigung in der Malschicht, gerahmt, Falzmaße ca. 24,5 x 19,2 cm. Künstlerinfo: dt. Malerin (1855 München bis nach 1930), Mitglied der Münchner Künstlergenossenschaft und des Reichsverbandes Bildender Künstler, Quelle...
Date: 28 May 2020 - 30 May 2020
BEAU SAXOPHONE TENOR Professionnel 2000 N° 52380, IDA Maria, Gross. (Italie). Petit enfoncement sous le pavillon. Avec son bocal...
Price: €300 - €500
ca. US$328 - US$546
TRES BEAU SAXOPHONE SOPRANO SELMER, modèle 26 N° 7157. Très bel état...
Price: €600 - €800
ca. US$656 - US$874
Violon allemand portant étiquette Stradivarius 1716 Epoque 1900 Fond deux pièces 357 mm. Bon état Avec boîte...
Price: €120 - €150
ca. US$130 - US$163
Try LotSearch
Try LotSearch and its premium features for 7 days - without any costs!
Search lots and bid
Price database and artist analysis
Alerts for your searches