A CARVED MARBLE BUST OF ST. GEORGE, ITALIAN, 19TH C. Comprising a finely carved marble bust of the head of Saint George set on a socle base. After the full standing figure by Donatello (Italian 1386-1466) housed in the Bargello, Florence. Height 26 inches (66cm). Together with faux marble painted columnar fluted pedestal base, height 30 inches (76cm...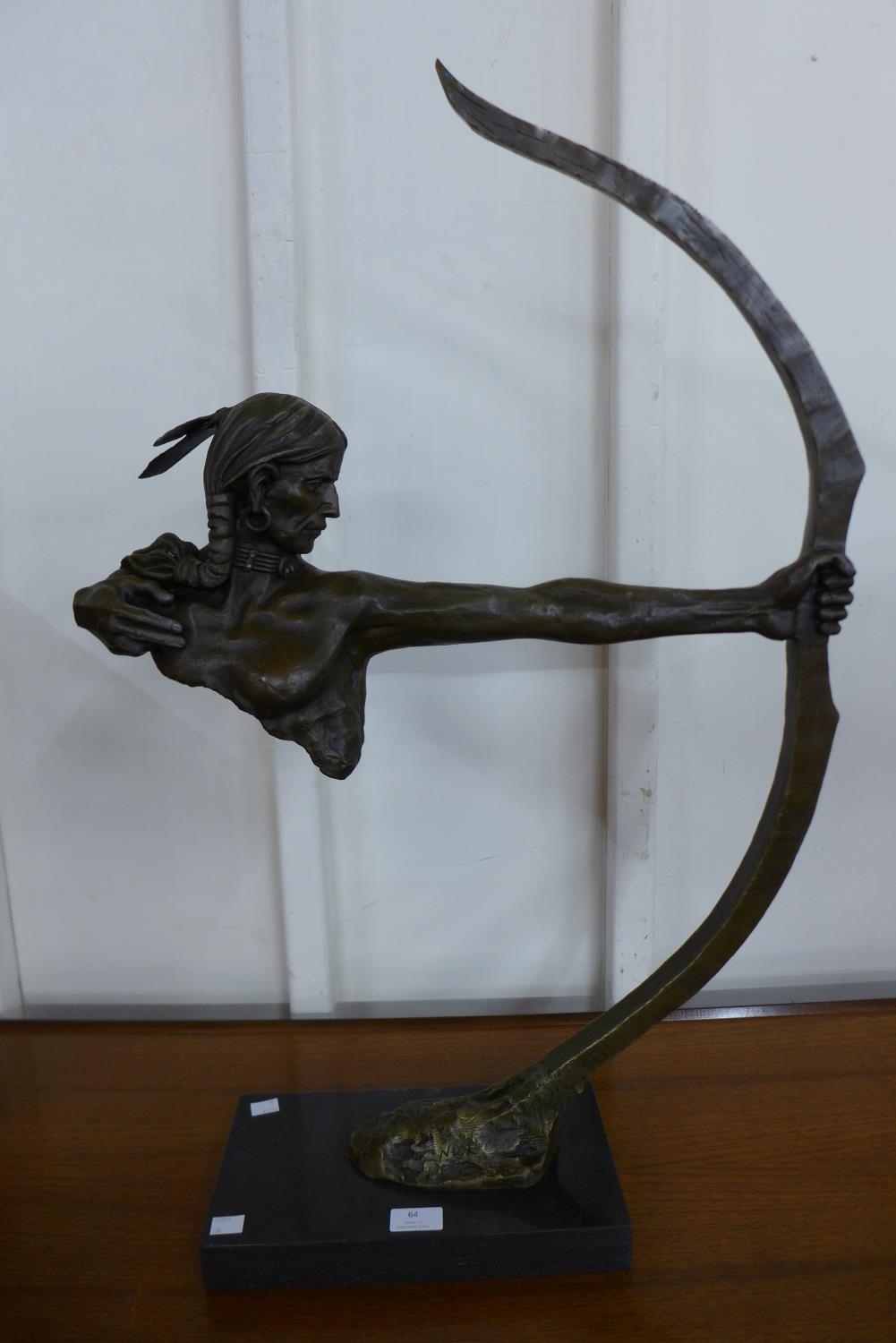 A bronze bust of a Native American with bow, on black marble plinth...
Price: £300 - £400
ca. US$388 - US$518
A LARGE CARVED GILT WOOD FIGURE OF ST. JAMES. Carved in 3/4 round depicting the apostle and Saint to the Pilgrims James with pilgrim staff and hat with pilgrim's shell. Finely carved of good anatomy and proportion with cascading hair and deeply carved folds. The surface retaining the original polychroming and gold leaf. The flat back slight hollowed and with suspension cavity. No doubt German, and...
Burmese Painted Wood Figure of an Attendant 17th Century The head slightly tilted to the right between pendulent ears below a peaked cap and the hands held palm outward at the waist, dressed in long robes with a flowing scarf. Height 31 1/2 inches Provenance: Purchased May 5, 1990 from Lee & Sons, Paris, France; sold with original receipt C Estates of WR Appleby and Elinor Appleby...
A FINE SINO-TIBETAN GILT BRONZE FIGURE OF HAYAGRIVA WITH CONSORT, 18TH CENTURY. Depicting the multi-armed deity grasping various accoutrements rising from a multi figured base on lotus blossom plinth embracing his consort. Incised blossom on base panel. Height 9.75 inches (24.8 cm...
Price: US$5,000 - US$7,000
SINO-TIBETAN GILT BRONZE FIGURE OF VAISRAVANA. Finely sculpted in full round with flowing robe, holding a lotus in one hand and a rat in the other and seated on a sealed lotus base with engraved Vajra. Height 8 inches (20.5 cm...
CHINESE GILT BRONZE FIGURE OF A MONK. Finely sculpted in full round the flowing robes incised overall with flower forms and resting on aintegral earthen form base. Height 6.5 inches (16.5 cm...
SINO-TIBETAN BRONZE FIGURE OF YAMANTAKA . Finely sculpted in the form of the yidam and consort standing in alidhasana on trampled figures, with traces of polychrome, atop a sealed lotus base engraved with single Vajra. Height 5.4 inches (13.6 cm...
A Tibeto-Chinese Gilt Bronze Figure of an Arhat 17th/18th Century The figure seated on a double cushion stand. Height 3 3/4 inches. Provenance: Private New York Collection C...
Price: US$2,000 - US$3,000
A Large Tibetan Seated Bronze Figure of Jambhala 18th/19th Century Height 12 inches C...
Price: US$2,000 - US$3,000
Try LotSearch
Try LotSearch and its premium features for 7 days - without any costs!
Search lots and bid
Price database and artist analysis
Alerts for your searches