AM-8-DEP, Armand Marseille gemarkt im Nacken. Lederkörper u. Füße, Zelluloidarme. Porzellankopf u. Zähnchen, Glas-, Schlafaugen. H: 66 cm. - 1 Arm Beschädigt, Alterssp. Insgesamt guter Zust. Originalkleider der Zeit...
Date: 11 Oct 2019 - 12 Oct 2019
guter Zustand, H: ca. 50 cm | good condition, height: about 50 cm...
wohl Modell 1933 mit breiten Hüften. 3 Hinterkopfnähte. Seperat angenähte Daumen. Farbverlust an mehreren kleinen Stellen u.a. Stirn u. Haar, Nasenspitze, Wange. Unleserliche Zahl in Rot auf Fußsohle. H: 43 cm. Selten...
Date: 11 Oct 2019 - 12 Oct 2019
Stehender Pinguin, Knopf in Druckbuchstaben am linken Fuß, langer Bogen beim zweiten "f" von Steiff, Fahne nicht mehr vorhanden, Mohairplüsch, grüner Rücken, orangefarbener Filzschnabel, Halsmechanik, bespielt, tlw. Fellverluste, Knopf min. korrodiert, Nähte um den Knopf besch., Rücken nicht mehr "schillernd", da leichte Farbverluste, H 15 cm. STEIFF Kingpenguin "King Peng", 1931-1934. Button with...
Guss, schwarz, BR 06 der DRG, 2 Stirnlampen, 3 Dome, ohne Gehäuseaussparung f. Steuerung, geschlossenes Bürstenlager, mittlere Antriebsachse ohne Spurkranz, Speichenräder, SK 800-Aufschr. auf 7 mm langem Schild, Lokaufschr. in Groteskschrift, Handschalthebel, Tender m. Faltenbalg. Dazu 3 Märklin-Kataloge v. 1952, 1954 u. 1955, Gebrauchsspuren, min. übermalt, part. Markierungen d. Einlieferers...
A collection of magic lantern slides, English, third quarter of the 19th century, including a rare zoetrope-type mechanical slide, eight rotating astronomical slides, a kaleidoscope slide and twenty three hand painted slipping and other slides, all in wooden frames, (Qty...
Price: £600 - £900
ca. US$736 - US$1,104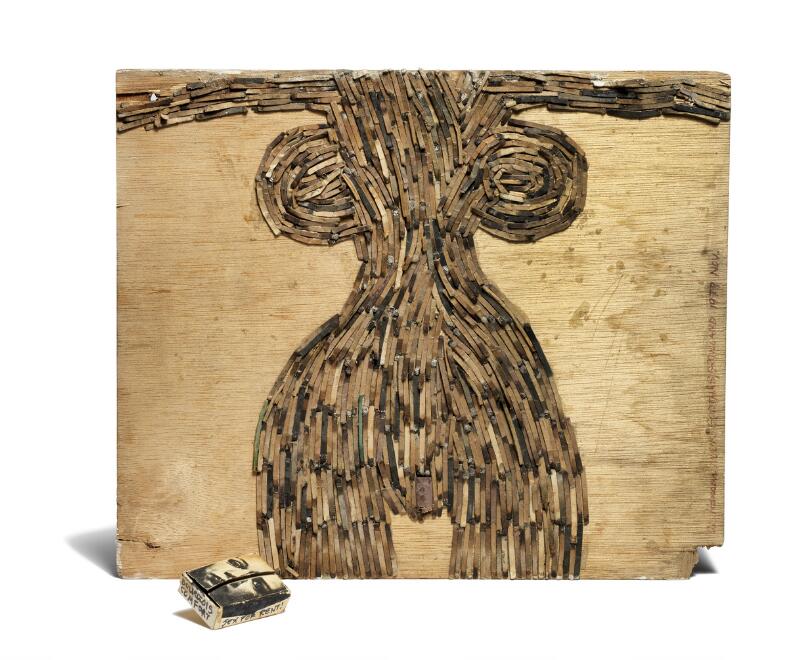 Untitled, 1979 and "Bourgois comfort - Sex for rent", c. 1980. Assemblage signed 'Al Hansen, Nuuk, Godthåb, Grønland 1979 Nov'. Assemblage with matches on wooden board and collage on matchbox with objects. 31×36 cm. and H. 1.5 cm. W. 5 cm. D. 3.5 cm. (2) Provenance: Gift from the artist to the present owner during a collaboration on the movie "Wonderful Copenhagen", 1983–84, in which Al Hansen...
Price: DKK15,000 - DKK20,000
ca. US$2,220 - US$2,961
No.3 (Füsse ergänzt) 1 Hand Rep., Schildkröt Zellul. 35 mit bew. Augen, sowie 1 Masse- u. 2 Porzellankopfpuppen. Alle Puppen zu restaurieren. Tlws. Rep. u. Beschäd. Dazu 1 Steiff Katze Susi. Gekauft wie besichtigt...
Date: 11 Oct 2019 - 12 Oct 2019
A FINE WOOD AND IRON MODEL OF A JAMES WATT CONDENSING BEAM ENGINE OF THE 1780'S, built by G Wilson in 1937, the single cylinder, 1in bore x 4in stroke, is held to wooden crossbeams with four tie-bolts and two bridges. It is jacketed using four segments bolted together, and there are separate valve-chests or "nozzles" with the valve spindle levers driven by "detent levers" actuated by a wooden plug...
Price: £2,000 - £3,000
ca. US$2,454 - US$3,681
Stehende Hundepuppe, Knopf mit verkürztem Bogen beim zweiten "f", Reste einer gelben Fahne, Plüschkopf, -füße und -hände, Kleidung aus braunem Wollplüsch, Jacke mit Druckknopf schließbar, Bindegurt fehlt, Stoff am rechten Fuß offen, bespielt, H 30 cm. STEIFF "Chow doll", 1939-1940. Standing dog doll, button with shorter 2nd "f", rest of a yellow tag, plush head, -feet & -hands, clothing of brown...
Try LotSearch
Try LotSearch and its premium features for 7 days - without any costs!
Search lots and bid
Price database and artist analysis
Alerts for your searches