Gehäuse Gold 14K. Werk und Gehäuse-Nr. 19032. Werk stammt ursprünglich aus einer Damensavonette-Taschenuhr aus dem 19.Jh.! Mit Unterlagen über Revision von 1997! Geh.-Durchmesser ca. 30mm (gemessen ohne Krone). A. LANGE & SÖHNE Marriage wristwatch, converted around 1940. Case 14K gold. Movement and case no. 19032. Movement originally came from a ladies pocket watch from the 19th century! With...
Price: €6,000
ca. US$6,566
PATEK PHILIPPE - Elegant yellow gold pocket watch. CASSA:in oro 18 k. DIAMETRO:50 mm. gr 108,8...
Price: €3,000 - €5,000
ca. US$3,256 - US$5,427
Date: 18 Mar 2020 - 9 Apr 2020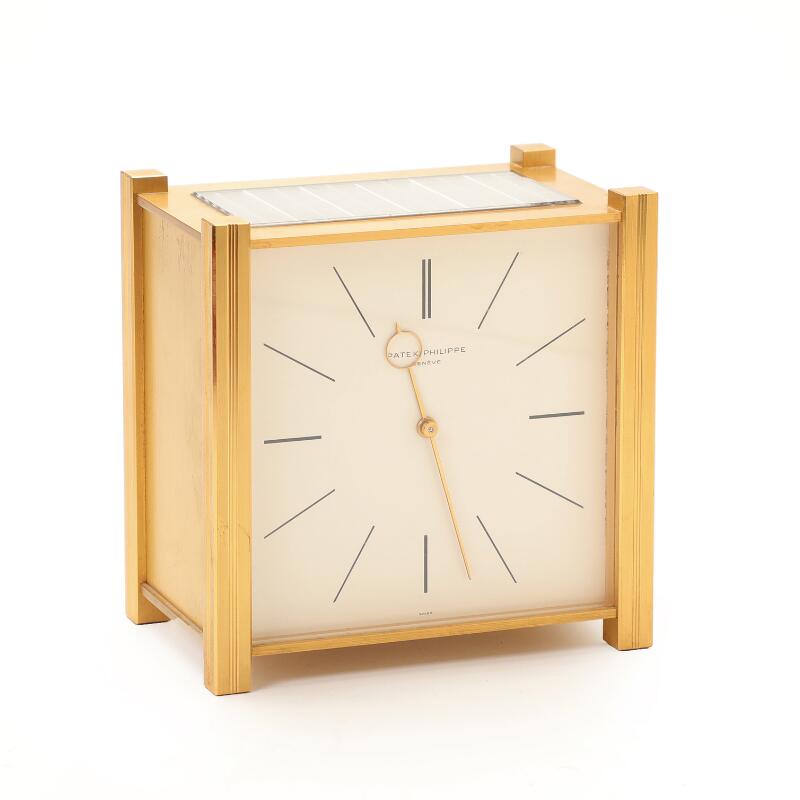 A gilt brass table clock. Caliber 17–250, movement no. 872.979, reference no. 573, solar powered. White dial with black Roman numbers. Genève c. 1962. H. 14 cm. W. 14 cm. D. 9 cm. Original red leather case is enclosed.
The original red leather case is enclosed with signs of use and with scratches. The table clock was in working condition at the time of their consignment and inspection, but it has...
Price: DKK4,000 - DKK6,000
ca. US$596 - US$895
25 x 25 mm.
Feine, rechteckige Damenuhr von PATEK PHILIPPE, Referenz 4910, in einem verschraubten Stahlgehäuse mit Brillanten auf der Lünette. Stahlarmband mit verdeckter Faltschließe. Silbernes Zifferblatt mit römischen Ziffern und Brillanten als Stundenindizes. Quarz werk. Mit Box und den Originalpapieren von 2005. (12200618) (20...
Price: €3,500 - €4,500
ca. US$3,839 - US$4,936
Feine Taschenuhr in Platin. Durchmesser: 43 mm.Mit feiner Uhrenkette in Platin und mit 22 kleinen Brillanten. Silbernes Zifferblatt mit Brillanten-Stunden indizes und kleiner Sekunde. Feinstes Ankerwerk mit Genfer Streifen, Nr. 890183, Gehäuse-Nr. 418619, ca. von 1939. (12208130) (2...
Price: €12,000 - €15,000
ca. US$13,163 - US$16,454
Herrenarmbanduhr, Metall vergoldet, Automatik, Ankerwerk, Kaliber ETA 2836-2, Jubiläumsausgabe 75 Jahre BrauAG, weißes Zifferblatt mit Perlmutteinlage, römische Zahlen, Datum in arabischen Zahlen, Wochentagsanzeige, Zentralsekunde, verglaster Gehäuseboden, Ref. Nr.: 27732, Durchmesser ca. 38 mm, Widmung auf Rotor, Lederband mit Dornschließe, 55,3 g in Originaletui, Zertifikat Service wird...
Edelstahl. Automatic-Werk. Lederband mit Faltschließe. Gebrauchsspuren an Band und Gehäuse. Serien Nr. AQ 84216. Box und Papiere anbei, Kauf 12/2011. Geh.-Durchmesser ca. 40mm (gemessen ohne Krone). MAURICE LACROIX Pontos Day Date, Ref. PT 6158. Men's watch. Stainless steel. Automatic-movement. Leather strap with folding clasp. Signs of wear on case and band. Serial no. AQ 84216. Box and papers...
Herrenarmbanduhr, Edelstahl/Gold 750, Automatik, Tages- und Datumsanzeige, beiges Zifferblatt mit römischen Ziffern, Gehäusenummer AC47128/09777, Durchmesser ca. 37 mm, 52,2 g, Band beschädigt, Werk überholungsbedürtig SERVICE WIRD EMPFOHLENøG3...
Höhe: 52 cm. Breite: 61 cm. Tiefe: 14 cm. Zifferblatt signiert "Drouot à Paris".
Auf gedrückten kugeligen Füßen der stehende Marmorsockel mit ziselierten Empire-Ornamenten und -Tondi, darauf die brünierte Figur als Allegorie der Literatur und der Lektura. Dazwischen ein Ormolurelief mit zwei Putti in einer Landschaft. Weiß emailliertes Zifferblatt mit römischen Stunden und Stabindizes für Minuten...
Price: €18,500 - €20,000
ca. US$20,294 - US$21,939
18K Rosé-Gold. Automatic-Werk. Serien-Nr. 2291071. Mit Original-Etui (Einsatz fehlt) sowie Service-Papieren von Juwelier WEMPE aus 07/2019 (komplette Grundüberholung). Glas leicht besch. bei "6". Geh.-Durchmesser: 37x55mm (gemessen ohne Krone).BREITLING for BENTLEY Flying B Chronograph mens watch, ref. R44365. 18 karat Rose Gold. Automatic movement. Serial no. 2291071. With original box (without...
Price: €19,500
ca. US$21,339
Try LotSearch
Try LotSearch and its premium features for 7 days - without any costs!
Search lots and bid
Price database and artist analysis
Alerts for your searches