Postkarte: Lithographie / Ausstellungseinladung und -plakat: Offsetlithographien / Holzschnitt; Postkarte: Alles Gute 1981 KAF / Ausstellungseinladung: Lieber Rudi, Möchte dich herzlich einladen, dein Karl / Holzschnitt: signiert und datiert rechts unten, nummeriert links unten 6/9, rechte obere Bildecke: von Karl Anton Fleck; Postkarte: 14,6 x 20,6 cm / Ausstellungseinladung: (offen) 60 x 42 cm...
Zwei Miniaturvasen Limoges, 20. Jh. Balusterform mit langem Hals, blauer bzw. gelber Fond und Blumenkranz auf der Schulter, Goldstaffage. Porzellan. Am Boden bez. ''peint main Limoges France'', Malerzeichen. H. 12 cm. // Two french miniature vases — Limoges, 20th century Baluster shape with a long neck, blue or yellow background and a floral wreath on the shoulder, gold decoration. Porcelain. Base...
Date: 27 Nov 2020, 15:00 - 28 Nov 2020
Historismus - Jugendstil. Handbemalt mit Jägerdarstellung u. liebliche Gartenszene mit Amoretten (1 Liter) Beide Porzellan mit Lithophanie im Boden. Sowie Steinzeugkrug wohl Mettlach 19.Jh (bestossen) u. Steinzeugkrug Jugendstil mit Zinndeckel. 12 - 28 cm. Guter Zustand. Gekauft wie besichtigt...
Date: 10 Dec 2020 - 12 Dec 2020
Blumentopf Höhe ca. 15,5 cm, eine Deckeldose mit plastischen Rosen cm, Porzellan, weiß, glasiert, gemalter Blumendekor, goldakzentuiert, plastischer Blütenknauf, Dekor AP Apponyi purpur, Blaue Herend Marke (5...
Elegantes Zigarettenetui Wien, um 1870 Flache Rechteckform mit Rippendekor; innen gravierte Widmung mit Dat.''1969''. Silber. Innen Hundekopfpunze mit ''3'' und Meistermarke ''BA'' im Bogen. 8 x 13 cm; 188 g. // Elegant cigarette case — Vienna, around 1870 Flat rectangular form with ribbed decoration; inside engraved dedication with date ''1969''. Silver. Inside dog head mark with ''3'' and master...
Date: 27 Nov 2020, 15:00 - 28 Nov 2020
1. Viertel 20. Jhdt., aus Silber (900 fein), mit guillochiertem Farbemail geziert, bestehend aus: 1 Tintenfass auf geschliffenem Glassockel, 1 Löschwippe,1 Petschaft, 1 Brieföffner, 1 Federhalter, 1 Drehbleistift in Originalkasette, Altersspuren, Email teilweise ausgebrochen, Kasette abgerieben...
Paar dänische Kerzenleuchter mit Filigran-Dekor
V. Christensen
Kopenhagen, 1893 - 1910
Kopenhagen, 1879. Silber, gest. BZ.: Simon Groth, MZ.: 'V CHRISTESEN'. Reicher, ornamentaler Filigran-Dekor aus aufgelegten Silbersträngen. Lötrep., min. best. H. 20,5 cm. Gew. zus. ca. 470 g...
Date: 27 Nov 2020, 15:00 - 28 Nov 2020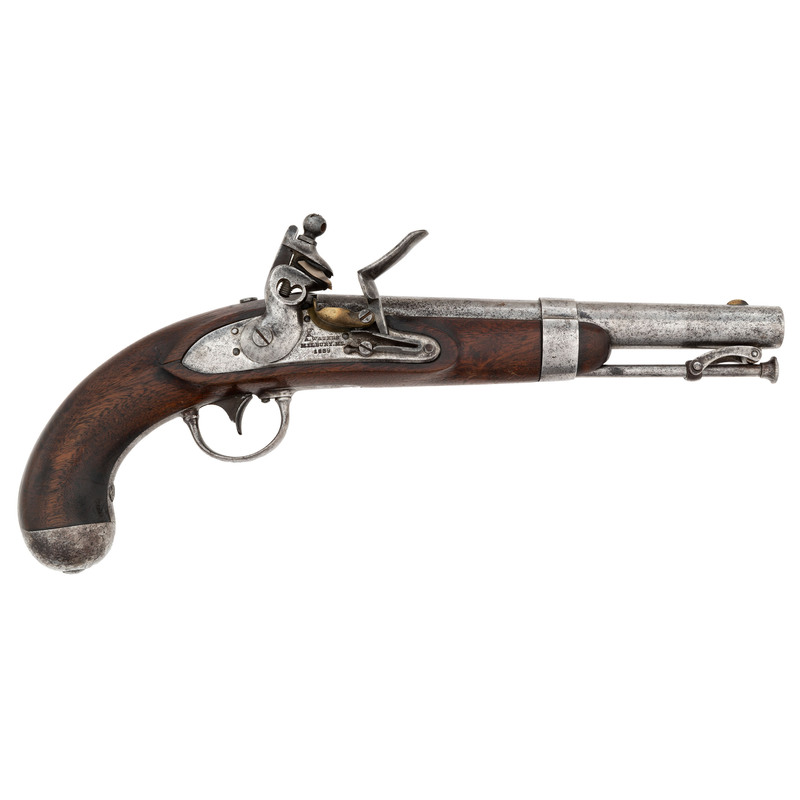 .54 caliber, 8.5" barrel, no S/N. Bright finish, walnut stock, swivel ramrod. Waters marked lock dated 1839 remains in original flint configuration. Clear US/JA/P barrel inspection and crips script EB and WAT cartocuhes on counterpane. The last of the US single shot flintlock martial pistols. Condition: Good. Metal with a moderately oxidized salt & pepper appearance with some scattered pitting...
.612 bore diameter, 10.25" two stepped round barrel. Early faceted banana shaped flintlock. Left side plate has nice piercings, raised carved fruitwood stock. Iron furniture. Condition: Overall good condition. A piece of wood has been added to the stock. small pice wood missin gfrom the butt cap. All metal has an untouched patina...
16tlg. Sammlung aus Silberminiaturen meist 19.Jhdt. Tlws. Schweden u. deutsch. Dabei Schenkkannen 3 - 4,5 cm. Handleuchter, Kerzenleuchter D: 2 - 3,8 cm. Nicht durchgängig gestempelt. Geprüft. Kleine Schönheiten. Gekauft wie besichtigt...
Date: 10 Dec 2020 - 12 Dec 2020
Try LotSearch
Try LotSearch and its premium features for 7 days - without any costs!
Search lots and bid
Price database and artist analysis
Alerts for your searches