Silber 13-lötig, getrieben und ziseliert, in Form von spitzen Pyramiden auf Kugelfüßen und gestuften dreieckigen Sockeln, mit Mauerwerk-Gravur, ursprünglich vermutlich Freimaurer-Tischobjekte mit nachträglich gelöteten Tüllen, Füße gefüllt, Meisterzeichen Heilsberg (Ermland/Ostpreußen), Höhe ca. 24 cm, Gesamtgewicht ca. 905 g, Druckstellen Ruf 600 Vgl.: Österreichische Freimaurerlogen. Humanität...
Price: €1,000 - €1,800
ca. US$1,109 - US$1,996
Holland, wohl 19. Jh. Schatulle mit allseitig reliefierten, figürlichen Szenen. Scharnierdeckel. Innen in zwei Fächer unterteilt und mit roter Seide ausgeschlagen. Zwei silberne Teedosen mit Schiebedeckel. Mehrfach punziert. Alters- und Gebrauchsspuren. Breite 16.8 cm Höhe 9.8 cm Gewicht 580 g...
Date: 14 Nov 2019, 09:00 - 16 Nov 2019
Entwurf 1970 David Marshall. Brutalistischer Kerzenleuchter aus massivem poliertem Messing und Aluminium. Mit Signaturprägung. Höhe 33.5 cm...
Date: 14 Nov 2019, 09:00 - 16 Nov 2019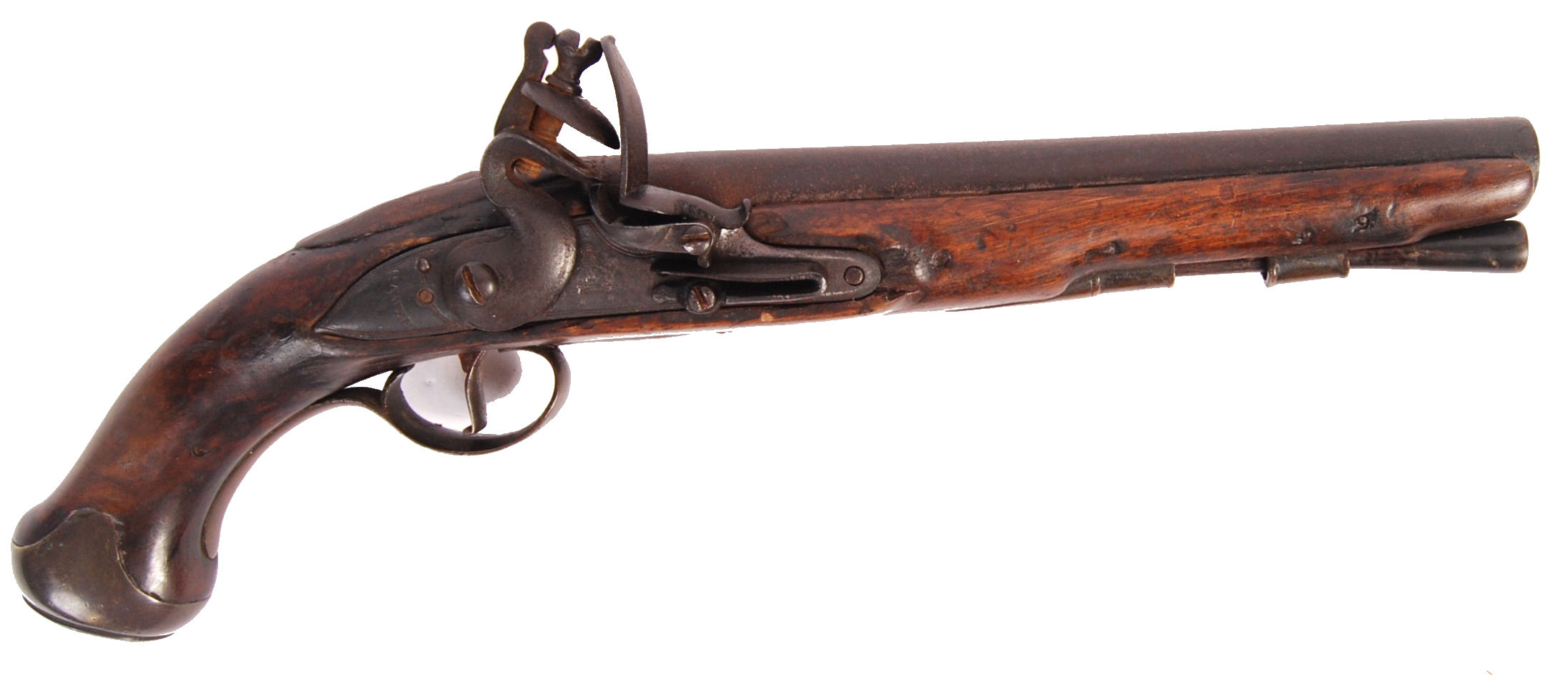 A good antique 18th century Sea Service or Light Dragoon flintlock pistol. Lock plate engraved for ' Rawle ' (Rawle & Wilson), with a crown over GR. Bronze furniture. 9" barrel with English proof marks, elongated side plate as in sea service pistols, and decommissioning marks (double crowsfoot) behind sideplate along with inspectors mark ' W '. Original or contemporary horn-topped ramrod present...
Price: £300 - £500
ca. US$386 - US$644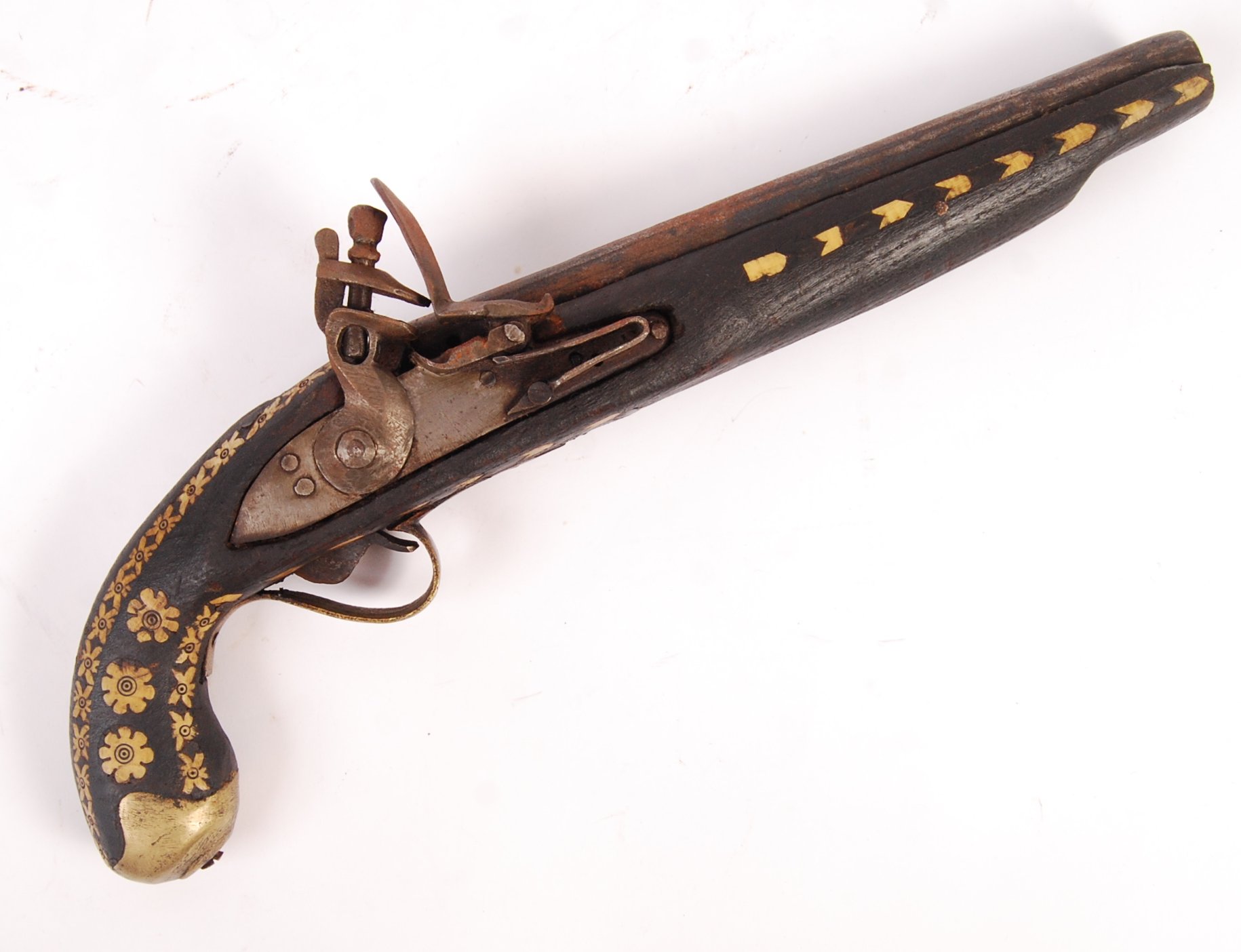 A 19th Century Indian flintlock pistol having bone inlay and floral decoration with brass and steel furniture. Measures; 40cm...
Price: £40 - £60
ca. US$51 - US$77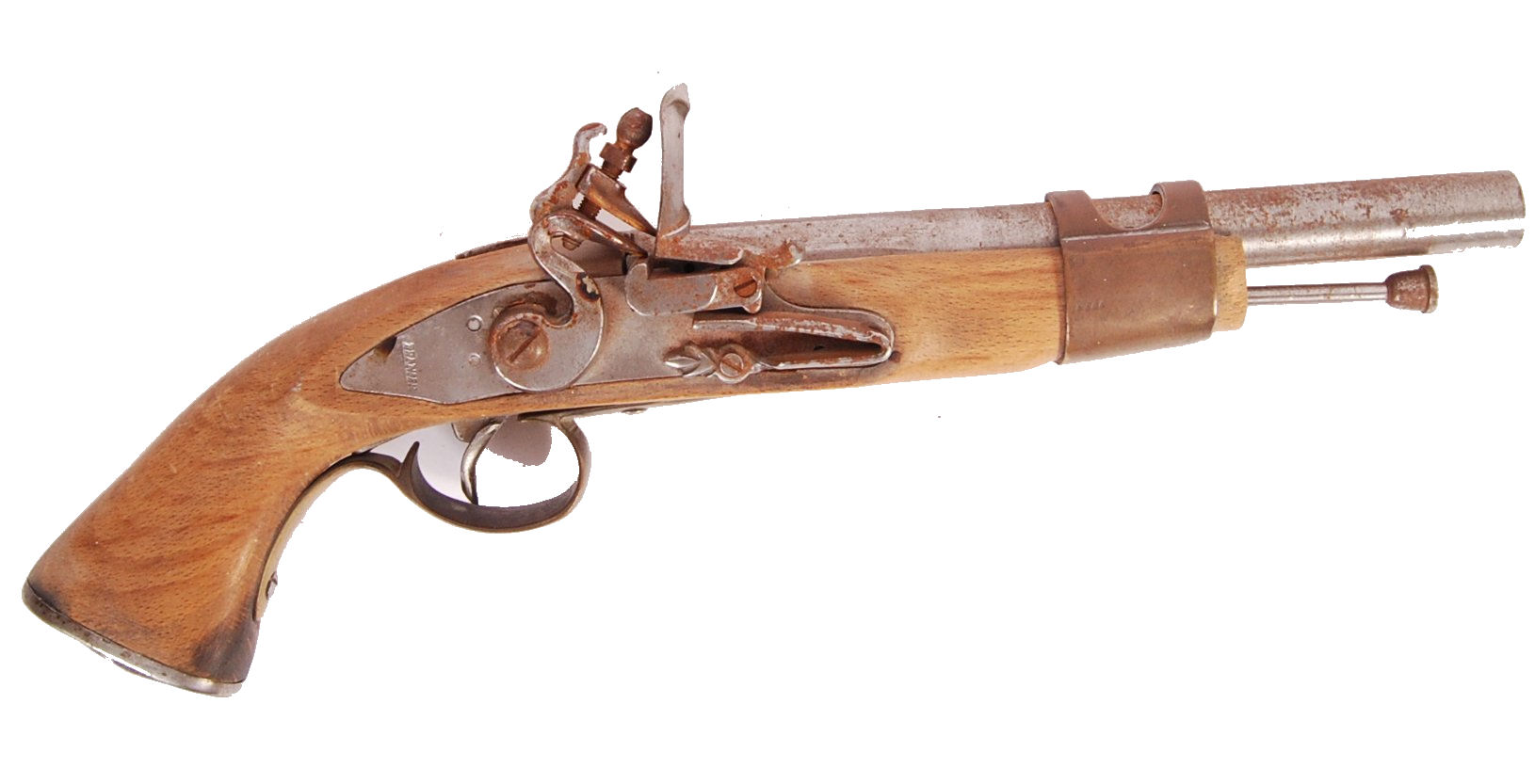 An antique 19th century style flintlock pistol - believed to be a reproduction / possibly a modern replica - with steel and brass furniture. The lock plate marked ' Brander '. Mechanism in working order, with ramrod. Measures approx; 36cm...
Price: £40 - £60
ca. US$51 - US$77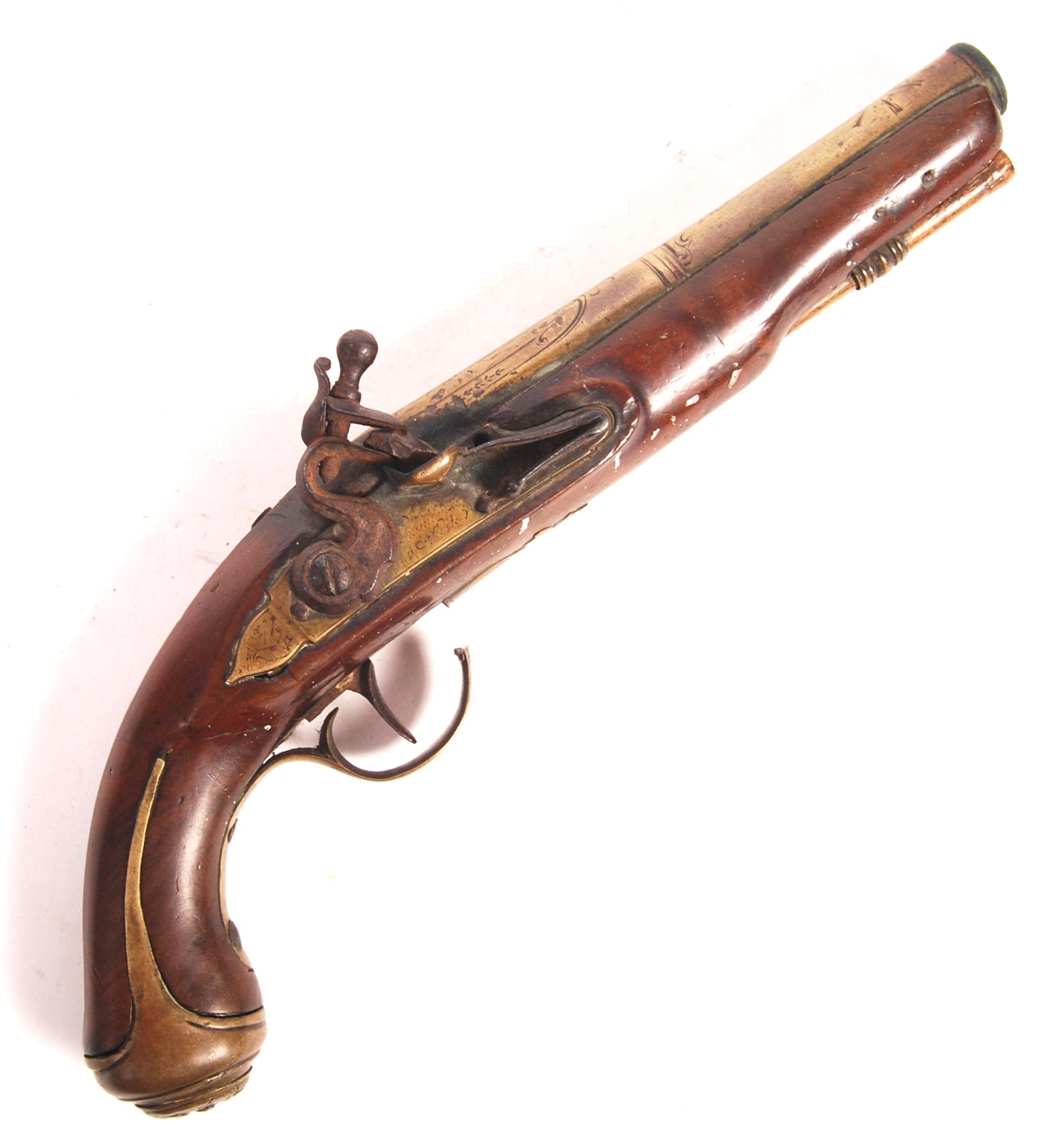 A 19th Century flintlock pistol having a walnut butt, brass grotesque faced butt plate, brass trigger guard & trigger, chased decorated brass barrel, brass lockplate with illegible makers marks and steel cock. Measures; 29cm. Condition; AF - frizen not present, trigger guard cut and wooden butt section chipped...
Price: £40 - £60
ca. US$51 - US$77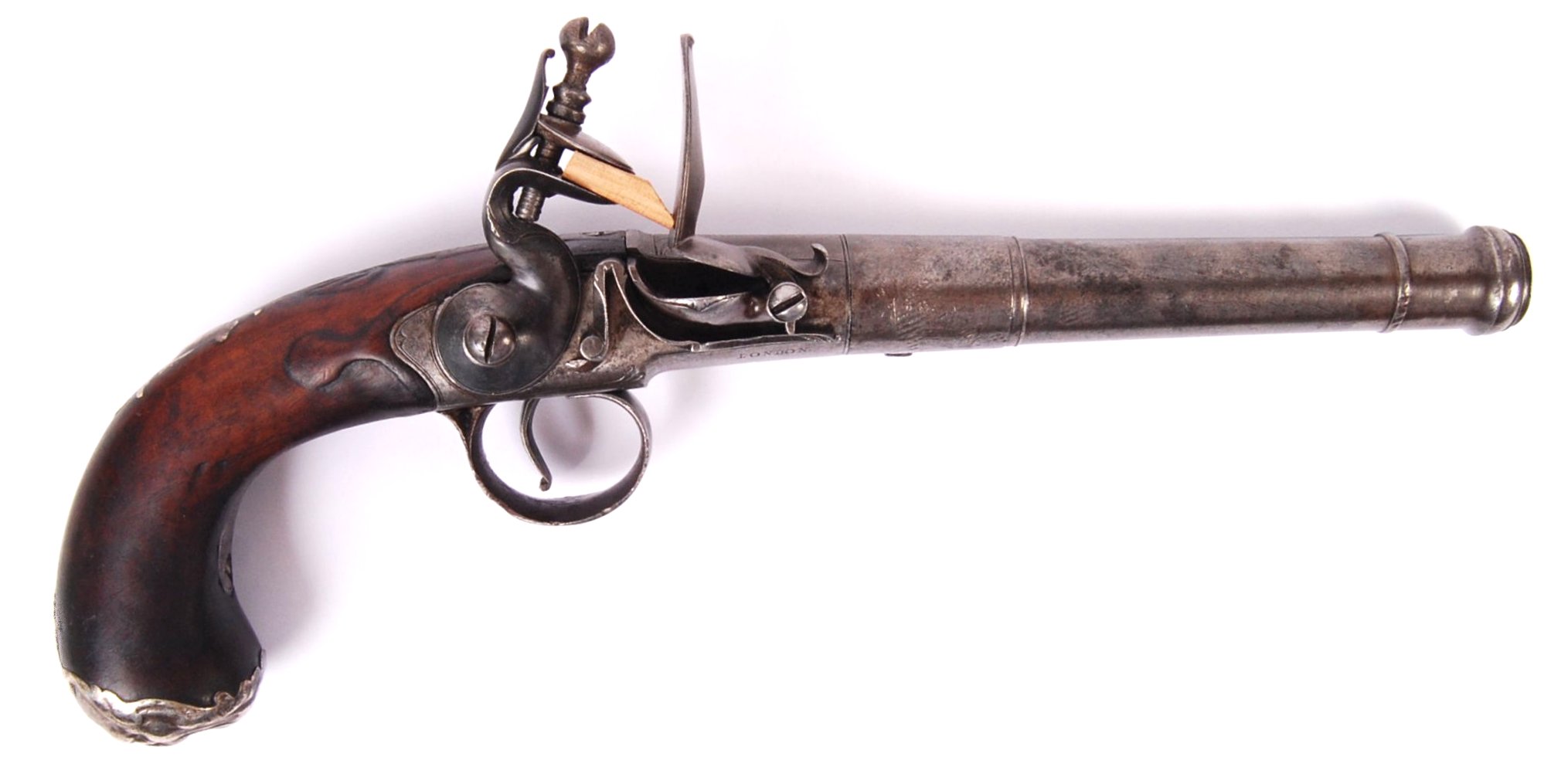 A good antique 18th century Queen Anne flintlock pistol / cannon. Screw-off barrel, with makers marks of George Reed to top and ' London ' to underside, with English proof marks. Silver mounts decorate the stock, including a silver escutcheon and a grotesque mask to butt. Approx 12" in length...
Price: £500 - £800
ca. US$644 - US$1,031
Kalliope mit graviertem Holzgehäuse. Innenlithographie. Für Platten mit 14 cm Durchmesser. Spieluhr läuft an, wenn man Hebel hebt, Feder wohl überzogen, Klemmbügel ausgebrochen. Dabei 10 Blechplatten. Kasten ca. 16 x 26 x 23 cm. (18). Ausserdem Kalliope Lochplattenspieldose für Blechplatten mit D: 23 cm. Werk läuft an, hängt ab u. zu. Seitlicher Hebel gebrochen (verkürzt). 17 x 27 x 29 cm. Gehäuse...
Krug der Bierbrauer, Andenkenkrug, Krug mit Abschiedsszene und Glaskrug. Bitte besichtigen, Alters- und Gebrauchsspuren, partiell beschädigt. Bitte ansehen 4 mugs for remembrance. I.a. mug for beerbrewers and glass mug. Traces due to age and use, partly damaged. Please visit...
Try LotSearch
Try LotSearch and its premium features for 7 days - without any costs!
Search lots and bid
Price database and artist analysis
Alerts for your searches