Notgeldscheinen und einigen losen Noten. Erhaltungen unterschiedlich, Besichtigung wird sehr empfohlen! Emergency money - Thightly filled album with diverse german emergency money. Different conditions, please visit...
in Form von Schweuz 20 Franken Vreneli 1935 LB und Türkei 100 Piaster. Insgesamt ca. 12,4 g GOLD fein. Dazu diverse Münzen, Medaillen und auch einzelne Banknoten. Fundgrube. Bitte ansehen. Mixed lot with silver and a little GOLD as Switzerland 20 Francs Vreneli 1935 LB and Turkey 100 Piastre. Altogether ca. 12.4 grams GOLD fine. In addition diverse coins, medals, banknotes. Treasure trove. Please...
SCOTTISH & BANKNOTES. Including a Bank of Scotland Ten Pound note, with R44 prefix and Patullo signatory. Royal Bank of Scotland One Pound notes the first with A/37 prefix and Maiden signatory, others with D/15 also D/38, D/62 and D/91 prefix's Burke or Winter signatory. A Clydesdale Bank 1985 Hamilton signatory One Pound note. Also French 100 x 2, 50, 20 Franc notes. (11...
Price: £20 - £30
ca. US$25 - US$38
ein passionierter Sammler hat thematisch seinen Schwerpunkt auf Medaillen der Thematik Gartenbau und Gewerbe/Landwirtschaft gelegt. Zwar sind topografisch Schwerpunkte in Sachsen zu nennen, die Bandbreite reicht jedoch über Ostdeutschland bis ins Ausland. Eine eingehende Besichtigung wird empfohlen! Gespickt mit Banknoten und Abzeichen. Höchst verschiedene Erhaltungen Historic and modern medals...
Württemberg und Deutsches Reich 1933-1945, Dokumenten, Postkarten, Banknoten, Münzen und einigem mehr. Bitte unbedingt ansehen! Treasure trove with orders, medals Wuerttemberg and Third Reich 1933-1945, documents, postcards, banknotes, coins and much more. Please visit...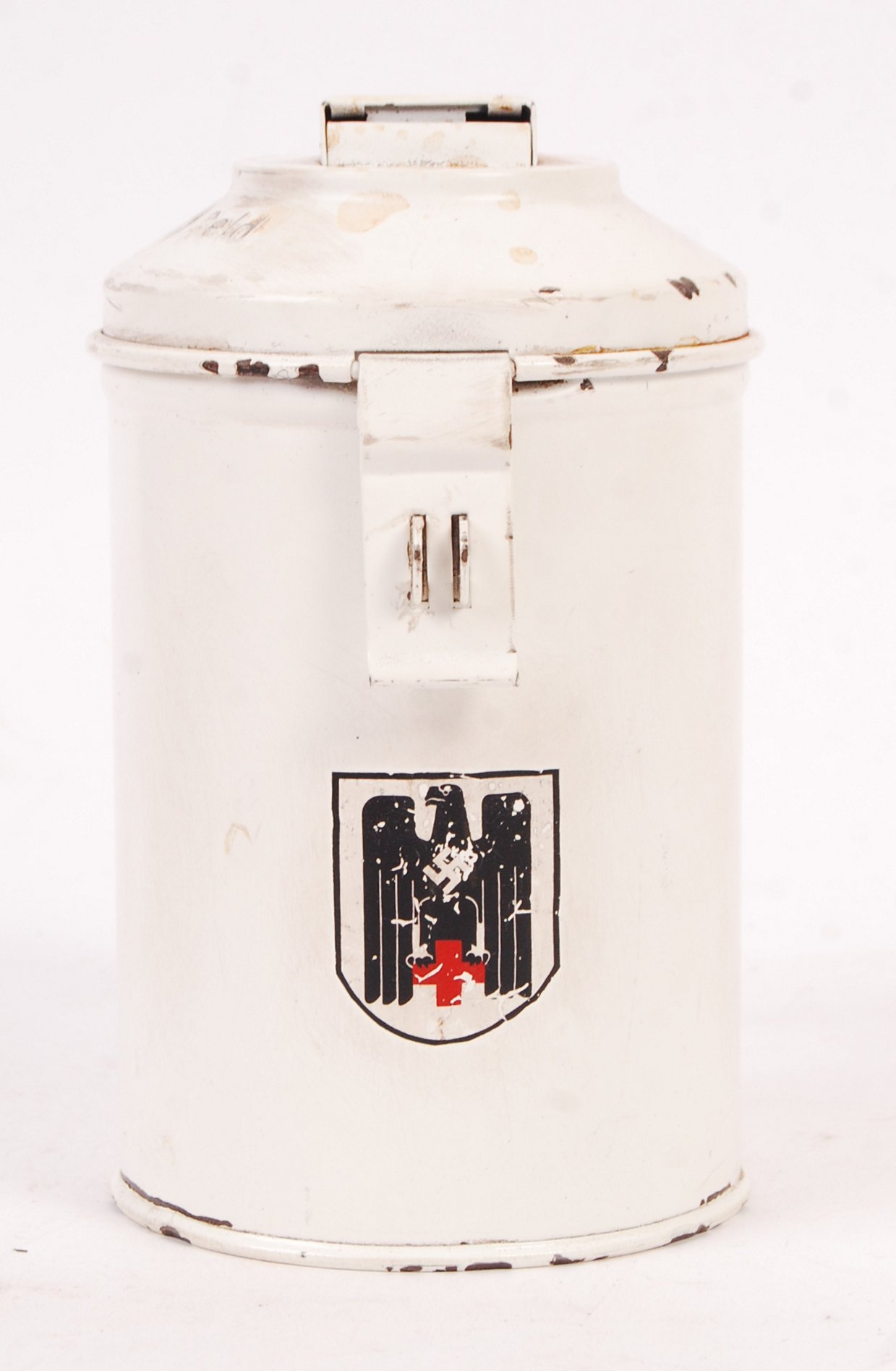 A 20th century WWII Second World War German Third Reich Nazi style ' fantasy piece ' money box. Tin construction, with holes to top for ' Papier ' and ' Geld '. Applied German Swastika emblem to front and to base. Measures approx; 18cm tall...
Price: £25 - £40
ca. US$32 - US$51
Bürgermeister Moritz von Franck, 1814 - 1895. Schreiben m. e. U., Graz, 22. 11. 1869, 1 S., 4to. An den Maler und Gartenarchitekten Ernest Matthey-Guenet, nach dessen Plänen der Grazer Stadt park in den Jahren 1869 bis 1871 gestaltet wurde: "Euer Wohlgeboren! Die Jury zur Beurtheilung der auf die Schaffung von Anlagen am hiesigen Glacis Bezug nehmende Concours pläne hat Ihrem Projekte in Würdigung...
Rosemarie Trockel Schwerte 1952 Lebendes Geld 2005 Silkscreen on folded paper and book. Silkscreen 109.6 x 83.2 cm, box 29.4 x 22.7 x 3 cm. Signed, numbered and inscribed on print and book. Proof 24/30. Salon Verlag und Edition, Cologne...
Price: €800 - €1,000
ca. US$882 - US$1,102
Gotische Truhe Eiche, geschnitzt, Schmiedeeisen. Dicht beschlagen mit Eisenbändern mit lilienförmigen Köpfen. Sechs der Deckelbänder ausgezogen zu Scharnieren, das mittlere als Überwurfband für das zentrale Schmetterlingsschloss. Teil der Rückwand ersetzt, Verlust einiger Nägel. H 82, B 198, T 54 cm. Westfalen, Ende 15. / Anfang 16. Jh. Literatur Vgl. Kreisel, Die Kunst des deutschen Möbels, Band...
Price: €12,000 - €15,000
ca. US$13,231 - US$16,539
Auf der Bauchung in Blattkartusche Inschrift "Junge Medel und altes Geld, hat man gern in der Welt", seitlich Blütenzweige. Fayence mit Bemalung in Mangan und Gelb auf hellblauem Fond; Zinnmontierung. H. 23,5 cm...
Date: 22 Nov 2019, 15:00 - 23 Nov 2019
Try LotSearch
Try LotSearch and its premium features for 7 days - without any costs!
Search lots and bid
Price database and artist analysis
Alerts for your searches