Profusely illustrated from photographs. 23.5x33.8 cm (9¼x13¼"), linen stamped in silver with lettering in negative, stamped with label of two gekkos in halftone, presented in pictorial folding box and title band. First Edition. One of 350 copies. A limited edition retrospective of the equally famous and infamous Nobuyoshi Araki...
37.5x30.5 cm. (15x12"), framed and matted photograph and signed card. Photograph measures 14x8.5 cm. (5½x3½"), signed card measures 6x10 cm. (2½x4"). Photograph and signature of Lotta Crabtree (1847-1924), an American entertainer and philanthropist nicknamed "The Nation's Darling." Born in California, she was said to have learned dancing from the famous actress and dancer Lola Montez. San...
Introduction by Hilaire Belloc. 21 pp. With 17 (of 20) tipped-in hand-pulled photogravures from photographs by Alvin Langdon Coburn. (Folio) 41x30.5 cm (16¼x12"), rebound in library buckram. First Edition. Coburn's first book, followed by a similar volume on New York the next year. Coburn made all of the gravures himself from the etching of the plates through the pulling of proofs, then...
Price: US$1,500 - US$2,500
Collection of 30 promotional posters. Printed in color. Various sizes, average 43x28 cm (17x11") A collection of promotional posters for museum exhibits, literary and music events, from various venues in San Francisco and the Bay Area, many from The San Francisco Museum of Modern Art. Most pieces are from the years 2008-2019, though also included is a poster for an exhibit of paintings by Lawrence...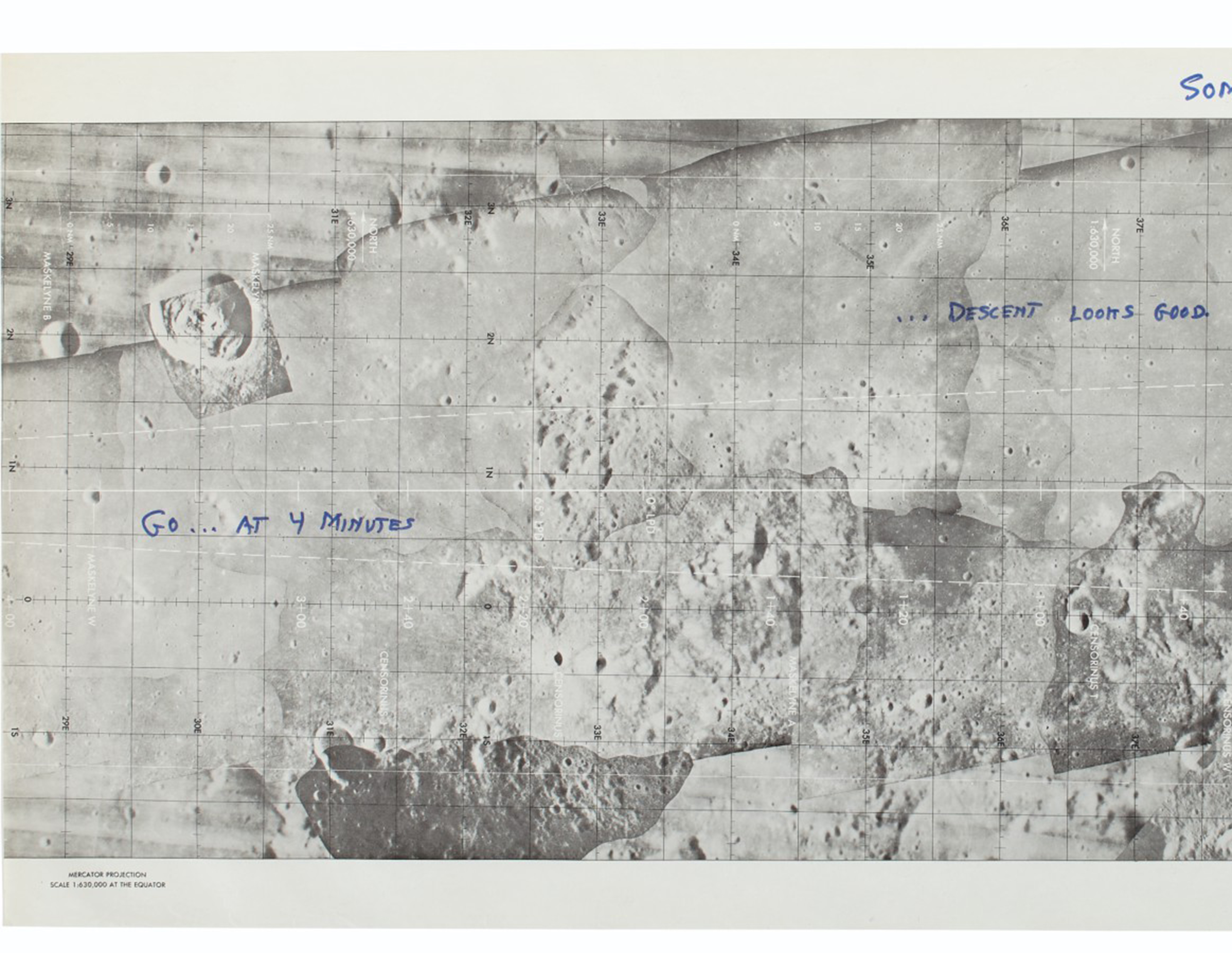 LUNAR SURFACE VIEW – LM Descent Monitoring Chart – Sheet 2, 16 July 1969 Launch Date, Landing Site No. 2, Edition 1. Aeronautical Chart and Information Center, USAF for NASA, 1969. A superb visual presentation of the views from Armstrong and Aldrin's Lunar Module windows as they piloted Eagle to land on the Moon. A chart showing the Eagle's ground track, SIGNED and INSCRIBED by Buzz ALDRIN with...
Price: US$4,000 - US$6,000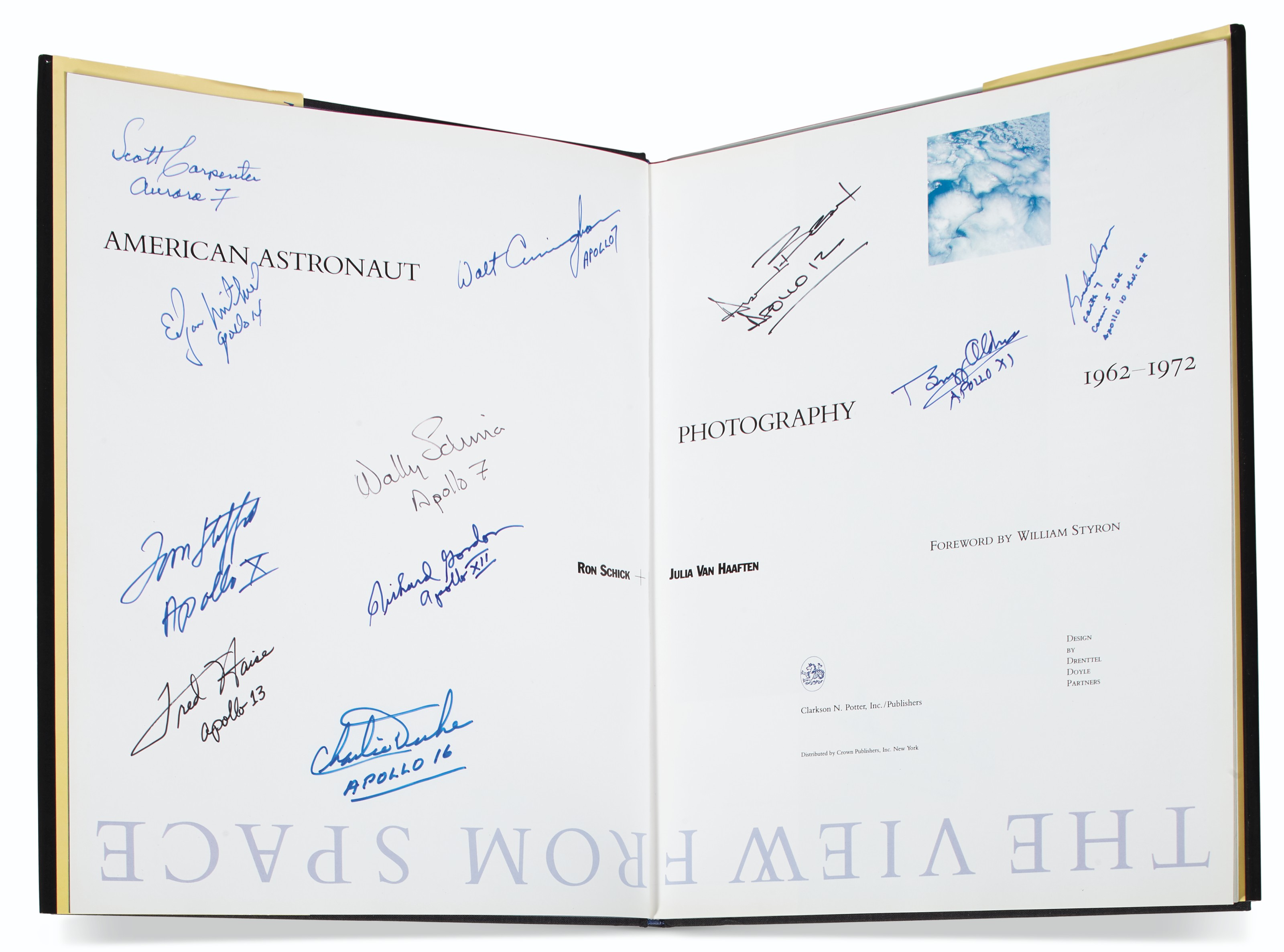 AMERICAN ASTRONAUT PHOTOGRAPHY – Schick, Ron and Van Haaften, Julia. The View from Space – American Astronaut Photography 1962-1972 . New York: Clarkson N. Potter Inc., 1988. The View from Space: including the astronauts' direct commentary on their own photography SIGNED and INSCRIBED with their individual spaceflight numbers by Buzz ALDRIN, Alan BEAN, Scott CARPENTER, Gordon COOPER, Walt...
Price: US$2,000 - US$3,000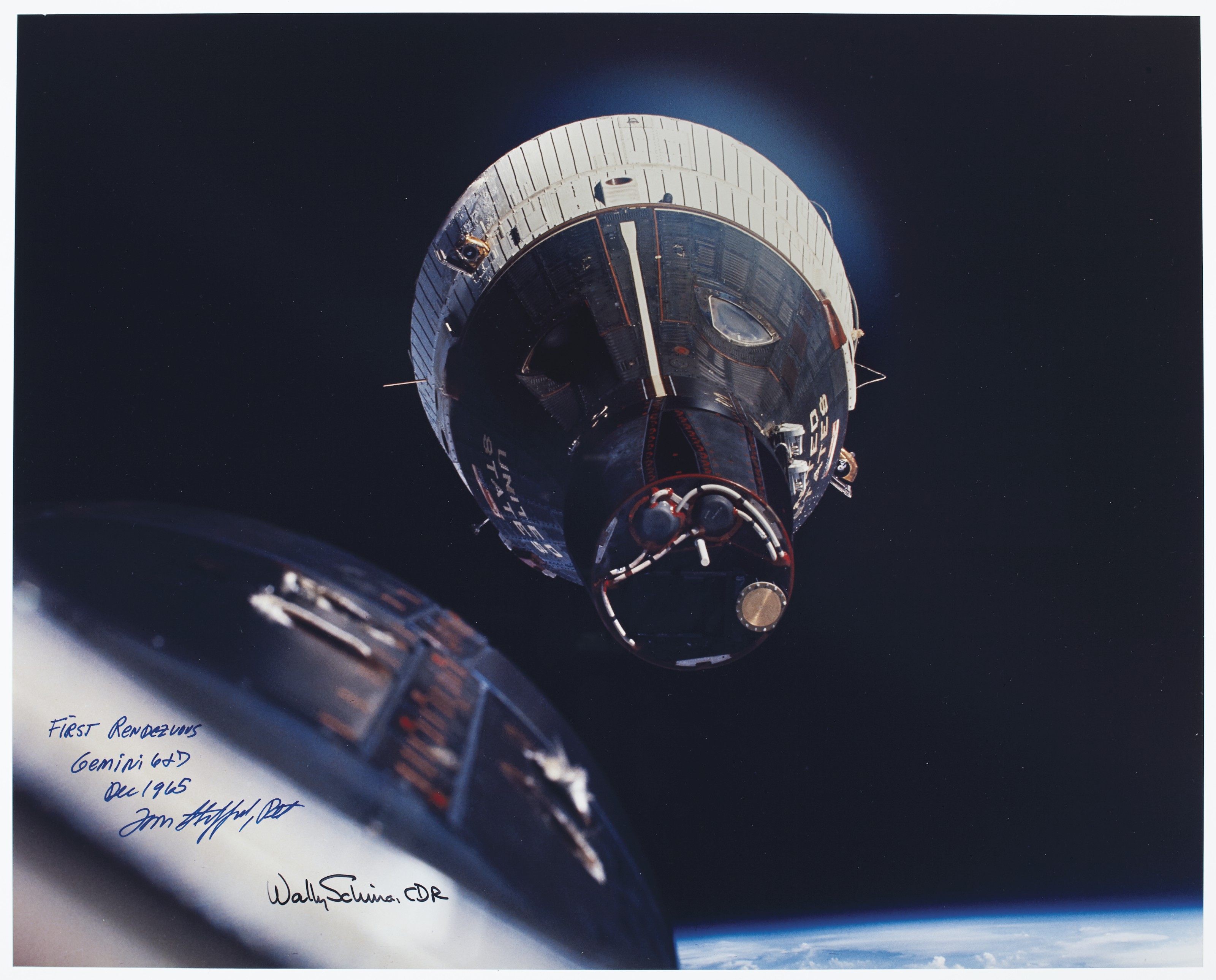 ORBITAL RENDEZVOUS – Photograph signed by Tom STAFFORD and Wally SCHIRRA. Gemini 6 nose-to-nose with Gemini 7 in orbit: an iconic image symbolizing the major goal of the Gemini program. SIGNED and INSCRIBED: " First Rendezvous, Gemini 6 & 7, 15 Dec 1965, Tom Stafford ," and SIGNED "Wally Schirra, CDR." After the Titan engine shutdown and launch abort just 3 days earlier, Gemini 6 astronauts...
Price: US$2,000 - US$3,000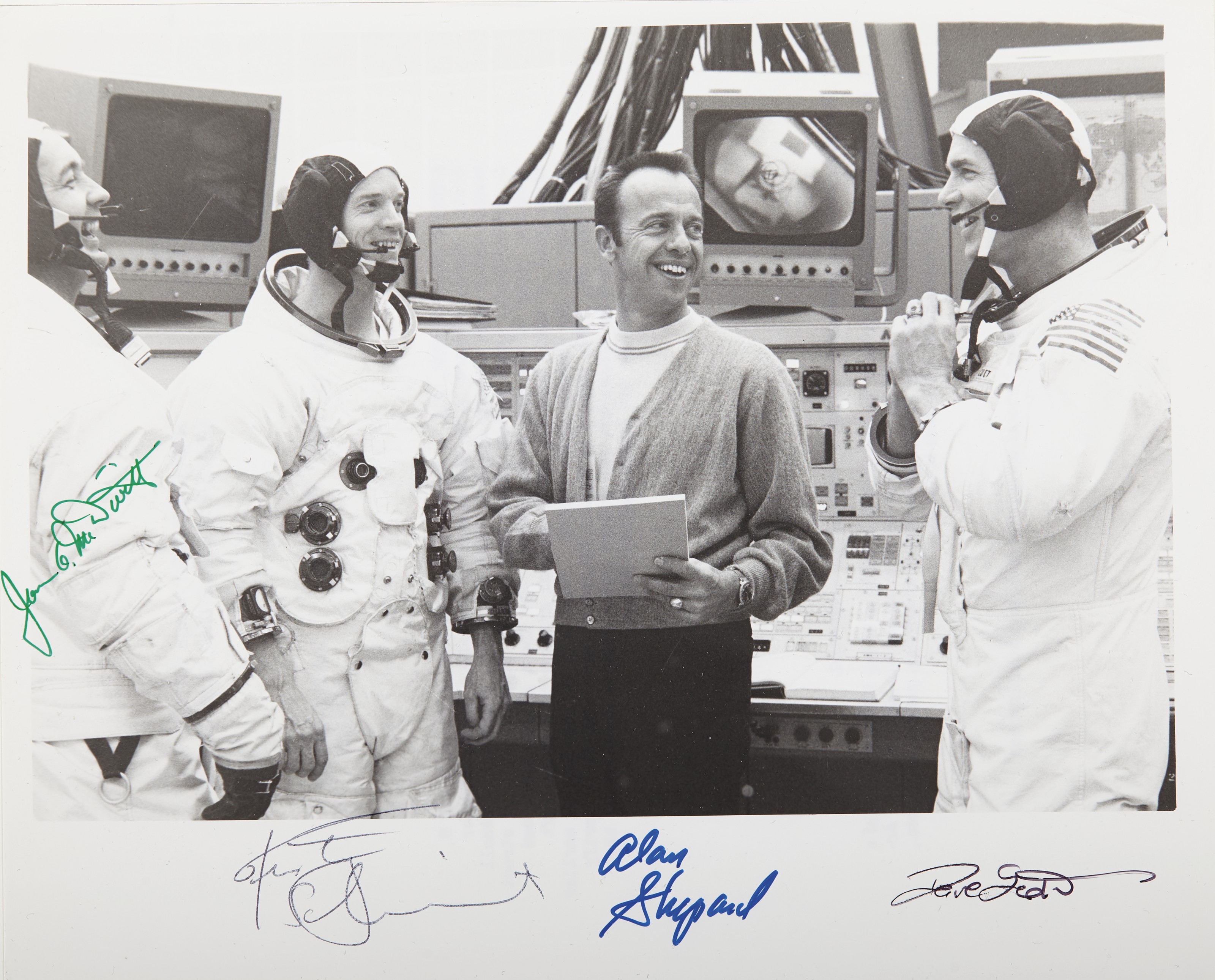 SHEPARD, Alan (1923-1998), et al. Photograph signed. [1969.] Apollo 9 crew-signed photograph, including a smile from the "Icy Commander" Alan Shepard, the first American in space. SIGNED by the Apollo 9 crew of James McDIVITT, Rusty SCHWEICKART, and Dave SCOTT. Additionally signed by future Apollo 14 moonwalker Alan SHEPARD, the first American in space during Freedom 7 in 1961. The NASA/KSC...
xvi, [540], 94 pp. Profusely illustrated with halftones from photographs. 28x21.8 cm (11x8½") A catalogue raisonné of the work of Edward Weston. Housed at the Center for Creative Photography since its acquisition in 1981, the Edward Weston Archive contains more than 2,000 exhibition prints, over 10,000 of his negatives, his original diaries or Daybooks, and an assortment of correspondence...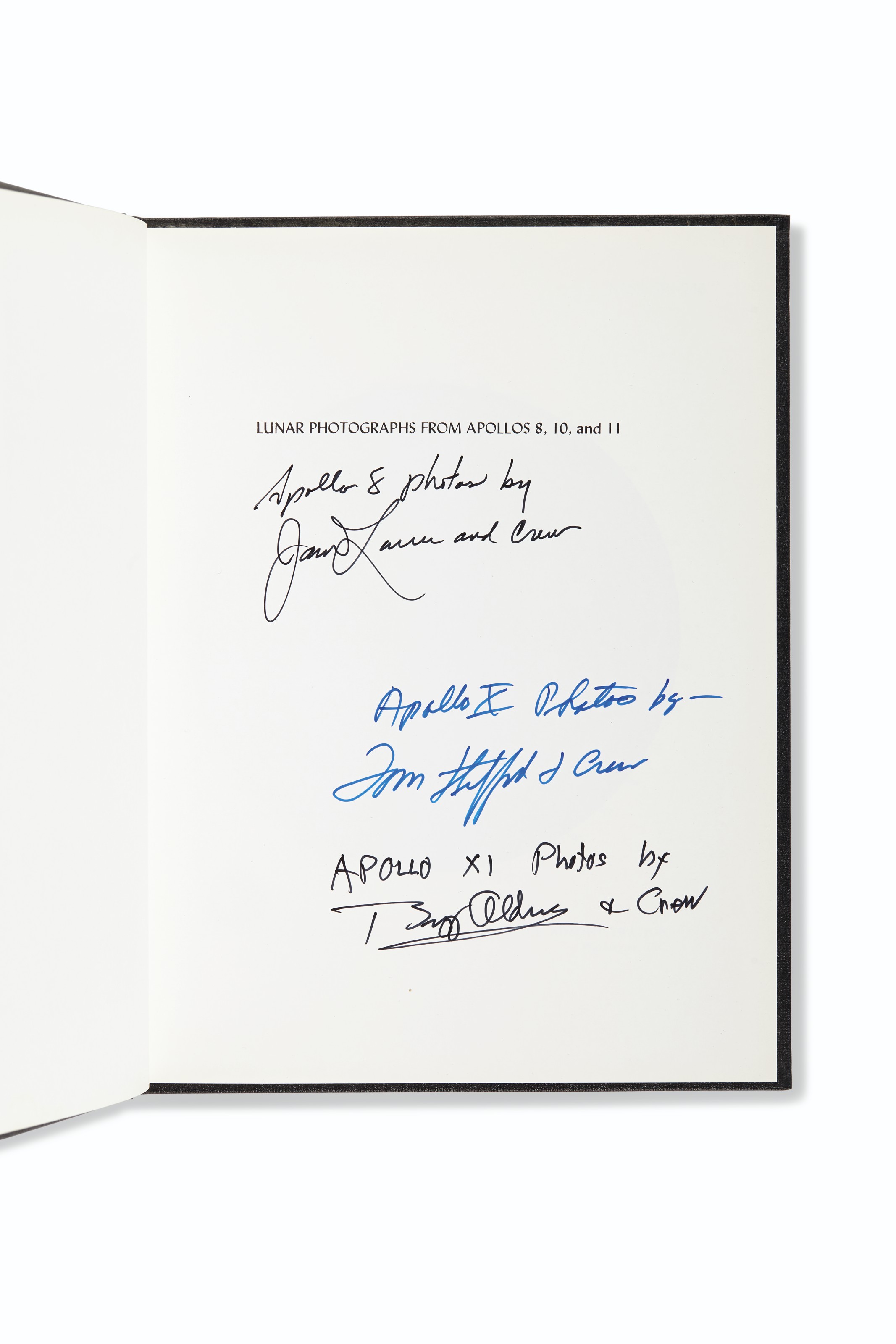 APOLLO PHOTOGRAPHY – MUSGROVE, Robert G. Lunar Photographs from Apollos 8, 10, and 11 (NASA SP-246). Washington: NASA, 1971. Featuring both color and black-and-white photos of the beautiful phenomena of outer space, as well as photos of astronauts and spacecraft. SIGNED and INSCRIBED: " Apollo 8 Photos by James Lovell and Crew ," " Apollo X Photos by Tom Stafford and Crew " and " Apollo XI Photos...
Price: US$2,000 - US$3,000
Try LotSearch
Try LotSearch and its premium features for 7 days - without any costs!
Search lots and bid
Price database and artist analysis
Alerts for your searches