Field Sports.- [Chateau de Bonnetable], 3 photograph albums comprising c.750 photographs, mainly original, showing the 4th Duke of Doudeauville and his hobbies in various parts of Europe, captioned in manuscript, some faded, occasional abrasions, one or two loosely inserted, occasional spotting, morocco backed boards, rubbed, ob.4to & folio, [c.1881-1901]. ⁂ Including images of; hunting, horses...
Price: £300 - £500
ca. US$394 - US$657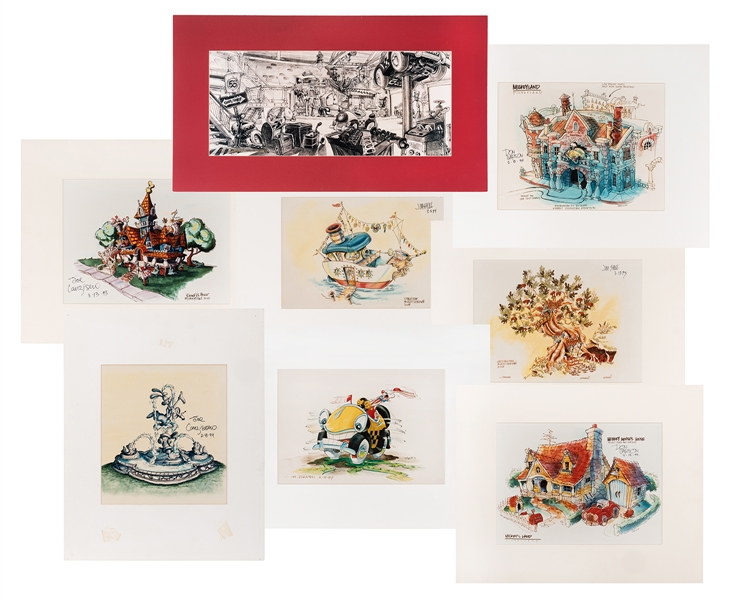 Lot of 8 signed Disney Gallery Toontown concept art photo lithographs. When the Disney Gallery first opened at Disneyland, rather than reproducing artwork for sale through conventional lithography, they matted photographic reproductions of the art and dubbed them "Photo Lithographs." All were sold matted and backed by foam core board. This lot consists of eight photo lithographs from the Disney...
Photography.- Ritts (Herb) Men/Women, 2 vol., limited edition, original cloth, together in cloth slip-case, Altadena, Ca., Twin Palms, 1989 § Friedlander (Lee) Nudes, upper hinge cracked, New York, 1991 § von Gloeden (Wilhelm) Taormina, limited edition, Pasadena, Ca., Twelvetrees Press, 1986, illustrations, the last two original cloth with dust-jackets; and 5 others, nude photography, 4to & 8vo...
Price: £150 - £200
ca. US$197 - US$263
various dates and makers, one by Sampson Mordan, Chester 1913 All circular, two with blue enamel and two with yellow enamel, on easel backs, height of the largest 8cm. (4...
Price: £1,000 - £1,500
ca. US$1,307 - US$1,961
Date: 12 Feb 2020 - 13 Feb 2020
[Paul Cézanne (1839-1906)]. Photographie originale ; tirage argentique 8,5 x 11,2 cm contrecollé sur carte 10,7 x 16,3 cm (oxydation). Cézanne assis dans un fauteuil, devant le grand tableau des Baigneuses...
Price: €150 - €200
ca. US$166 - US$221
Édouard MANET (1832-1883). Photographie avec dédicace autographe signée ; format carte de visite (10,5 x 6,5 cm). Précieux portrait dédicacé à Éva Gonzalès. Beau portrait en buste, de trois quarts, en médaillon, par Ferdinand Mulnier (1817-1891), sur carte à la marque et adresse (25, Boulevard des Italiens) du photographe au verso. Il est dédicacé au dos : « à Mlle Eva / E. Manet ». Éva Gonzalès...
Price: €4,000 - €5,000
ca. US$4,436 - US$5,545
Suzanne VALADON (1865-1938). Photographie avec dédicace a.s., 1937 ; 23,5 x 17,5 cm sur 33 x 25 cm (encadré). Photographie de Valadon dans la cour de son atelier, en blouse, pinceaux à la main, montrant une toile représentant une composition florale, ; le jeune Paul Pétridès se tient à ses côtés. En dessous, Valadon a dédicacé la photo au galeriste : « à Pétridès, en collaboration pour la...
Price: €250 - €300
ca. US$277 - US$332
Simone de Beauvoir (1908-1986). Photographie originale avec dédicace a.s. au dos, [1981] ; 8,7 x 8,7 cm. Cliché d'amateur en couleurs, la représentant coiffée d'un turban, assise dans un fauteuil. Au dos, dédicace au poète et défenseur des droits de l'Homme allemand Wolfgang Windhausen « en toute sympathie »… On joint la copie carbone d'un article dactylographié, à propos de la femme américaine (9...
Price: €80 - €100
ca. US$88 - US$110
François MAURIAC (1885-1970). Photographie avec dédicace a.s. ; tirage argentique sépia de 23 x 14 cm sur carte 34,5 x 24,5 cm. Beau portrait signé par le photographe Henri Martinie, et dédicacé « à Marcelle Auclair – pour lui faire peur… En affectueux hommage François Mauriac ». On joint 9 portraits photographiques : André Gide, Marcel Aymé (2), etc...
Price: €150 - €200
ca. US$166 - US$221
Émile ZOLA. Photographie avec dédicace a.s. ; 12 x 10,5 sur carton in-8 (coupure de presse allemande collée au dos). Photographie en buste, de face, avec dédicace : « à M. Édouard C. Granadia, en remerciement de sa bonne sympathie littéraire. Emile Zola...
Price: €900 - €1,000
ca. US$998 - US$1,109
Try LotSearch
Try LotSearch and its premium features for 7 days - without any costs!
Search lots and bid
Price database and artist analysis
Alerts for your searches