28 St., 22 kl. Schälchen f. Vorspeise/Dessert/Kompott etc., 3 Fußschalen, 2 gr. Schalen u. 1 kl. Bowle m. Löffel, untersch. Formen u. Größen, farbloses u. hellblaues, z.T. formgepresstes Glas, versch. Schliffdekore, tlw. besch/best., Chips, Alterssp., H ca. 3 - 24,5 cm/ D ca. 14,5 - 18,5 cm...
Date: 21 Oct 2021 - 23 Oct 2021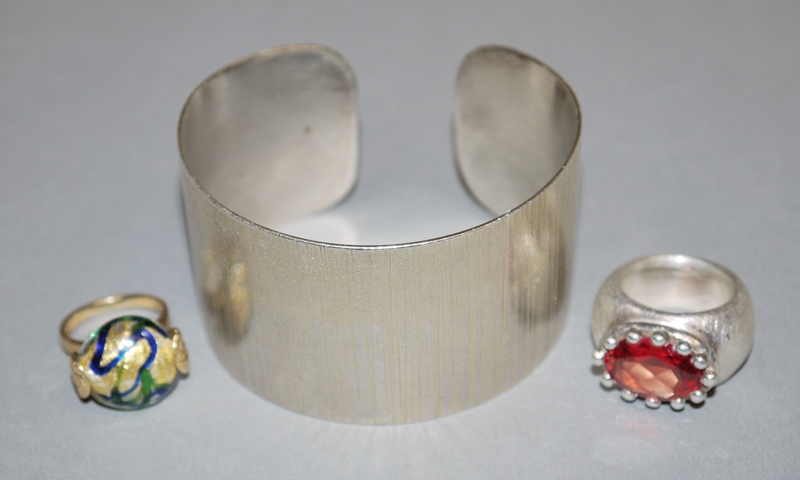 Designer-Schmuck-Sammlung: Armreif und Ring, Silber & Murano-Ring, Gold 925er Silber, Armreif, mattiert, teilvergoldet, dazu schwerer Ring, mattiert, besetzt mit einem rötlichen ovalen, facettierten Citrin von ca, 4,00 ct, zus. 92,29 g, dazu Ring, 10kt Gelbgold, besetzt mit einem runden Glasstein mit farbigen Pulver- und Goldflittereinschmelzungen, Murano teilen twittern 0 merken 0...
Price: €150 - €200
ca. US$174 - US$232
Date: 22 Oct 2021 - 23 Oct 2021
A Memphis Milano Sol glass bowl designed by Ettore Sottsass, designed 1982, blue glass bowl on clear stem and red domed base, highlighted with white glass, applied red, green and white supports, the rim with blue glass triangles and red etched E Sottsass Memphis to side, 26cm. high Provenance Phillips, March 1988 Tom Watkins Collection Literature Memphis Milano, manufacturer's catalogue, 1986...
Price: £2,500 - £3,000
ca. US$3,431 - US$4,117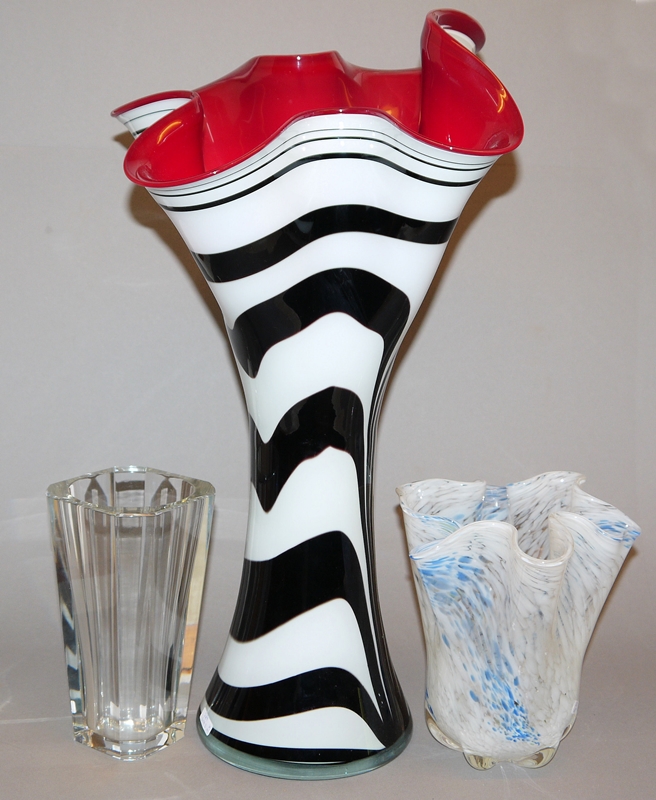 Drei Glasvasen Murano, Ozaro Glas, Loranto und Baccarat Große Vase aus mehrschichtigem Glas, farbloses Glas mit weiß und schwarz gestreifter Innenschicht und rot unterfangen, konkaver Korpus mit ausladender, mehrfach gekniffener Mündung, H 54,5 cm; große Taschentuchvase, farbloses Glas mit weißen und blauen Pulvereinschmelzungen, am Boden gerippt, mehrfach gekniffene Wandung und Mündung, H 20,5 cm...
Price: €150 - €250
ca. US$174 - US$290
Date: 22 Oct 2021 - 23 Oct 2021
René Lalique Gold, Carved Opal, Enamel and Aquamarine Dragonfly Bracelet The five openwork panels of framed stems encasing two dragonflies with translucent carved opal wings and one of blue and green enameled wings, their bodies of paneled dark blue enamel, the dark blue to black enamel vines tipped by buds of violet, gray, brown, peach and ivory enamel and oval aquamarines, several panels with...
Price: US$200,000 - US$400,000
An Art Nouveau Galle cameo glass vase designed by Emile Galle, slender, shouldered pink glass body with flaring foot, overlaid with orange glass, cameo decorated with flowers and foliage etched signature Galle to foot, 20.5cm. high Provenance A private collection of Art Nouveau glass...
Price: £1,000 - £2,000
ca. US$1,372 - US$2,745
René Lalique Art Nouveau Gold, Opal, Plique-à-Jour Enamel, Glass and Diamond Dragonfly Pendant, France 18 kt., the pair of landing dragonflies grasping one oval opal ap. 5.80 cts., with teal and blue plique-à-jour enamel wings, accented by small rose-cut diamonds, their bodies, heads and legs applied with iridescent teal and black enamel, tangled within black enamel vines studded with bubbled...
Price: US$60,000 - US$80,000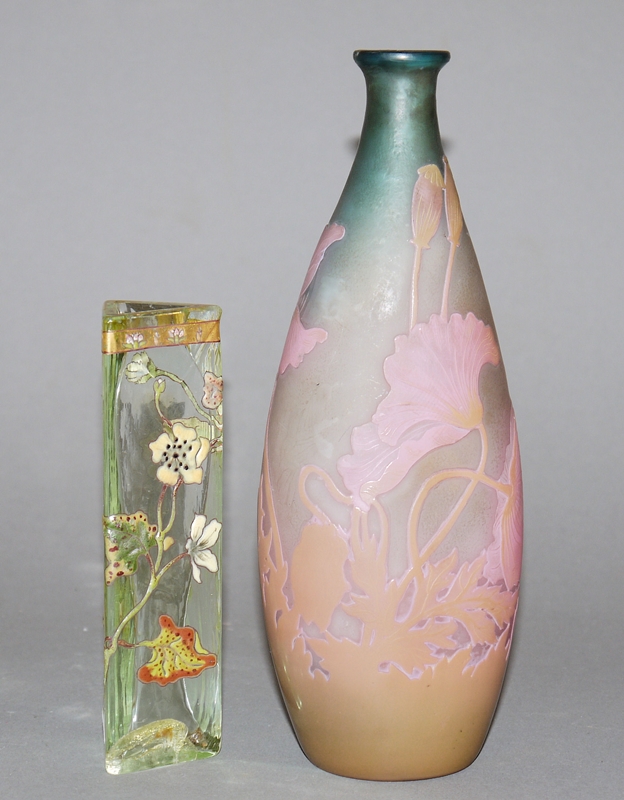 Émile Gallé, kleine Vase mit Emailmalerei um 1880-85 & Vase mit Klatschmohn um 1905 Émile Gallé, 1846 - 1904 Nancy, kleine dreikantige Vase aus flaschengrünem Glas, Goldrand, auf Wandung Blumenranken in bunter Emailmalerei, H 13,3 cm, am Boden sign. Émile Gallé Nancy déposé, am Boden Sprung, nicht störend; Vase mit tropfenförmigem Korpus und kleiner ausladender Mündung, beidseitig leicht...
Price: €500 - €600
ca. US$581 - US$697
Date: 22 Oct 2021 - 23 Oct 2021
René Lalique Molded Glass 'Naiades' Eight-Day Clock Mechanical, the rounded cornered square molded glass panel highlighted by six aquatic nymphs amidts sprays of bubbles, centering a circular cream disc within a gilt-metal frame with black Arabic numerals, diameter ap. 54 mm., with brass easel, signed R. Lalique , circa 1926, winder not original . 4 9/16 x 4 1/2 inches. C
The movement is not...
Price: US$2,000 - US$3,000
An Emile Galle Art Nouveau cameo glass vase, shouldered form, cameo decorated with fuchsia flowers in aubergine glass over yellow cameo signature Galle, cover missing, 6.5cm. high...
Price: £120 - £180
ca. US$164 - US$247
Try LotSearch
Try LotSearch and its premium features for 7 days - without any costs!
Search lots and bid
Price database and artist analysis
Alerts for your searches