2003, Höhe ca. 146 cm, Breite ca. 47 cm, Tiefe ca. 10 cm. Skulpturale Konstruktion aus verschiedenfarbig eingefärbtem Glas. Höhe ca. 146 cm, Breite ca. 47 cm, Tiefe ca. 10 cm. (MHA) Silvio Vigliaturo wurde 1949in Acri / Italien geboren. Seine Arbeiten wurden u. a. 2013 auf der 55. Biennale von Venedig im tibetischen Pavillon und 2011 auf 54. Biennale von Venedig im italienischen Pavillon...
Price: €2,000
ca. US$2,152
Italien, Murano um 1920. Prächtiger Lüster auf drei Etagen. 6 Brennstellen. Reicher, originaler Kristallbehang mit Schalen u. tropfenförmigem Behang aus bläulich opalinem Glas. H: ohne Kettenbehang ca. 63 cm u. ca. 52 cm im Durchm. - Vor kurzem noch in Betrieb jedoch muss Elektrifizierung geprüft werden...
Date: 11 May 2020 - 13 May 2020
275 x 160 cm. Venedig, 20./ 21. Jahrhundert.
In klarem Glas geblasene Elemente, welche um einen sehr hohen schlanken Balusterschaft und mit stabilisierenden Metallelementen angeordnet sind. Auf drei Etagen verteilen sich zahlreiche Brennstellen mt Traufschalen und mit Goldeinschlüssen verzierten Blüten und Blattappliken. Elektrifiziert. (1221851) (13...
Price: €20,000 - €40,000
ca. US$21,939 - US$43,879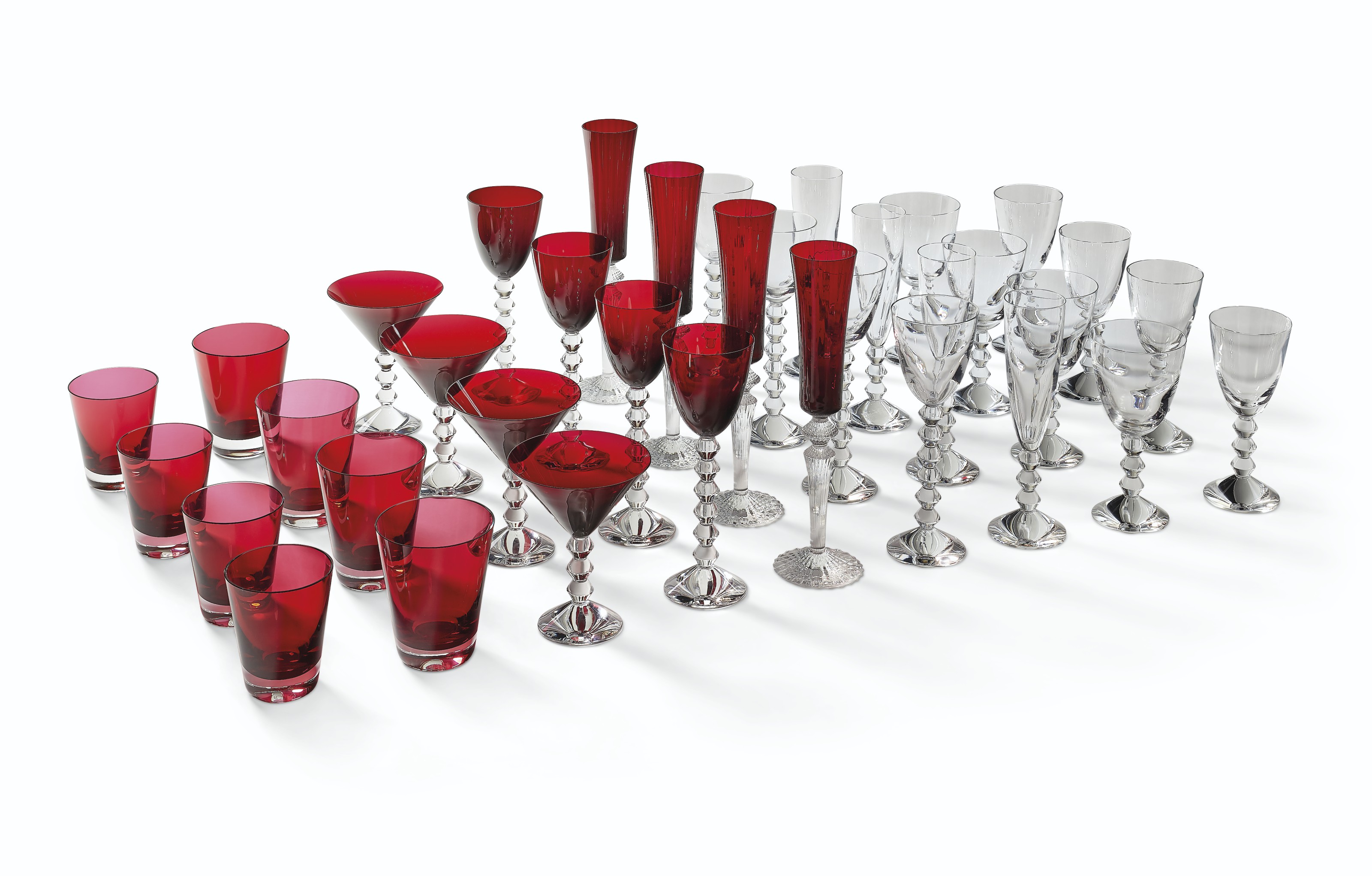 AN EXTENSIVE ASSEMBLED BACCARAT RUBY AND CLEAR GLASS PART STEMWARE SERVICE 20TH CENTURY, ACID-ETCHED FACTORY MARKS Comprising one hundred forty-three ruby and clear glass champagne flutes in the 'Mille Nuits' pattern; in the 'Vega' pattern: thirty-eight ruby and clear glass Rhine wine glasses, twelve ruby and clear glass martini glasses; nine clear red-wine glasses, eleven clear glass water...
Price: US$6,000 - US$8,000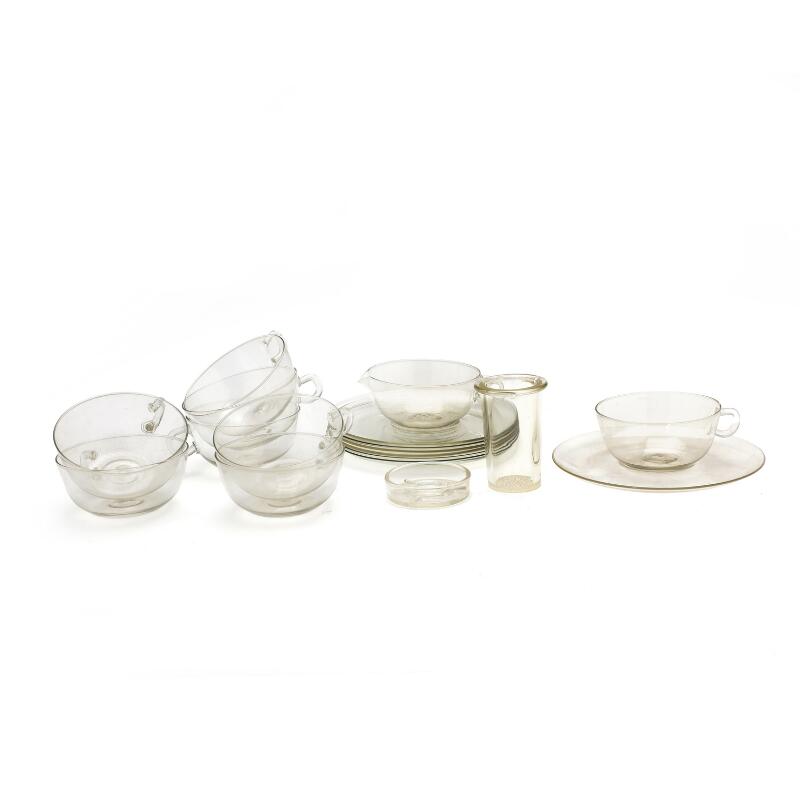 "Jena". Bauhaus clear, heat resistant glass tea cups, a creamer etc. Designed 1924–1931. Manufactured and marked by Jenaer Glas. (11) Comprising: 8 tea cups with 7 matching saucers, 1 creamer, and spare parts for teapot; 1 tea strainer and a cover.
Patina including some minor surface scratches and dirt. One cup with two very minimal chips on the upper rim...
Price: DKK1,500
ca. US$223
Bleikristall, Form 12400, Dekor 'Diana'. 1 Glas bestoßen, Alters- und Gebrauchsspuren. PEILL&PUTZLER 12 water glasses and 8 champagne flutes 'Diana', 20th century. Lead crystal, form 12400, decor 'Diana'. 1 glass bumped, signs of age and use...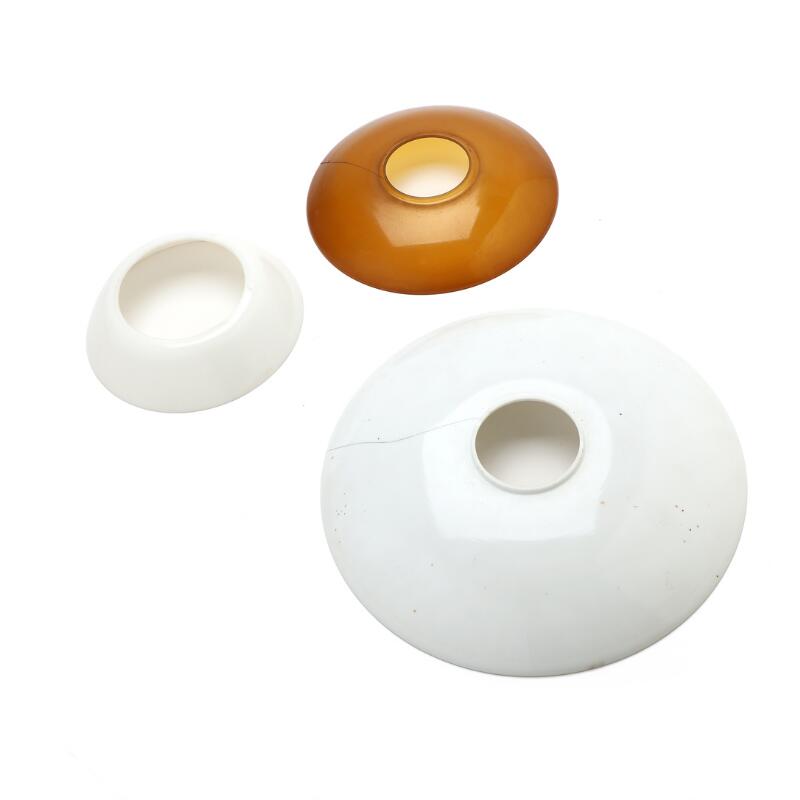 "PH-spare parts". Three shades, herof one O-3 of one layer opal glass, O-2 of amber coloured glass and M-2,5 of one layer opal glass. (3)
Scratches and marks. All shades have glued crack and some chips...
Price: DKK2,000
ca. US$298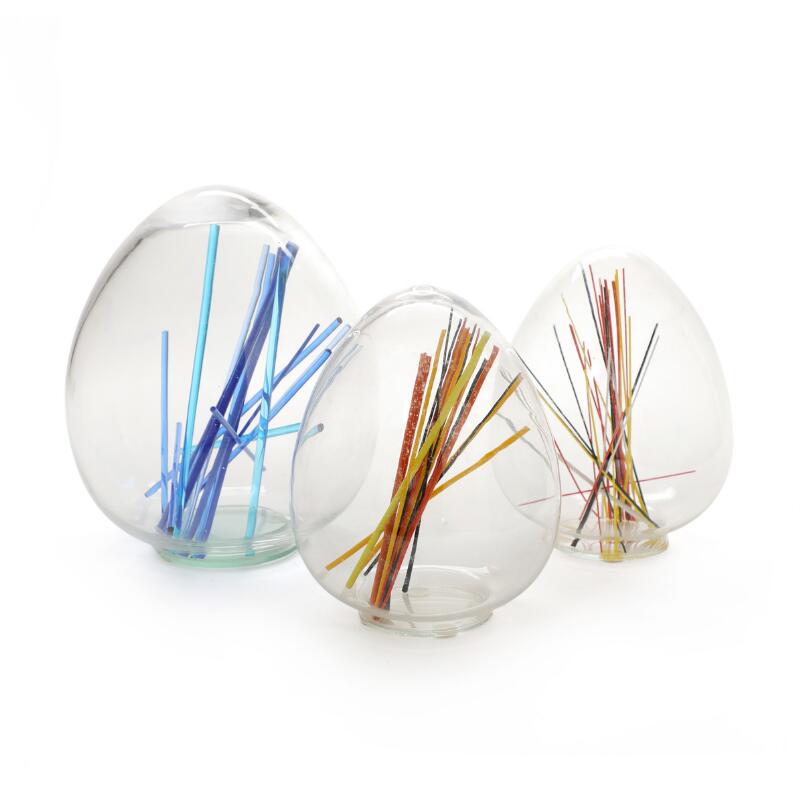 Three clear glass objects in the shape of eggs, inlaid with "sticks" of blue, orange, yellow, black and white glass. Signed Monica Backström Atelje. Made by Kosta Atelier. Unique. H. 25, 25.5 and 29.5 cm. (3) This lot is subject to Artist's Royalty . Artist's Royalty In accordance with Danish copyright law, an additional royalty fee is to be paid for the purchase of works by contemporary Danish...
Price: DKK4,000 - DKK6,000
ca. US$596 - US$895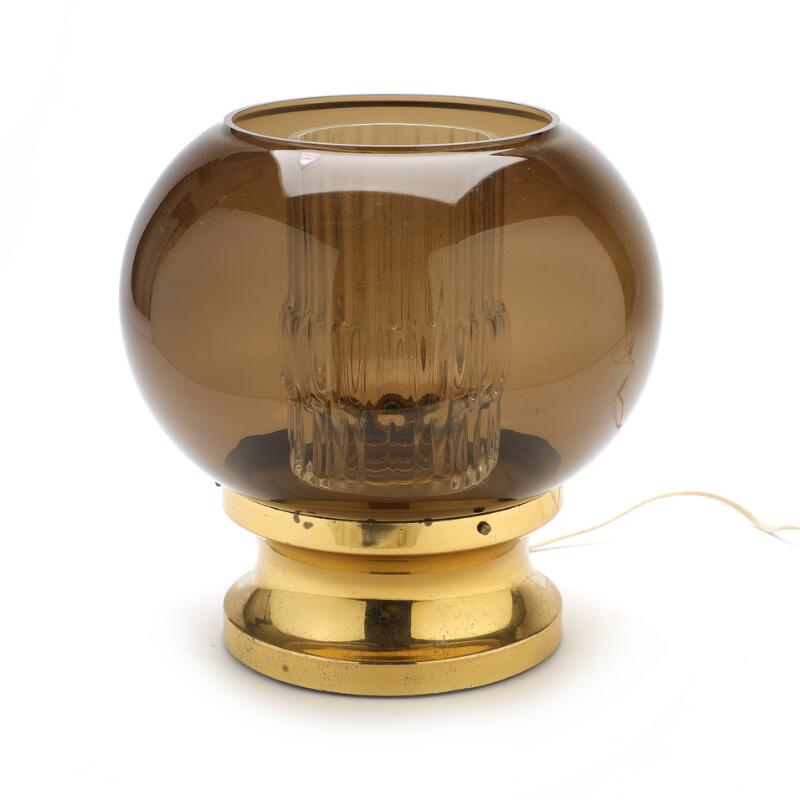 Floor lamp with brass base. Orb shaped shade of smoked coloured glass with cylindrical insert of fluted clear glass. Made by Orrefors, with makers' label from. H. 31 cm. Diam. 30 cm.
Patina due to age and use including some surface scratches, marks and dirt. We do not guarantee for the functionality...
Price: DKK2,000
ca. US$298
Nyon/Schweiz um 1880 / 1885, wahrscheinlich Lizenzherstellung von S. Reich & Co, Wien um 1900, formgeblasenes Glas, Oberfläche mit einem Siegel aus geschmolzenem Glas luftdicht verschlossen, bezeichnet mit Prägung: FALCONNIER 6, Maße je Höhe je c. 20 cm. Das Set umfasst 40 ganze Steine. Falconniers Glasbausteine wurden in die Sammlung des MOMA New York aufgenommen. (MHA) Vgl. Lit.: P. Antonelli...
Try LotSearch
Try LotSearch and its premium features for 7 days - without any costs!
Search lots and bid
Price database and artist analysis
Alerts for your searches