Slg. von 38 Objekten vorw. Med. u. Silberprägungen. tlws. mit Zertifikat. Versch. Materialien wie Feinsilber, Bronze, Neusilber u.a. Gewicht Feinsilb. 78,5 Gr. Meist guter Zust...
Date: 11 May 2020 - 13 May 2020
A Japanese Military Medal and an Order, Meiji Period 日本 明治時期 明治卅七八年戰役從軍紀章 勳七等瑞寶章帶鈕一組兩件 帶原盒 Comprising a Military Medal of Honor (jugun kisho) of Russo-Japanese War (1904-1905); 'Russo-Japanese War' (明治卅七八年戰役) 'Military Medal of Honor' (從軍紀章) on bar, with ribbon, in original wooden case of issue; and an Order of the Sacred Treasure (Zuiho-sho), together with a round pin, with ribbon, in original...
Price: CA$200 - CA$300
ca. US$140 - US$210
GIDE, André (1869-1951). Médaille de son prix Nobel de littérature, 1947. Or, 23 carats (208 grammes), 66 mm de diamètre. Avers : buste de profil d'Alfred Nobel tourné vers la gauche, légende "ALFR. NOBEL" et ses dates en chiffres romains. Revers : allégorie de la Muse couronnant le poète, signée Erik Lindberg, légende "INVENTAS VITAM IUVAT EX COLUISSE PER ARTES", en pied dans une tabula ansata...
Price: €120,000 - €180,000
ca. US$133,264 - US$199,896
rechteckig fassoniert, 8 eingesetzte 25 Schilinngmünzen mit verschiedenen Motiven, Widmungsgravur 1953-1973, 31 x 17,5 cm, Bruttogewicht 410 g, Meisterzeichen, Wiener Tukankopfpunze ab 1922, 1 Münze lose, (HS...
des Hauses Hohenzollern. (Textband). Bln., (Asher u. Co.) 1901. Fol. Mit zahlr. Textabb. 6 Bl., 184 S. Spät. Hlwd. Bearbeitet vom Direktor des Königl. Münzkabinetts Dr. Menadier. Sorgfältige Beschreibung von 700 Schaumünzen. Ohne die 90 Tafeln. - Gering gebräunt...
Date: 11 May 2020 - 13 May 2020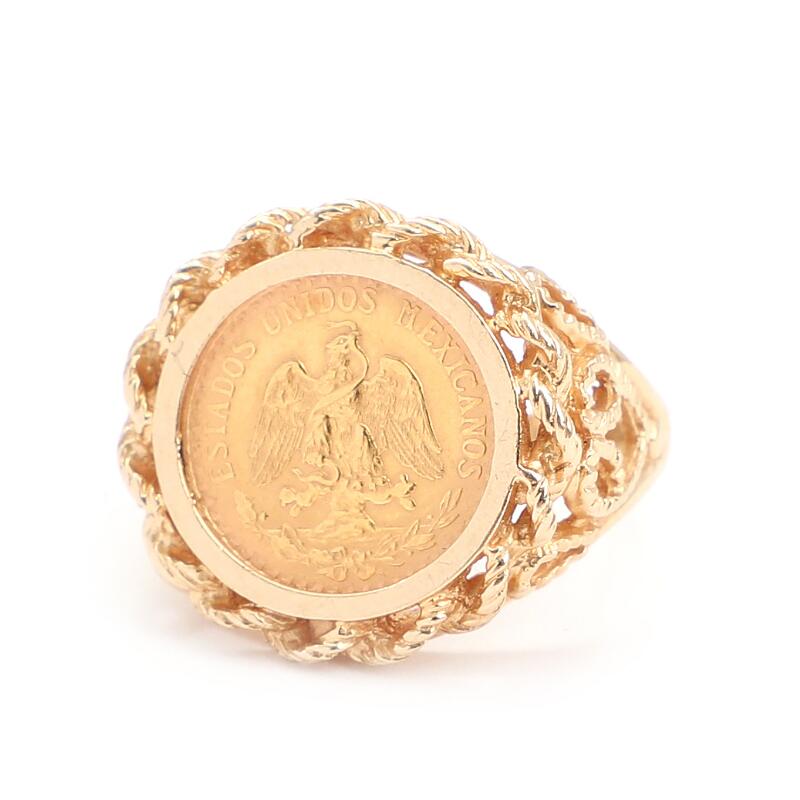 A 14k gold ring set with Mexican 2 pesos coin in 21.6k gold. Size 51. Weight app. 5.5 g.
Minor wear due to age and use...
Price: DKK2,000
ca. US$298
Bronzemedaille des Lothar Brunck, 1.Juni 1916. 9 cm. Direktor der Bad. Anilin u. Sodafabrik. BASF. Medailleur Hans Schwegerle. Im Originaletui. Auflage 133 Ex. - Rechteckige Bronzemedaille von Hans Frei auf Georg Lunge zum 70.Geb. 15. Sept 1909. 5,2 x 7 cm. im Orig. Etui. Rücks. Georg Lunge mit Chem. Apparaten. Dabei: Med. für bes. Verdienste der Fridericiana Karlsr. Im Orig. Etui mit...
Date: 11 May 2020 - 13 May 2020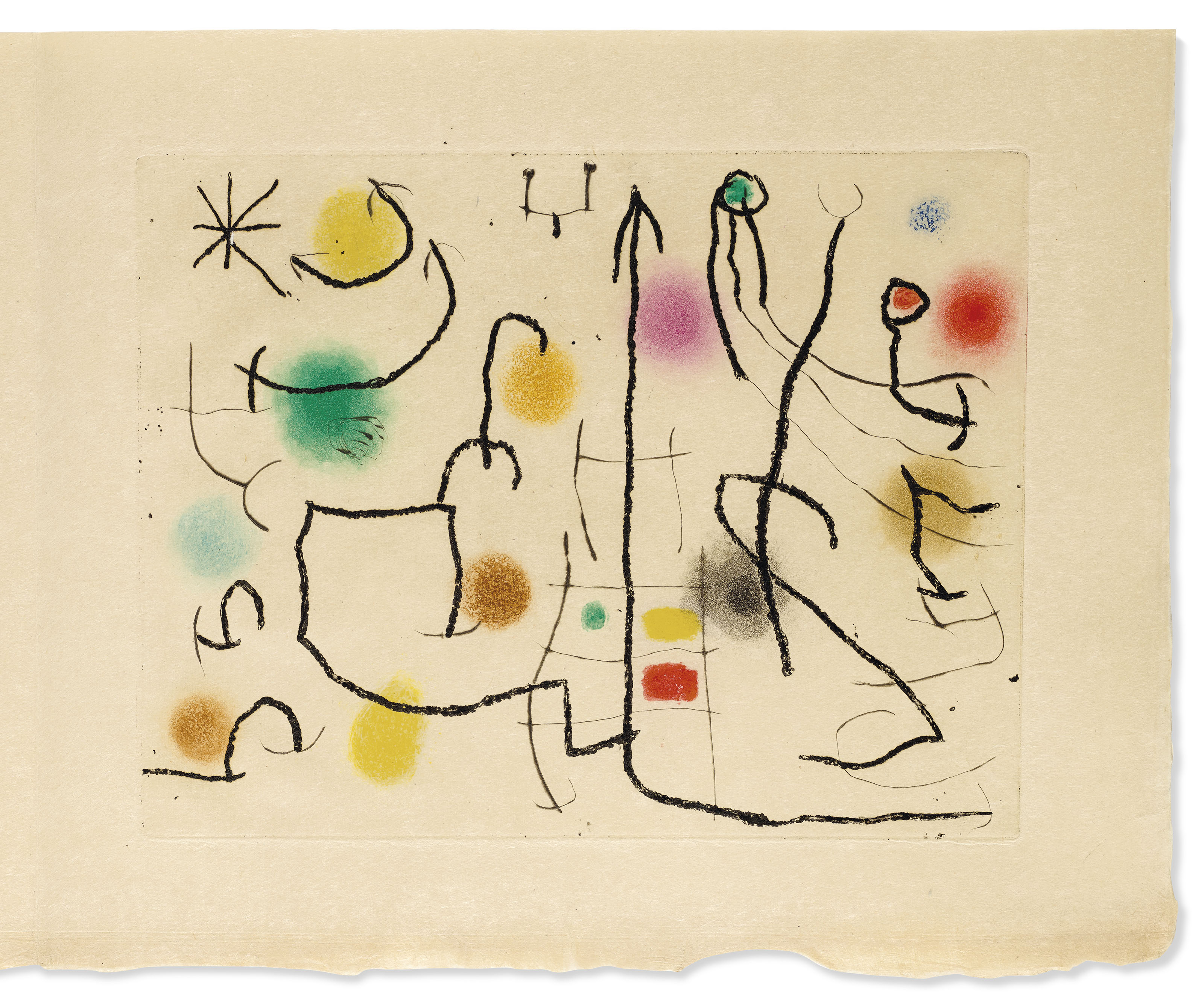 ILIAZD, Ilia Zdanevitch dit (1894-1975) – ERNST, Max (1891-1976) – GIACOMETTI, Alberto (1901-1966) – PICASSO, Pablo (1881-1973). Rogelio Lacourière pêcheur de cuivre - Aux quatre coins de la pièce . Paris : Le Degré Quarante et Un, 9 juillet 1968. Édition originale de cet hommage au graveur Roger Lacourière . Goeppert-Cramer, Picasso , 141; Cramer, Miró , 77 ; Malet-Cramer, Masson , 120. Un des 50...
Price: €7,000 - €10,000
ca. US$7,773 - US$11,105
grün emailliert mit Brillanten, zus. ca. 0,4 ct, sehr gute Farbe und Reinheit, GG 18K, ca. 4,5x2,8 cm, Klappschlaufe mit Sicherheitsacht, 20./21. Jh., guter Erhalt, punziert FABERGÉ VM, 97/300 limitierte Auflage. FABERGÉ BY VICTOR MAYER medaillon-pendant "heart" with green enamel and brilliant-cut diamonds, totalling ca. 0.4 ct, very good colour and clarity, 18K yellow gold, ca. 4.5x2.8 cm, loop...
Price: €2,200
ca. US$2,407
Roségold 14K, ca. 2x2 cm, um 1900, Tragespuren, Anhängerschlaufe fehlt, Email erneuert. Medaillon with cloverleaf, 14K rosegold, ca. 2x2 cm, around 1900, signs of wear, pendant loop missing, enamel renewed...
Try LotSearch
Try LotSearch and its premium features for 7 days - without any costs!
Search lots and bid
Price database and artist analysis
Alerts for your searches