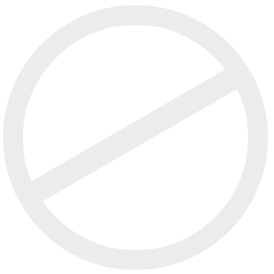 1783 - 1972. 80 DM Silber Olympia u. Silberadler, Maria Theresia Thaler Silb., Eisenhower 1 Dollar 1971, Ehemedaille 18.Jhdt, 5 Sols Paris zum Tausch gegen Assignat 1780, Expo-Medaille 1878, Reformationsmed. u.a. Tlws. in schlechtem Zustand. gekauft wie besichtigt. 21 Stk...
Date: 28 Jun 2019 - 29 Jun 2019
Boxes and Objects - coins, bank notes, medals, etc, including tokens, English and International; Local Nottinghamshire pin badges; etc...
Price: £30 - £50
ca. US$38 - US$63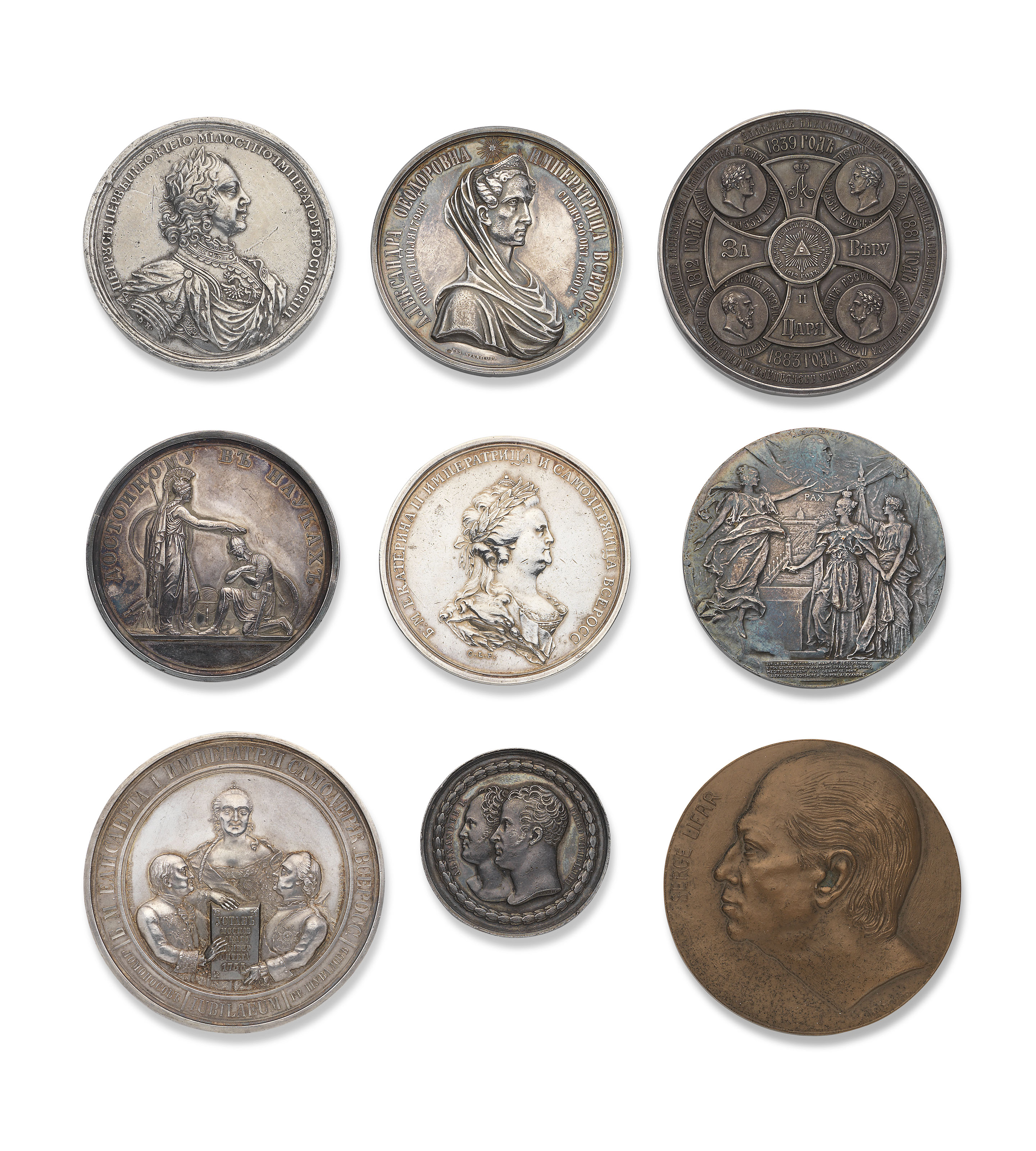 A GROUP OF NINE SILVER AND BRONZE COMMEMORATIVE MEDALS RUSSIA, 18TH / 19TH CENTURY A group of nine silver and bronze commemorative medals, including the medal commemorating the second expedition of the Russian Navy against Finland in 1713, the medal in memory of the conclusion of peace with Turkey in 1791, the medal commemorating the 100 year anniversary of Moscow University, the medal in memory...
Price: £3,000 - £5,000
ca. US$3,901 - US$6,502
A GROUP OF THIRTEEN SILVER AND BRONZE COMMEMORATIVE MEDALS RUSSIA, 19TH CENTURY Comprising a silver medal in memory of the Imperial Moscow Agricultural Society with the profile of Alexander I, a large bronze medal commemorating 100 years of the Order of St George, a large bronze medal commemorating the 200th anniversary of Peter the Great, a large silver medal commemorating Tsar Nicholas II's...
Price: £4,000 - £6,000
ca. US$5,201 - US$7,802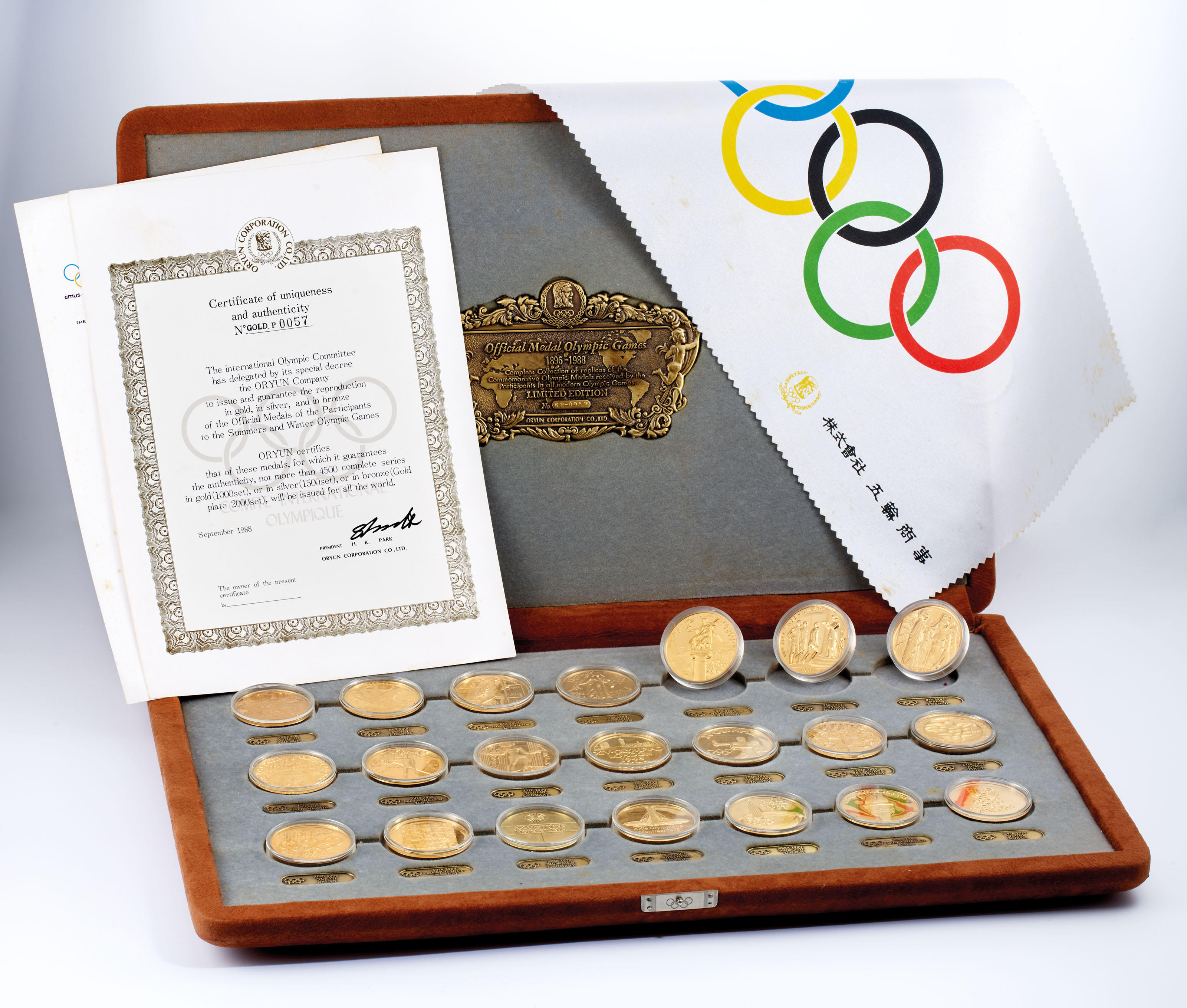 Oryun Corporation Co. Ltd. A Rare Limited Edition Collection of Gold Replica "Olympic" Medals Model: "Olympic Games", No. 57 Year: 1988 A Limited Edition set of 21 Gold medals, made on request by the "Comite International Olympique" and manufactured by Oryun Corporation Co., Ltd. The complete set was made in a total series of 4500 pieces, 1000 in gold, 1500 in silver and 2000 in bronze. At every...
Price: HK$30,000 - HK$60,000
ca. US$3,822 - US$7,644
Coins, a collection of Celtic British, Roman and other coins: Corieltauvi, silver fractional unit; Cantii bronze anthropomorphic unit; three Roman bronzes incl. Licinius I/Camp Gate; Constantine I/Vot XX, also Silver denarius Marcus Aurelius/Commodus, possible AS sceat (7...
Price: £40 - £60
ca. US$50 - US$76
Album mit 164 eingeklebten Zeichnungen von Medaillen oder Schaumünzen des 17.-18. Jahrhunderts. Qu.4°. Aquarell u. Tinte, wohl Italien 18. Jh. 1 nn. Bl., 62 num. Bl. (1-66, ohne 15, 34, 52 u. 62), 20 w. Bl. Ldr. d. Zt. mit Rsch. (Medaglie) u. etw. Goldpräg. u. Goldschnitt. (Berieben, Ecken u. Rckn. tls. etw. beschäd.). Meist Darstellungen von Fürsten, Päpsten, tls. Vor- u. Rückseiten, viele mit...
Date: 28 Jun 2019 - 29 Jun 2019
Coins, Rome, Imperial Roman denarii: Nero Caesar Augustus F/Fair; Vespasian: obverse E /Cos III Fair; another, Cos IIII AVF; Trajan: Imp. Nerva Caes Traian Aug PM/Cos II AVF; Antoninus Pius Obverse B, cos. III/Moneta Aug, GF but two edge pecks; another (with M. Aurelius Caesar): Anoininus Pius Augg/PM TRP XVII Cos IIII PP VF; (Severus Alexander) Julia Mamaea, billon denarius Julia Domna Aug/Iuno...
Price: £140 - £160
ca. US$178 - US$203
Stamps - collection of albums and loose coin covers, etc; mint Commonwealth GVI, etc...
Price: £20 - £30
ca. US$25 - US$38
Stamps - numismatic covers, QEII, Queen Mother, etc, £5 coins, Crowns, etc, 2006-2009...
Price: £30 - £40
ca. US$38 - US$50
Try LotSearch
Try LotSearch and its premium features for 7 days - without any costs!
Search lots and bid
Price database and artist analysis
Alerts for your searches