Technica, scientific instruments
Koen. Bayer. privileg. pneumatisch portativer Erd-Globus. Nach Erfindung von Pocock verb. und hrsg. von Ph. Cella. Grenzkolor. Lithographie auf engl. Seidenpapier in 12 zusammengesetzten Segmenten und mit Nordpolkappe. Mchn., J. Lacroix 1831. Durchmesser ca. 115 cm, Länge gefalt. ca. 147,5 cm. Gefaltet. Fauser, Globen 68. Engelmann I, 68. Tooley, Mapmakers I, 249. - Sehr seltener aufblasbarer...
Price: €3,000
ca. US$3,545
Date: 10 Dec 2020 - 12 Dec 2020
Plank, Laterna Magica in Holzbox, Germany VK, 18 cm, Blech, um 1910, Brenner fehlt, sonst guter Zustand Plank, Laterna Magica in Wooden Box, Germany pw, tin, around 1910, burner missing, otherwise...
Date: 4 Dec 2020 - 5 Dec 2020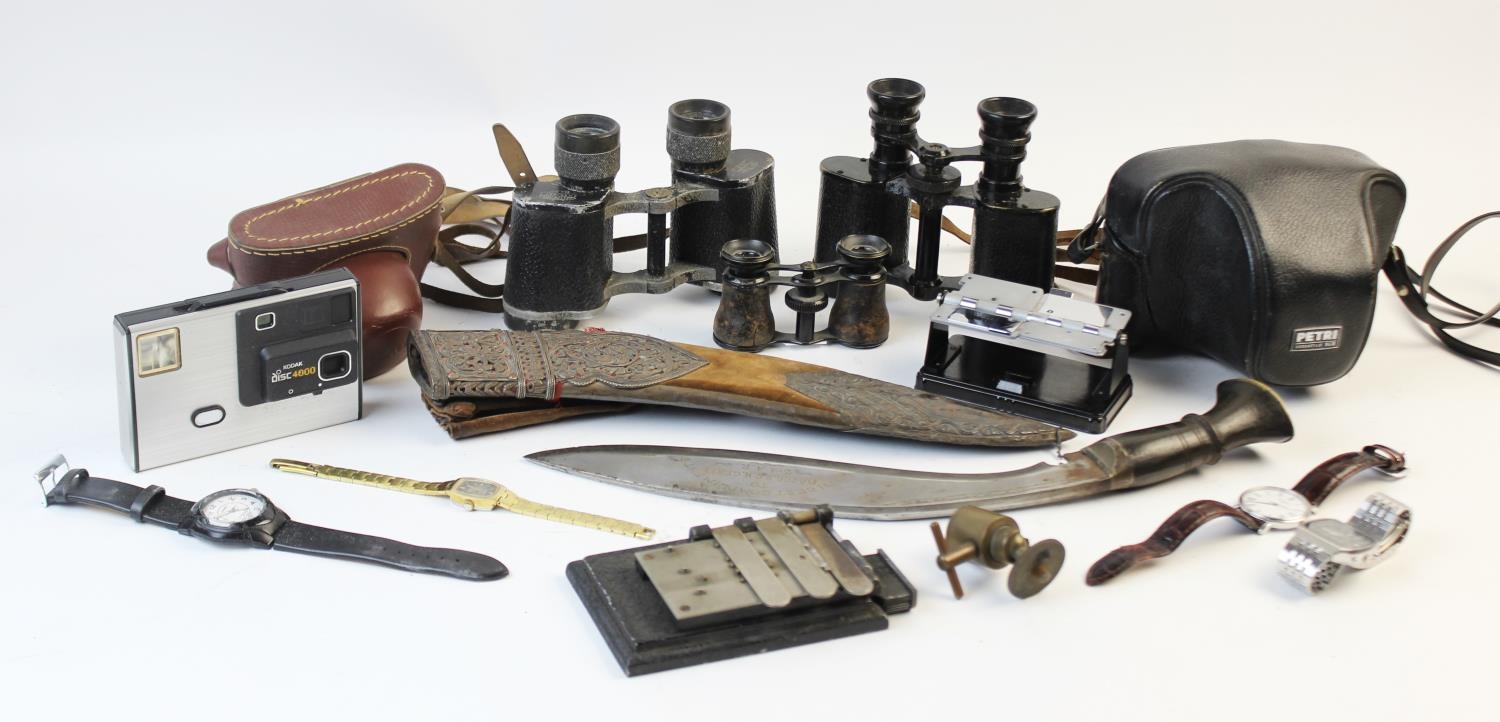 A cased pair of Carl Zeiss Jena Deltrentis 8x30 binoculars, with a cased pair of Primor Prismatique N&S 8x binoculars, a Comet 'S' camera, a Kodak 66 Model II camera, a Petri SLR camera, a Kodak disc camera, a selection of gentlemen's dress watches, a kukri knife and sheath etc...
Price: £60 - £100
ca. US$80 - US$134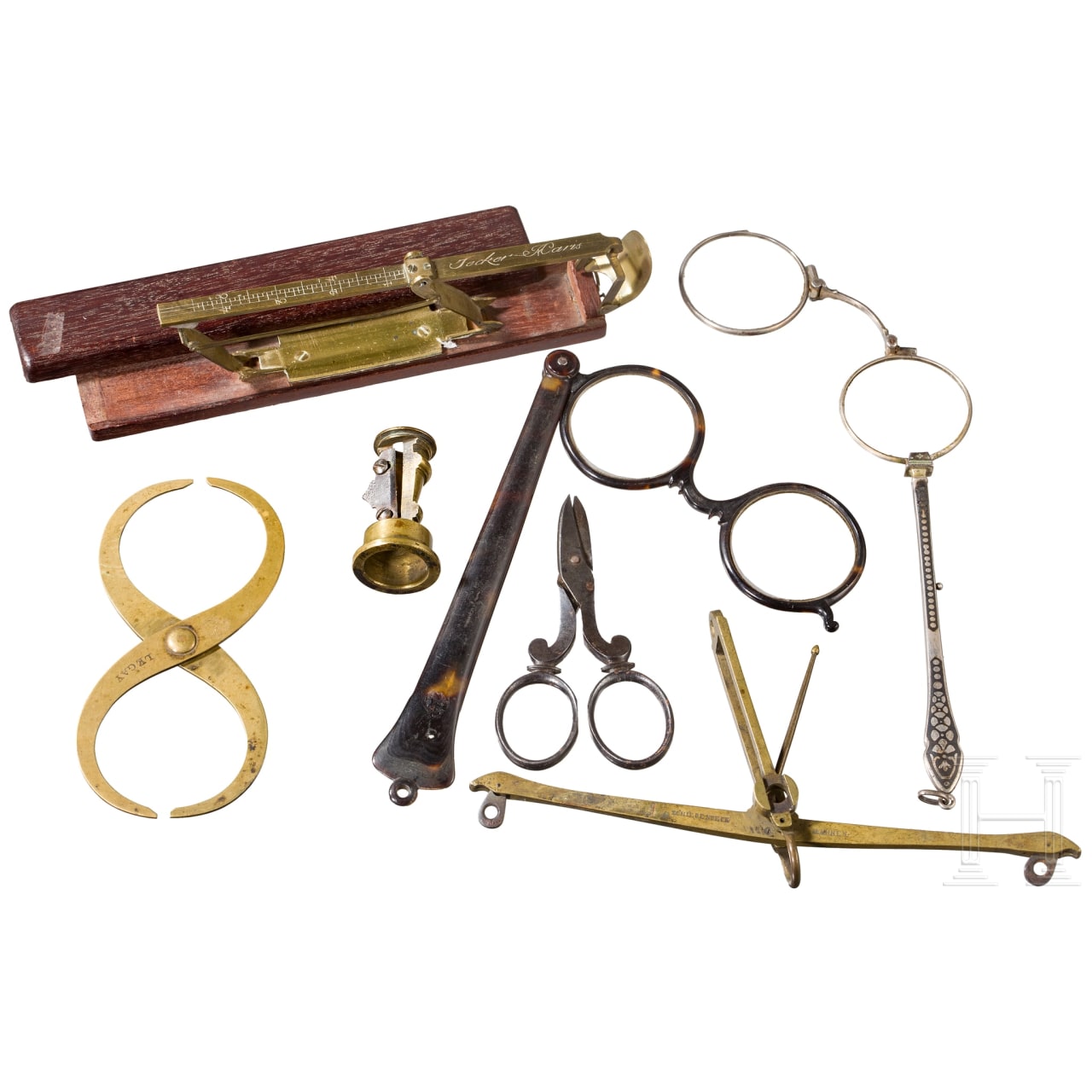 Kleine Balkenwaage in Messing, signiert "Schierenbeck Arnhem", Länge 17 cm. Wandstärken-Zirkel in Messing, sign. "Legay", Länge 11 cm. Briefwaage in Messing "Jecker à Paris", in hölzernem Etui mit Portotabelle für Europa, Länge der Waage 15 cm. Eine nielloverzierte, silberne Lupenbrille, eine Handbrille in Schildpatt, ein Bleistiftspitzer und eine kleine Schere. Zustand: II...
Emailleschild "Saba Radio Verkaufsstelle", 33x45 cm, gewölbt, C. Robert Dold, Offenburg, min. Abplatzer, Z 2 Enamel Sign "Saba Radio Verkaufsstelle", convex, C. Robert Dold, Offenburg, paint min. c...
Date: 4 Dec 2020 - 5 Dec 2020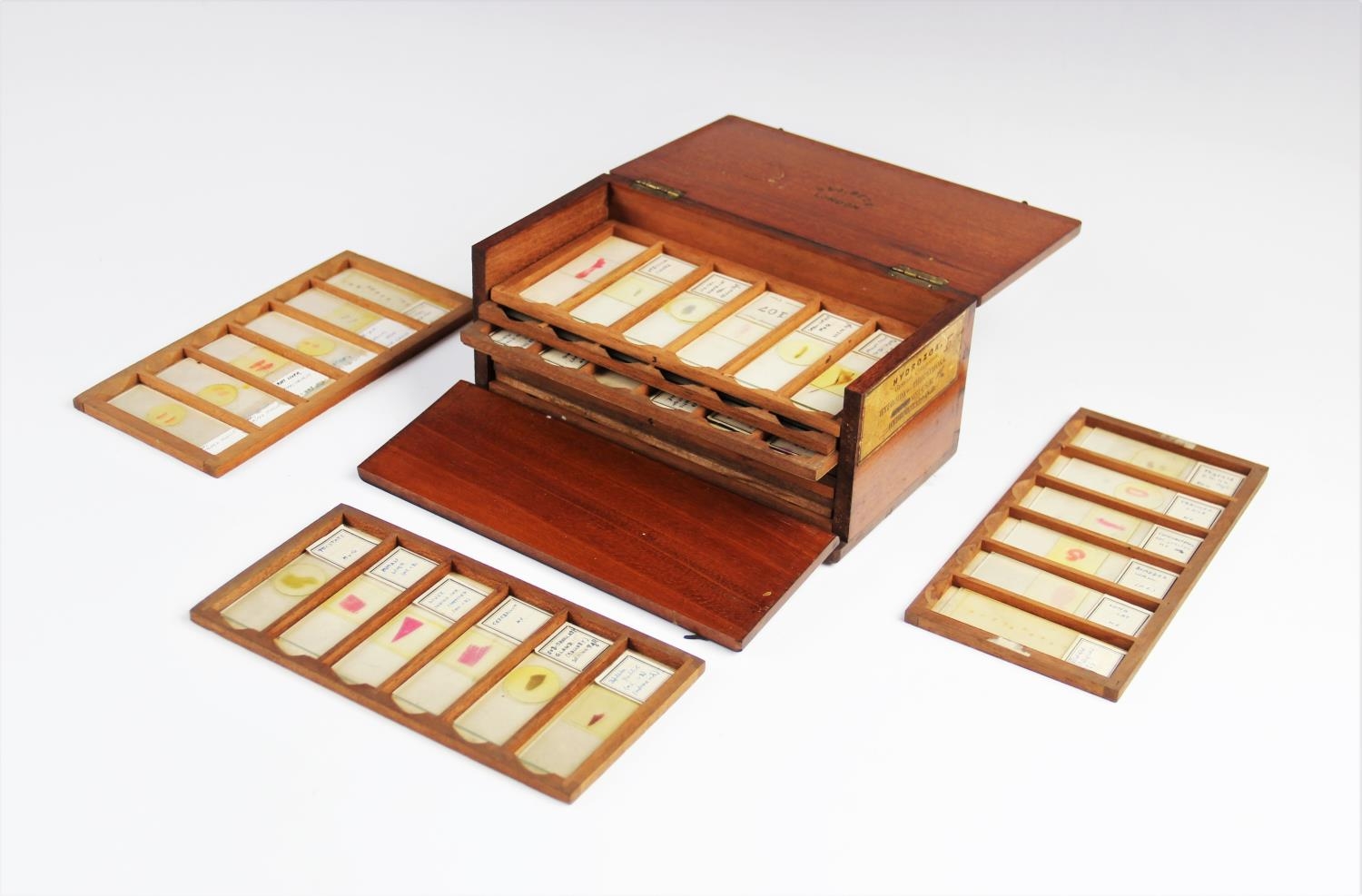 A collection of sixty six microscope slides, medical subjects, to include examples hand labelled 'Tongue', 'Epiglottis', 'Liver', 'Appendix', 'Salamander Gut', 'T.S. Nerve Trunk', 'Artery & Vein', 'Ventrical', 'Human Kidney', 'Human Liver', 'Trachea Child' and 'Rat Liver', the slides held in twelve compartmentalised trays set to a fitted case with hinged front and top, stamped 'R & J Beck London...
Price: £100 - £200
ca. US$134 - US$268
Wirtschaftspolitische Ausgabe, Bearb. W.Bockisch, politisches Kartenbild Dr.R.Neuse u. C.Luther. Berlin-Lichterfelde, Columbus-Verlag G.M.B.H., um 1925. Tischglobus aus 12 farb. Segmenten u. 2 Polkappen, Ozeane mit Strömungen. Dm. ca. 32 cm, Achse u. Halbkreis-Meridian aus graviertem Metal. Runder Holzfuß (Dm. 21,5 cm.) mit kleinem eingelassenen Kompass. Gesamthöhe ca. 50 cm. Vgl. Modelle der Welt...
Date: 10 Dec 2020 - 12 Dec 2020
16 gauge/5.6x52mm (.22 Savage) caliber, 23.5" barrel, S/N HK 1524. Blued finish with checkered forend and grip. Blade front sight with folding leaf rear sight and fitted with Zeiss Zielvier scope on claw mount adapters. Barrels marked with German proofs and calibers. Frame engraved with floral scrolls and woodland scenes of game animals. Horn trigger guard and buttcap with engraved spare cartridge...
Price: US$1,000 - US$2,000
wohl Pathé oder Excelsiorwerke. Alutrichter, u. Reproducer. Uhrwerk lässt sich aufziehen. Schwergängig. Für wohl 2 min. Phonowalzen. Trichter stark gedellt. Bodenplatte lose. Dazu 12 Edison u. Columbia Walzen. Numeriert u. betitelt. Alterssp...
Date: 10 Dec 2020 - 12 Dec 2020
Try LotSearch
Try LotSearch and its premium features for 7 days - without any costs!
Search lots and bid
Price database and artist analysis
Alerts for your searches