Technica, scientific instruments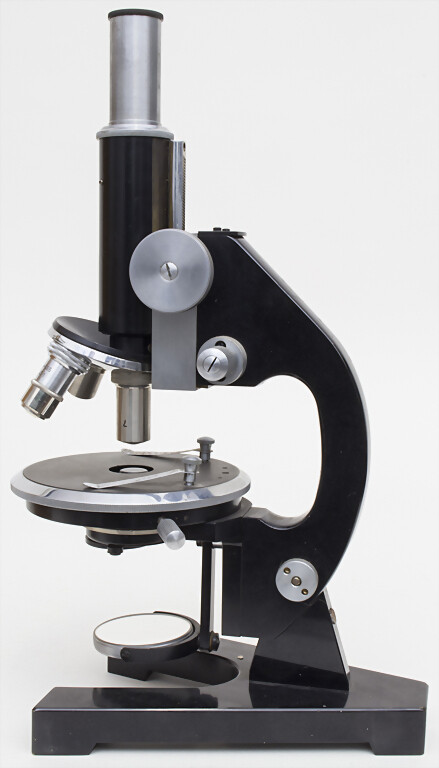 Material: Stativ in Messing schwarz lackiert, Holzkasten, mehrere Zubehörteile, Hersteller: Kosmos, Stuttgart, Optik von E. Leitz, Wetzlar, Maße: Kasten 38 x 24 x 19 cm, Zustand: kein Anspruch auf Vollständigkeit, Funktion nicht geprüft, Schloss im Kasten fehlt Vorgebot abgeben...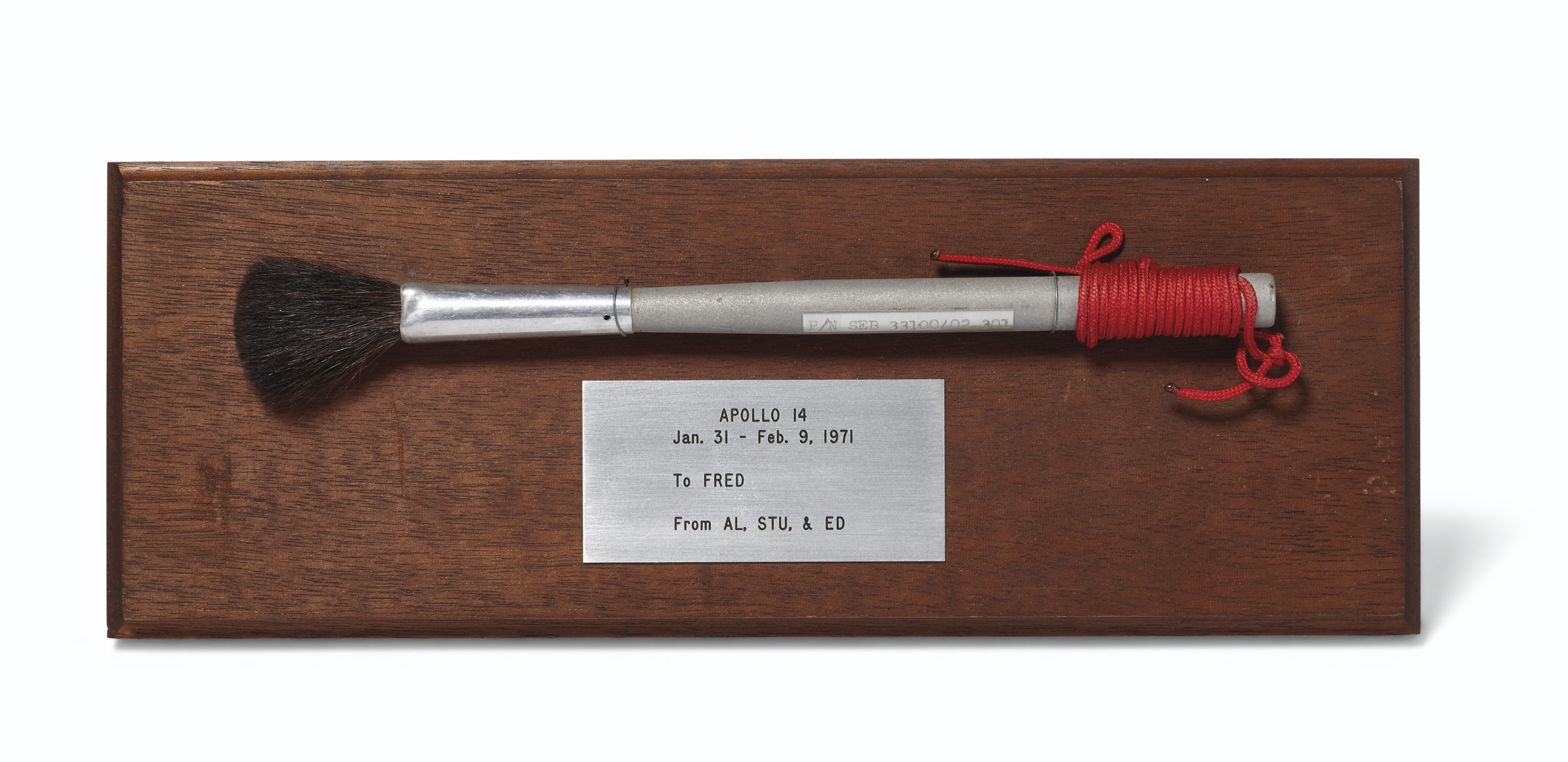 FLOWN ON APOLLO 14 – A camera lens dust brush used on the lunar surface during the Apollo 14 mission, 31 January to 9 February 1971. A rare lunar surface carried exploration tool embedded with lunar dust, presented to Fred Haise by the crew of Apollo 14 as a gesture of thanks for his support work during the mission. This dust brush was used to clean two lunar surface Hasselblad camera lenses, the...
Price: US$125,000 - US$175,000

Material: Elfenbeinkugel mit eingebautem Fernglas, Mahagony, Länge: 92 cm, Zustand: guter Zustand, Elfenbeinkugel mit kl. Chips. Vgl.: Bujanovics Eduard, SETABOT / Cane, S. 131. Vorgebot abgeben...
Teléfono antiguo de rueda en baquelita negro. Medidas: 15 x 25 x 20...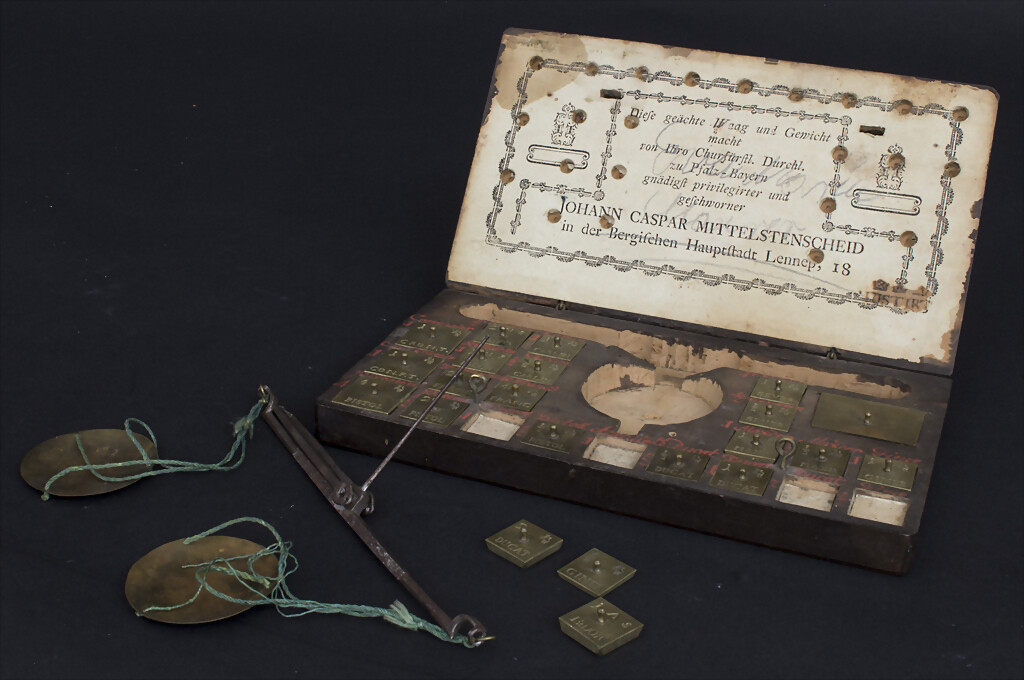 Material: 21 Münzgewichte in Messing (Louisdor, Dukaten, Carolin etc.), Holzkasten mit Meisteretikett im Deckel, handschriftliche Angaben zur Bezeichnung der Gewichte, Waage aus Eisenschnitt mit grünem Faden und Schalen in Messing, Hersteller: Johann Caspar Mittelstenscheid(1764-1819), Lennep, Maße: Schatulle 18,8 x 10,7 x 2,4 cm, Zustand: sehr gut, 1 Gewicht und Feingewichte fehlen...
Alan Ross (British, b. 1962) The Spinning Radiolarian Steel, Signed 260cm high, 110cm diameter On view at: The Sculpture Park...
Price: £3,000 - £5,000
ca. US$3,822 - US$6,371
.30/30 Win. caliber, 24" barrel length, S/N MR44364E. Left side of the barrel with standard Marlin markings including caliber and model. Front ramp sight and rear adjustable Williams sight. Hi Lux scope 2-7x32. Stainless finish with checkered pistol grip stock and fore end. Black recoil pad. Condition: Excellent condition retaining nearly all the finish. The stock is excellent. Bore is excellent...
.32 W.S. cal., 20" barrel, S/N 1214651, 3-7x31 scope, added recoil pad Condition: Good to very good condition with an excellent bore...
.303 caliber, 25.25" barrel, S/N X30017. Receiver, bolt, and stock match, buttstock mismatched. Oil black and stove paint finish with Canadian marked stock. Blade front sight with Mk I rear sight. Left side of receiver marked with "T" marking indicating reconversion as a "telescopic model". Socket marked with serial number, "TR" conversion marking and 1945 date. Also marked with import marking...
Price: US$1,500 - US$2,500
.30-06 cal., 24" barrel, S/N 1427710, E.C. Herkner Co. ECHO scope mount, 3/4" unmarked scope with clear optics and post reticle, floorplate marked "ADAM HERKNER", pistol grip cap marked in 100 yard increments up to 1000 yards with corresponding MOA in 2.5" increments, 3/4" leather sling marked "1946 A H", Lyman receiver sight, trap door buttplate with sight insert, hand checkered sporter stock...
Try LotSearch
Try LotSearch and its premium features for 7 days - without any costs!
Search lots and bid
Price database and artist analysis
Alerts for your searches